What this week's non-decision on Jennings v. Rodriguez means for immigrants in detention awaiting a hearing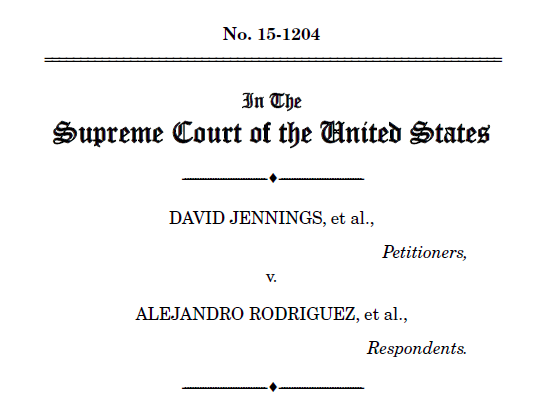 On the last day of this term, the Supreme Court announced that it will re-hear arguments in [Jennings v. Rodriguez](http://www.scotusblog.com/case-files/cases/jennings-v-rodriguez/), the case about prolonged immigration detention without a bond hearing, in the fall. This maintains the status quo of immigration detention today — depending on where an immigrant is detained, she may be deprived of a day in court to determine if her detention is justified, even when detention extends months and years as her case is decided by the immigration court.
As the new video Exposed: The Injustice of Immigration Detention explains, detained immigrants are routinely denied access to clean food, fresh air, and critical medical care, while being subject to forced labor and sometimes sexual abuse. These inhumane conditions often coerce immigrants into giving up on their valid legal claims and "accepting" deportation rather than continuing to suffer without a known end date.
Immigration detention rips apart families and destroys lives. We will continue to fight against this cruel and unnecessary system through advocacy, litigation, and uplifting the voices of detained immigrants, even as we await a decision from the Supreme Court that affirms the constitutional right to a bond hearing for these immigrants
Read more information and stories about what is at stake in Jennings at www.prolongeddetentionstories.org.
The Supreme Court's Punt on Cases Could Affect Immigrants' Constitutional Rights