Eleven months ago Alexey Kharis went to DHS in San Francisco to receive the verdict on his appeal for political asylum. Then he was arrested and thrown into detention. (Part 1 of 2)
Like many entrepreneurs in the Bay Area, 43-year-old Alexey Kharis had big dreams for a startup business venture. Unlike his entrepreneurial peers, however, Kharis is a political refugee from Russia.
For 20 years, Kharis ran a construction company in Vladivostok. But when his business partner uncovered evidence of corruption on a large government construction project, the Russian government went after them. Kharis' business was repeatedly raided and eventually bankrupted. After Kharis refused to give false testimony against his partner, he became the target of a politicized prosecution. Like many entrepreneurs in Russia who run afoul of Putin's regime, he was accused of fraud, an allegation he vigorously denies.
In 2014, together with his wife and two children, Kharis fled to the U.S. on a valid visa. A few weeks after they arrived, they were informed Kharis had been convicted in absentia. Returning to Russia was now unthinkable: Kharis would immediately be sent to prison.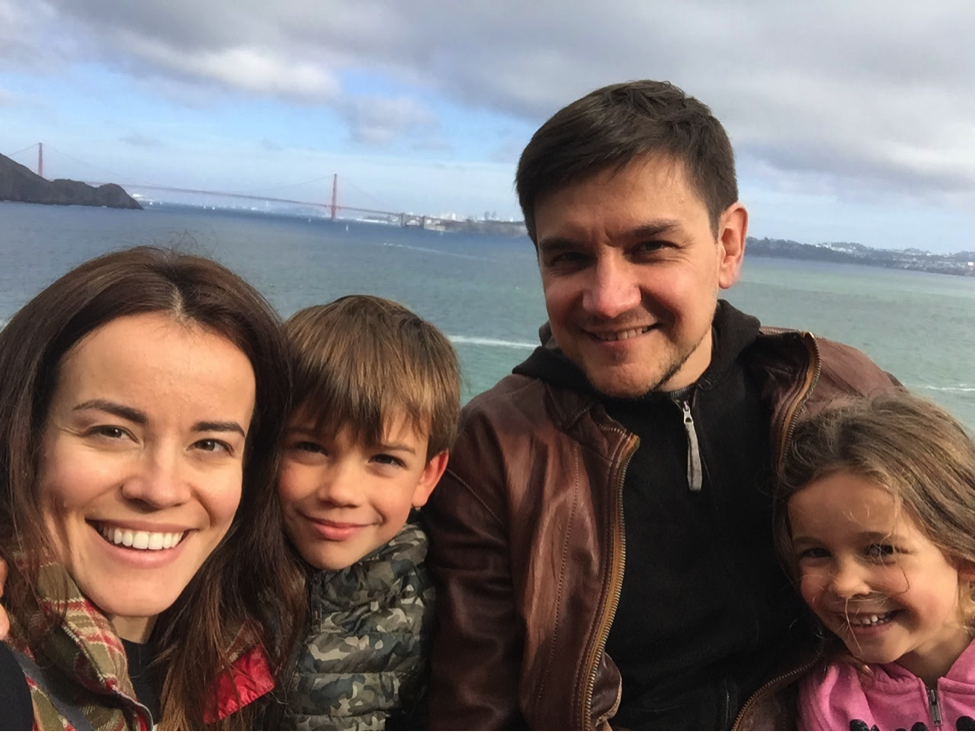 Alexis Kharis, his wife, Anna, and their two children
Kharis was determined to start a new life in the U.S. He planned to use his business experience to market Russian dietary supplements. His wife, Anna, studied digital marketing and eventually found full time work while Kharis took care of his kids, ages 7 and 9, ferrying them to and from school. Evenings, he read to them — a nightly ritual — and on weekends the family enjoyed excursions to the ocean, hiking, visiting libraries and museums, and bicycle rides.
He was also attending classes at Stanford University, and in 2016 he was accepted into its Graduate School of Business. That same year, Kharis petitioned for political asylum.
On August 16, 2017 Alexey traveled from his home in Palo Alto to the Department of Homeland Security's San Francisco office to receive his asylum verdict. There, his petition was denied — and he was arrested and refused bond.
The reason? In 2015, Russia had named Kharis in an Interpol Red Notice, even though, according to the U.S. Justice Department's website, "The United States does not consider a Red Notice alone to be a sufficient basis for the arrest of a subject because it does not meet the requirements for arrest under the 4th Amendment to the Constitution."
"I knew there was a chance I would be arrested," Kharis said when he called me today from the West County Detention Facility. "But I was not a flight risk — I had been living in the same town for three years, and my family was here, so I thought that worst case I would have to post a bond, or be given an ankle monitor, before returning home. But after I received my verdict, officers came in, arrested me, and put me in handcuffs and leg shackles."
Kharis has been detained at the West County Detention Facility in Richmond, CA, for the past eleven months. He's been studying psychology and recently began learning Spanish so he could converse with his friends in custody.
Tomorrow, July 20, is his son's birthday. He has not seen his children since that August morning in 2017.
Regarding his client's case, Kharis' lawyer, Christina Lee, said, "Russia's abuse of the Interpol system is notorious. In the case of William Browder and many others, we have repeatedly seen how Russia uses spurious charges made through Interpol to harass political opponents and businessmen who become inconvenient. I am deeply concerned that, in acting on this Red Notice, the U.S. is doing Vladimir Putin's dirty work for him."
Kharis said the judge who ruled against him only seemed to take into consideration the documents from the Russian Federal Security Service, ignoring all the other documentation he brought to support his case. "I'm very worried, because when I go back to court, it will be the same judge, and what I've learned is that having a sympathetic judge can make all the difference."
Kharis' typical day consists of meditating and exercising in the morning, then working in the kitchen in the afternoon. In the evenings, he works on his case, reads, and spends a little time in the facility's backyard.
"The most difficult part is that I don't know when I will get out of here, or what will happen to my case," Kharis told me. "My greatest fear is that I could be held here for another one or two years, only to be deported back to Russia, where I could be jailed for another twenty years."
Meanwhile, the Kharis' savings are gone. "Our financial situation is very difficult," Kharis said. "I need to come home, so I can work and provide for my family. I am being treated like a criminal, even though I have done nothing wrong and have gone through all the proper channels for obtaining asylum."
Anna is caring for the couple's two children in addition to juggling the demands of her job. She can't bear to tell her children that their father is in prison. Instead, she's told them he's away on a business trip.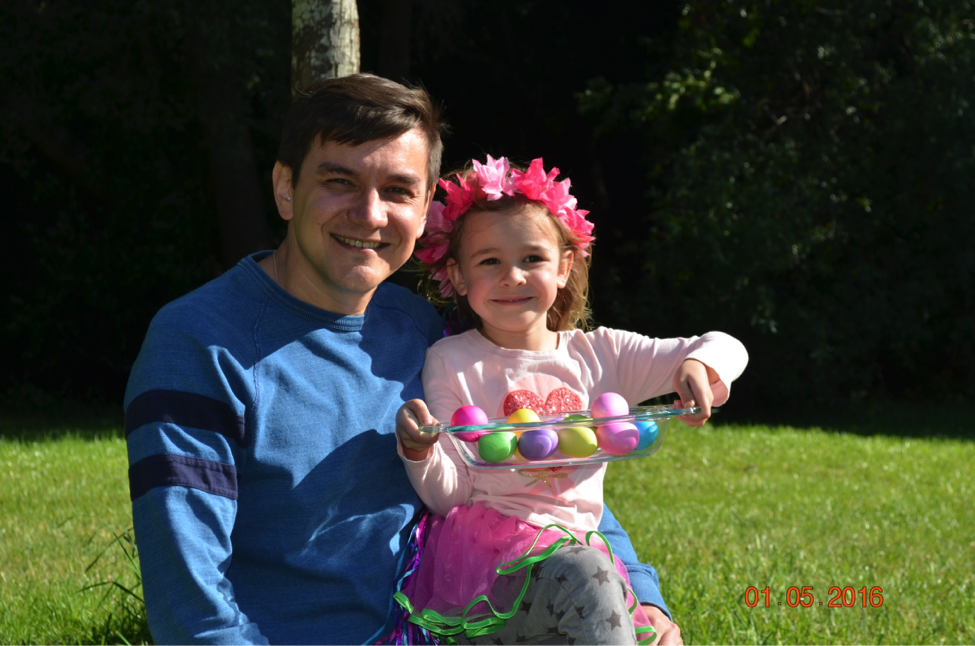 Alexey Kharis with his daughter
Alexey calls his family every night; he tells his children everything's going to be okay.
Editor's note: Please consider a donation to Alexey's GoFundMe campaign: www.gofundme.com/free-alexey
Special thanks to Nancy Goodban and Anita Woitz for their contributions to this article.