by Amilcar Valencia, Executive Director of El Refugio, which provides visitation to immigrants detained at Stewart Detention Center and hospitality to their loved ones who visit them.
This past Spring break, my wife and our 4-year-old son hopped in the car for a road trip to Richmond, VA. We visited family and did some sightseeing in Washington D.C. We had a good time! Along the way, we stopped in Charlotte, Hickory, and Raleigh, North Carolina to visit three families who stayed at El Refugio's hospitality house.

Each of the three families had a loved one detained at Stewart, one of the largest detention centers in the nation, for at least six months. Two of them were deported, and the third family told us their son is expecting to be deported soon.

We spent the night with Ana (not her real name). She welcomed us with open arms and warm hospitality. She told me "you know you have a house here with us." We chatted a bit. She told us about their struggle saying, "My daughter misses her dad. We all do, but it has been hard for her. She was 'la niña de papi' (daddy's girl)." Ana's husband was deported last year. She at least can visit him, and she is planning to take her daughter to see him this summer. But how can you live when the person you love is hundreds of miles away? It is as if part of your heart has been taken from you; you can't call that living. Ana told us that her daughter always did well in school, but ever since her dad was deported, she isn't the same. She will probably never be the same person. Deportation is harmful, and it has long-lasting effects for the family and the entire community where people are taken from.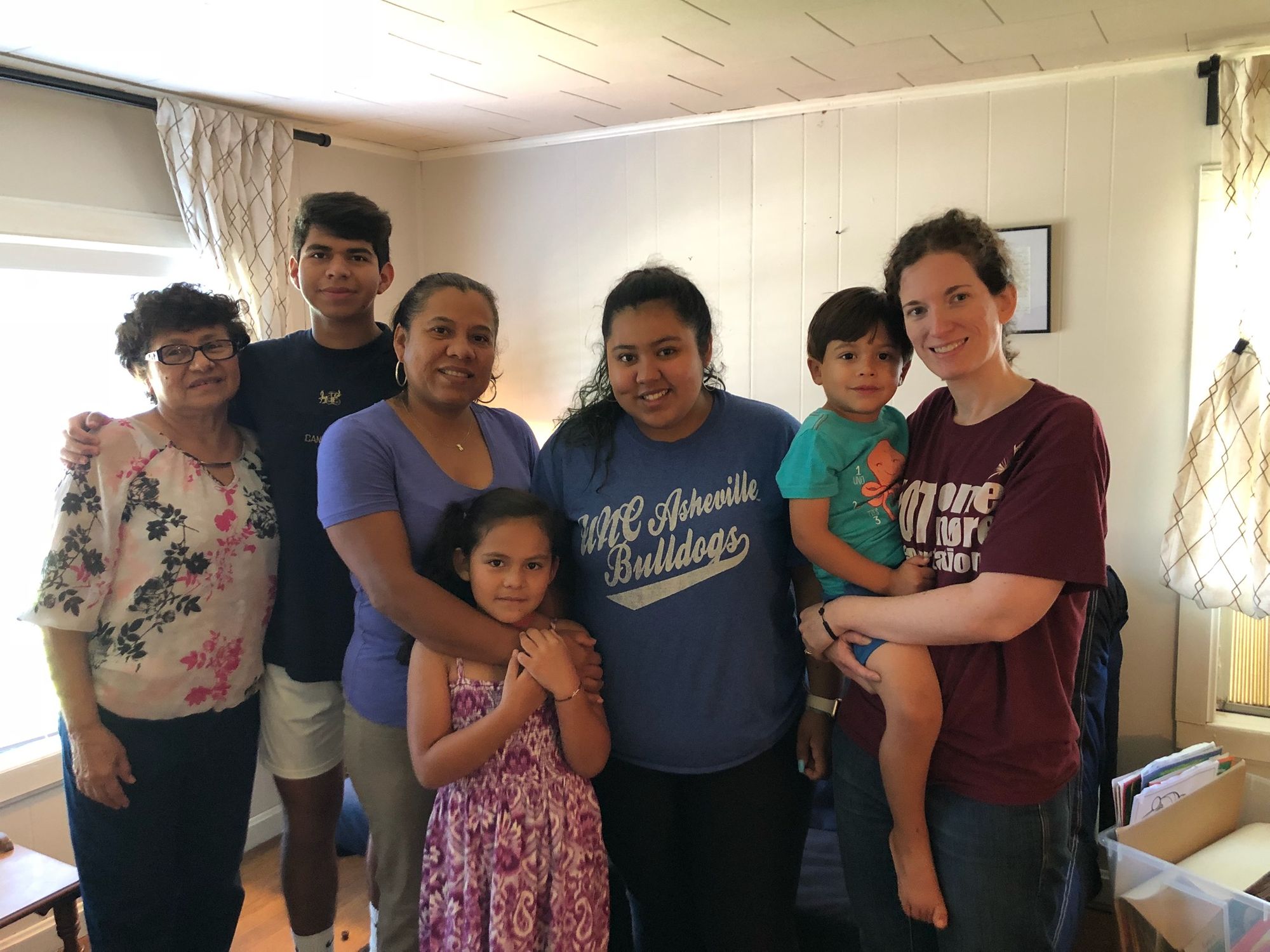 The next day, we drove about an hour from Charlotte to the North Carolina mountains to visit another family. Lucia (also not her real name) and her two kids, ages two and five, were waiting for us. Lucia went out of her way and bought pupusas, a typical Salvadoran food, for us. We brought some pan dulce (Mexican pastries) and broke bread with them in her living room. While the kids played, Lucia told us how difficult this is for them. Her husband was detained for almost a year. She visited him nearly every other week at Stewart. He ended up receiving voluntary departure from the immigration judge and was deported last month.
Lucia's husband is not going to be able to come back for at least 10 years. He is not going to be able to see his two kids growing up. "Our 5-year-old son was so attached to his dad," Lucia said. "He prayed every day for his dad's release. Now he is not going to see his dad for who knows for how long."

Lucia and her two kids stayed at El Refugio several times while they visited at Stewart. Her 5-year-old and our 4-year-old became best friends. It was good for them to see each other again. They played together and had a good time jumping on the trampoline in their backyard.

This visit was so good in many ways but sad at the same time. We know it is a hard reality for them; they are struggling a lot with the aftermath of the deportation. Here we were traveling for fun, traveling with the freedom and the resources needed, a basic human right that this country's immigration policies are depriving of millions of immigrant families. Immigrants are living day in and out with the constant uncertainty of looming detention and deportation.

Because of our immigration policies, they are now living hundreds of miles away from their loved ones. This system is cruel, inhumane, and criminal.

For years, outrageous detention and deportation policies have stripped immigrants of their rights and dignity. This system feeds on fear and hate, creating millions of victims, affecting real people, people with stories and dreams, people with names and gifts to share.

Throughout the last eight years, El Refugio has welcomed hundreds of guests at our hospitality house and visited many immigrants detained at Stewart, which is located in the rural, isolated town of Lumpkin, Georgia. We have listened to their struggles, their cries and sometimes only their sighs when sharing their stories. Their pain is real! When they learn of the suffering of their loved ones in detention their heart crunches and feels like it is going to break. For them, the thought of deportation feels like they are sentencing people to their death and for many, this is a reality.
In this country, people love to say we love families, and yet we do whatever it takes to separate them, putting profit before people, detaining more than 51,000 people every day and deporting hundreds of thousands of immigrants every year. The U.S. has failed in protecting its most vulnerable and make real the ideal under the Statue of Liberty: "Give me your tired, your poor, your huddled masses yearning to breathe free."

Changing immigration policies is critical, yet the current administration is doing everything it can to advance perverse policies affecting every undocumented immigrant in the United States and all asylum seekers looking for safety and protection. We at El Refugio continue to welcome families every weekend into our hospitality house, supporting those affected by detention, witnessing their struggles and their resilience. The volunteers who visit people at Stewart believe that relationships are transformative and see every detained individual as a person with inherent dignity that can't and should not be erased. We see someone who, like all of us, deserves to be here.
I don't know what the future holds for Ana and Lucia and their families. As strong women tend to do, I believe they will smile through the pain and make happy lives for their children. But someone will always be missing. Their children's fathers will not be with them, leaving a gaping hole in their lives. What I know is that we will continue seeing her in the face of all the women and children who make the journey to Stewart, a place that crashes everyone's dreams but not their hope and resilience.
Amilcar Valencia is the Executive Director of El Refugio. He and his wife Katie have been helping people affected by immigration detention since 2010. They joined the first group of coordinators who founded El Refugio Ministry.El Refugio appreciates your interest in helping us fulfill our mission as a ministry of hospitality and visitation serving immigrants at Stewart Detention Center and their loved ones. Your donation helps us sustain our visitation and hospitality programs, pay for utilities and maintenance at our new Hospitality House.