by Cindy Knoebel (with special thanks to Carolyn Ferrucci)
Author's note: A fundraiser and raffle for Alejandra will be held in San Francisco on March 15. Details can be found at the end of this article. Please contribute to her bond fund by clicking here.
Eight months ago, Alejandra came to the U.S. seeking to escape threats to her life and homophobia in her home country of El Salvador. Since September 10th, the twenty-two year-old lesbian has been detained at Eloy Detention Center in Arizona.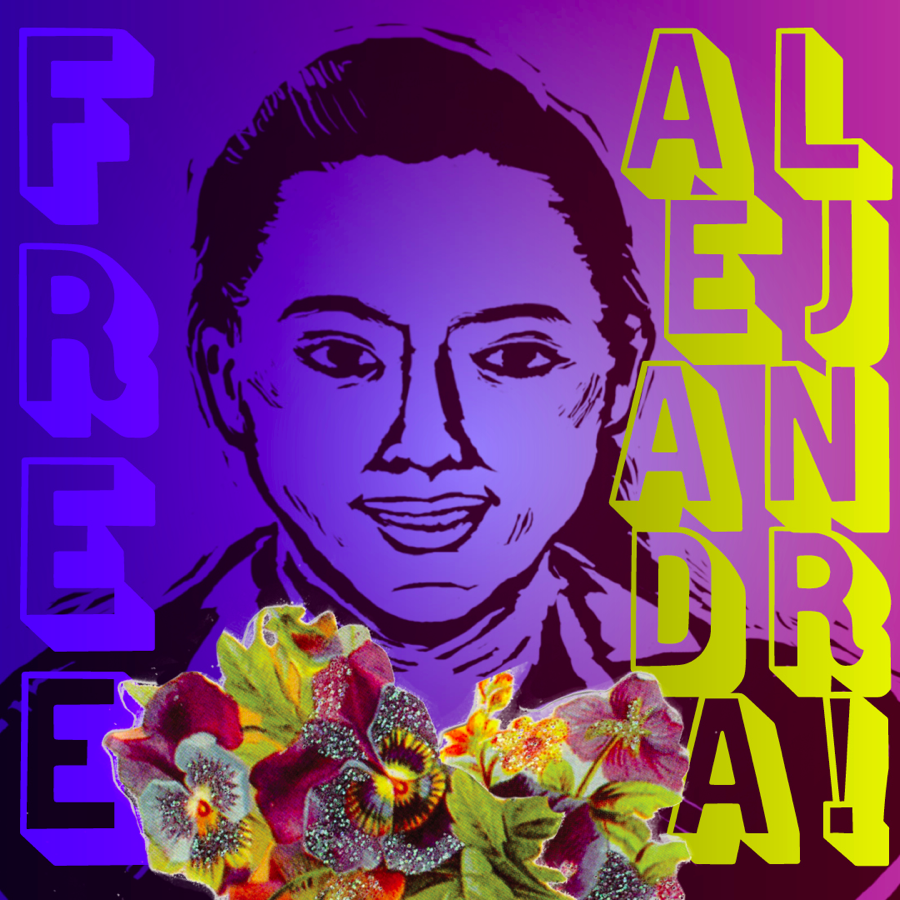 In El Salvador she lived with her grandmother, who never accepted her and eventually forced her out of her house. Her life took a tragic - and dangerous - turn when she began dating a woman whose boyfriend was an imprisoned gang member. When released, he and two other gangmembers - a man and a woman - found Alejandra, beat her and threatened her life, saying, "We don't want any lesbians around." As Alejandra put it, son puros machistos (they are pure machistos).
She knew she wasn't safe. She knew she couldn't report the beating to the police, because it's well known they are corrupt and work closely with the gangs. Calling the police would have been a death sentence.
Alone, Alejandra left El Salvador and made her way to Chiapas, in Mexico City, where she stayed for three months. She learned of a program held at an albergue, or hostel; it stipulated that if she completed certain classes (examples include computers and cosmetology), she'd receive a work permit allowing her to remain in Mexico for six months. After taking courses, she headed to Tijuana. For a month, she worked as a cleaner at a hotel.
But Alejandra still didn't feel safe. The hotel was a base for drug dealers, and a security guard there discovered she was gay and started to discriminate against her and another woman she'd befriended. They realized it was only a matter of time before they lost their jobs, so they left.
Alejandra crossed into the U.S. at Tecate, CA on July 13. She was swiftly apprehended and detained for a month in a facility operated by Geo Group. From there, she was shuffled between hieleras (iceboxes) before being tranferred to Eloy.
Prior to her attempt to escape here, Alejandra had never set foot in the U.S.
Asked to describe her treatment in detention, Alejandra says the guards are racist; they yell at the inmates, and if you don't understand them, they get angry. They treat those under their supervison like animals, shouting at them to "hurry up" or "vamos vamos," to the point where they don't feel as if they have any freedom of movement.
What's a typical day in Eloy like? Alejandra says breakfast is served from 4 to 5:30, so early that most people don't wake up for it. From 4:30 to 6 Alejandra cleans the cafeteria. At 6, the facility is placed on lockdown for an hour; at 7, she returns to cleaning for another hour and a half. Then at 8:30 she takes a shower. The guards pull on gloves when they give her soap - and, she says, they practically throw it at her, as if they can't stand to even get near her. From 9 to 11 she goes to the yard. That's her favorite time, which she spends playing soccer, basketball, or sometimes volleyball, with her friends. At 11, there's another lockdown, and then in the afternoon she works another 90 minute shift, followed by yet another lockdown. She usually catches a nap before working again from 4:30 to 5:30, when she has dinner. The last lockdown of the day is between 6 and 7. Afterwards, Alejandra will work on her paper art/origami.
Alejandra has encountered homophobia from others, who call her names like marimacha (dyke), especially during games in the yard. She terms the food, which is boxed and never includes fruit or vegetables "inedible" and lacking any nutrition or vitamins.
If you want medicine, Alejandra reports, you have to wait for it. She has friends who've gone to the doctor only to be given water. One friend of hers was recently diagnosed with fibrosis and urgently needs surgery. Seriously allergic to gluten, she is unable to eat much of the food she's served. She's been taking ibruprofen every day for weeks; Alejandra and others are frightened for her.
The judge at her hearing in January set bond for Alejandra at $20,000 - a staggeringly high amount for an immigrant seeking asylum. She's been told her case for asylum will be heard this month. She can't afford any legal representation or assistance, and is desperate to get out of Eloy and to Colorado where her aunt lives and where she believes her case has a better chance of success. Volunteers with Mariposas Sin Fronteras are hard at work helping to raise funds for Alejandra's release.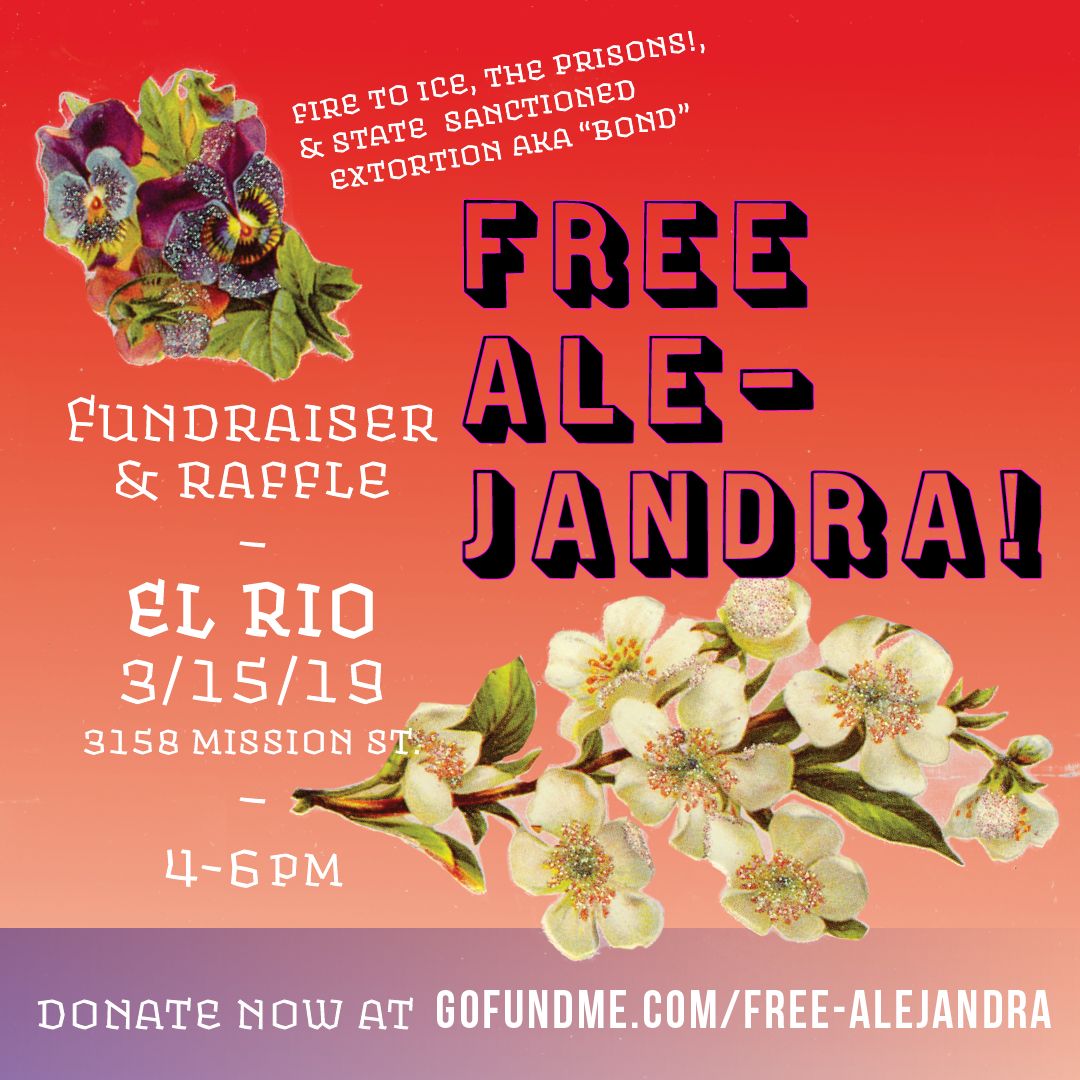 Once freed, Alejandra plans to live with her aunt. She's also made friends within Mariposas Sin Fronteras, and with other women she's met inside Eloy; one is out now and living in Virginia, and others live in Miami and New Jersey.
When asked about her hopes and dreams, Alejandra notes that she never expected to find herself detained in the U.S. She didn't plan to go through everything she's endured only to find herself locked up in an unfamiliar country. Now, she just wants to live a normal life. Naturally romantic, she dreams of one day being able to walk down the street hand-in-hand with a woman and have it be okay; she wants to study, and to try and help her family back home. And she loves music. When she calls Alejandra, Carolyn, a Mariposas Sin Fronteras volunteer, plays her favorite songs over the phone.
ABOUT THE FUNDRAISER:
$10,000 has been raised but we still have a long ways to go. A fundraiser will be held on MARCH 15th from 4-6pm at El Rio in San Francisco.We also will be holding a raffle, and drawing it at the fundraiser. Tickets are $10 each. For info on prizes, how to enter online, and the SF event visit: https://www.facebook.com/events/free-alejandra-happy-hour-raffle/2179116745672806/
There you can browse several raffle pools, but general entries are being taken via venmo @free-alejandra or gofundme.com/free-alejandra.
Comment "raffle" when you donate! 1 Ticket for $10 / 3 for $25 / 4 for $50!