Phal Sok has been doubly punished by our criminal justice and immigration detention systems. Read his story and watch a short film by the California Immigrant Youth Justice Alliance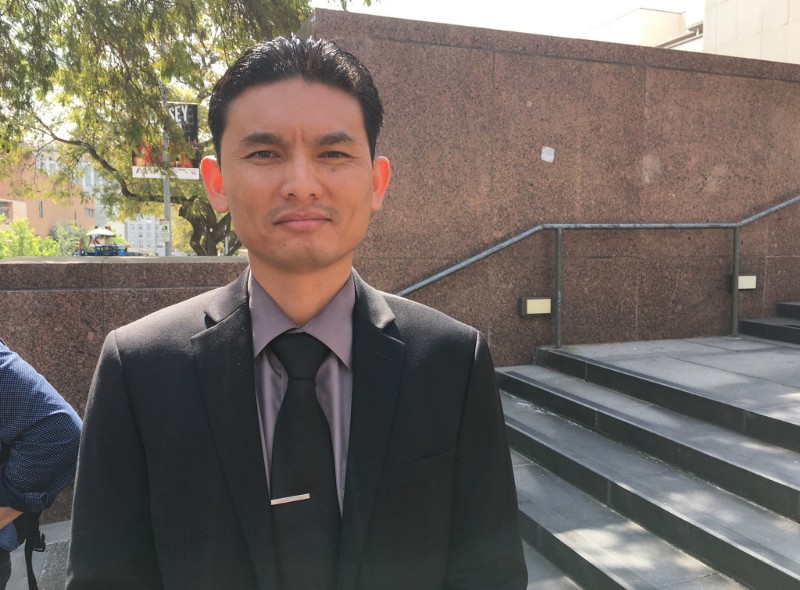 My name is Phal Sok and I am currently fighting deportation to Cambodia — a country I have never been in. I came to the US as a 61-day-old infant and after my father passed away when I was 16, I made a series of regretful choices. I was then tried as an adult at 17 and sentenced to 23 years, eight months. Because of SB260, I was afforded an opportunity to appear before the parole board and I was found suitable. If my statistics are correct, I was one of 16 found suitable out of 400 plus hearings like mine.
Unfortunately, ICE was waiting for me. I have since then been ordered deported once. I was later re-detained and nearly deported. But I fought and the government reopened my immigration case. Now, I am out on bond and back in my community, still fighting.
Below is a short story Phal Sok wrote for The Beat Within during a writing workshop with the Youth Justice Coalition in Los Angeles, CA:
What TV Could Show
Although there is a large and vast discussion throughout the United States around immigration, there is a subset of the population that has been virtually ignored. The juvenile offender tried as an adult to face deportation for those criminal convictions, often times many years later, after their release from the prison system. This is my story.
I was brought here to the United States as a child of a refugee. My family fled Cambodia for their lives by trekking across a militarized jungle border and heading into Thailand where I would be born, after they sojourned for two years in emergency refugee camps. In 1981, I was carried off a plane into LAX and into the United States. I was 61 days old.
A couple years later, my parents divorced and my mother abandoned me. I was raised by a single father until I was 16. My father died from cancer at the end of my junior year in high school. I was left to grieve alone — at a time when I needed more support than ever, none was to be had. I wound up gravitating to my peers within the streets. This ultimately led to me being arrested at the age of 17 and being tried as an adult. I was sent to prison with 23 years and eight months looming over my head.
In time, SB260 passed in California. It was the result of a trifecta of juvenile offender cases heard in the United States Supreme Court. They recognized that juveniles should not be treated the same way as adults, that they should not be subjected to mandatory penalties, and that we are "constitutionally different". This paved the way for my newfound opportunity to appear before the parole board. I was found suitable for parole. One of the few in my category.
For most, liberation brings freedom. For me, that was not the case. I was "released" into a cage inside a van shackled and chained. I was hauled off to immigration detention, to face an unknown.
I was taken to see an immigration judge without an attorney. The law does not guarantee representation in this type of court. It is not a federal court and it is not a criminal court. It is an administrative court and the judges can be fired and so they are tough. What is someone to do in a situation like that, facing the most dire of consequences and punishments, to be separated permanently from family, friends, home. Most give up.
I was ordered deported, the rules and laws that said I should be treated differently did not apply. It had no place here. Second chances? None. Even though I had legal status as a permanent resident, the nation's immigration laws are harsh and offer no mechanism to ask any judge to keep my papers. If I was born here, I would not have faced this obstacle. If I was a white American child, I would not have endured this situation.
So if I was ordered deported, how is it that I am telling you this story today, sitting on American soil?
After sitting around in a for-profit private immigration prison for six months after being ordered deported, I was released pending my eventual removal from the United States. After 17 years of confinement, I sat on a concrete wall on a sidewalk alone for the first time as an adult. I came home to a state of limbo. The community is full of stories of people being deported years and years later after their release under supervision such as mine was. So I began to live with that constant fear. It kept me awake and uneasy.
Four months later, that day came. I had to go for an instructed check-in with immigration authorities. I was taken back to detention for a flight to a country I have never been in, Cambodia. I had to say goodbye to the only people I knew. I had to bid my farewells. I had to say goodbye to freedom after tasting only four months of it.
I began to push back by using what law I self-taught myself during my many years inside. In that struggle, I was sent to Louisiana, to another private for-profit immigration prison. Deportation, Inc.
I continued my fight and my deportation case was eventually reopened. I was brought back to California and I requested a bond hearing. The community came to support me and I was given a bond. Then the community really came together and paid it, so I can be here to fight another day. But if I am to stay in the States, I must receive a pardon from the governor. That is the only window I have. Soon, my time to see another judge will come and I do not know what will unfold on that day.
Phal Sok speaks at a rally in California for Prop 57.
In the nine months since my release on bond, I consistently volunteer in the community, just like when I came home the first time. I gave my time at a non-profit to keep children connected with their incarcerated parent(s). I have fed the homeless, I am part of a local church where I volunteer regularly. I am now an organizer with the Youth Justice Coalition working to protect our youth of today and tomorrow. I am also no longer on parole, I earned an early discharge.
No matter how much good I do, immigration law does not see it that way.
It only sees the 17-year old that made poor choices. It does not see the community supporter I am today. It only sees the bad hombre, the bad immigrant. Although the law says juveniles are constitutionally different and should not be subjected to mandatory penalties, my story paints another picture. Justice is not for the immigrant. Deportation is the default.
That is what TV could show.
---
facebook CIYJA says:
What happens when the prison industrial complex teams up with for profit migrant detention centers?
The outcomes are devastating because there is no justice when the incarceration system seeks to make billions of our communities.
This is why we must focus on restorative justice that helps people overcome criminalization and systemic racism. Dignity not detention now!
---
Phal Sok was also featured by KPCC:
http://www.scpr.org/news/2017/04/12/70724/la-county-supervisors-weighing-who-should-get-immi
And Sons and Brothers:
---
Read More Detention Stories on IMM Print
Subscribe to receive stories weekly!