by Nina Randazzo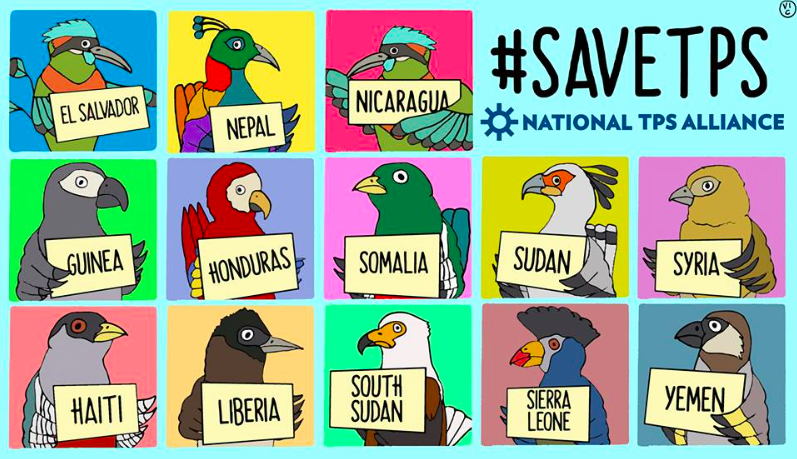 Under the Trump administration, the Department of Homeland Security has decided to remove the **Temporary Protected Status (TPS)** of Haitians, Nicaraguans, and most recently Salvadorans, and is expected to remove this status from immigrants from other countries soon. The right to migrate without fear of detention and deportation is important for all people, but this right is especially pressing for people from these countries, as deportation to their countries of origin could put their lives in jeopardy. These TPS decisions and their potentially fatal consequences make it important for us to learn what TPS is, why its removal is so devastating for certain communities, and what US voters and other Americans can do to push for helpful policies.
What is TPS?
TPS is a designation officially implemented by the Department of Homeland Security for immigrants from certain countries. If a country is facing a civil war, famine, fallout from a natural disaster, or other extreme circumstances that would make it dangerous for nationals of that country to return to their country of origin, DHS may implement TPS for immigrants from that country. This status protects them from immigration detention and deportation and allows them to legally work in the United States and seek travel authorization.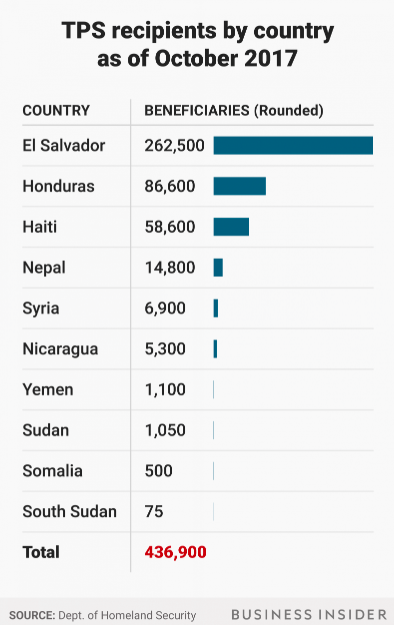 ### Who has lost TPS so far, and why is this loss so damaging?
Haiti
DHS originally implemented TPS for Haiti following the 2010 earthquake. DHS officials now argue that TPS must be ended because Haiti no longer suffers from the effects of this earthquake, and the department has stated that Haitians will lose TPS protections in July of 2019. However, this assumption is not supported by the reality of the current situation in Haiti.
First of all, the UN Peacekeepers who arrived in Haiti as a response to the earthquake introduced cholera, which had long been eradicated in Haiti but, once reintroduced, quickly spread due to Haiti's damaged infrastructure and limited sanitation. This epidemic developed into a long term public health crisis. The New York Times reported in 2017 that since the reintroduction of cholera by UN Peacekeepers in 2010, almost a million Haitians had been infected, and approximately 10,000 had died of the disease. This crisis is ongoing.
Recovery was also hampered by the misuse of funds and general inefficiency by relief organizations such as the American Red Cross.
In addition, other natural disasters, such as the recent severe hurricanes of 2017 and Hurricane Matthew in 2016, have struck since the earthquake, further impeding the ability of Haiti to receive Haitians who have made a life in the United States.
El Salvador
Large scale immigration from El Salvador to the United States started during El Salvador's civil war (1980–1992), during which time the United States actually supported El Salvador's brutal far-right wing government. However, Salvadorans gained TPS only after a major earthquake in 2001. Now, despite consistent findings of inadequate recovery from the earthquake, their protections are set to end in September of 2019.
The focus on the earthquake damage deflects from another major reason why Salvadorans fear returning to their countries: major gang violence that exploded following the civil war. The past year has seen an increase in the number of Salvadorans, especially minors, fleeing the violence and trying to reach the United States. Many of the teenagers and young adults who have fled did so because gangs explicitly threatened their lives. Sending these people back to El Salvador could be a death sentence.
In addition, the relatively long history of immigration to the US from El Salvador means that many Salvadoran Americans who are at risk of being deported have spent practically their entire lives in the United States.
What are actions that Americans can take to mitigate the damages of TPS removal?
There are currently two bills, one in the Senate and one in the House, that would help former TPS recipients gain permanent residency. The senate bill is S.2144 and is titled the Safe Environment from Countries Under Repression and Emergency (SECURE) Act. Please note that there is another Senate bill with the same acronym, so the bill number is particularly important for this bill. The House bill is H.R.4235 and is titled the American Promise Act.
Each has been referred to its chamber's Judiciary Committee, and the house bill has been referred to the subcommittee on Immigration and Border Security. This means that if these committees do not at least schedule a hearing to move this legislation forward, these bills will die. The committee chairpeople have the final say in which bills are moved forward.
For this reason, it is important that as many Americans as possible call the offices of these chairpeople as possible. Even if you are not in the district of any of these legislators, your call will still show how much the American people at large care about TPS recipients and prioritize this issue in the voting booth.
Chairman of the Senate Committee on the Judiciary: Chuck Grassley
D.C. Office phone number: (202) 224–3744
Chairman of the House Committee on the Judiciary Subcommittee on Immigration and Border Security: Raul Labrador
D.C. Office phone number: (202) 225–6611
Chairman of the House Committee on the Judiciary: Bob Goodlatte
D.C. Office phone number: (202) 225–5431
Join and Support the National TPS Alliance / Alianza TPS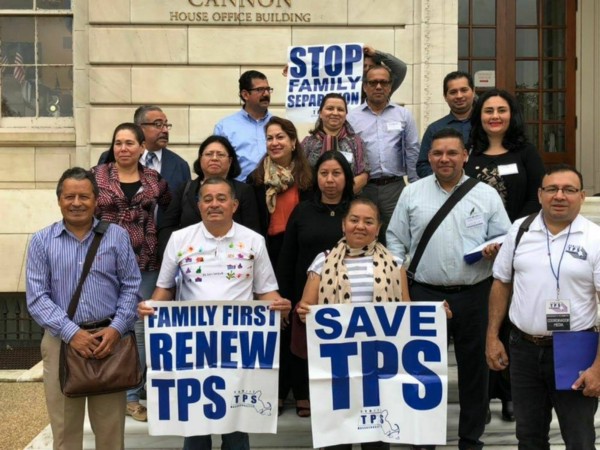 From [SaveTPS.com](http://In%20June%202017,%20beneficiaries%20of%20Temporary%20Protected%20Status%20from%20across%20the%20United%20States%20gathered%20in%20Washington%20D.C.%20to%20form%20the%20National%20TPS%20Alliance.%20Local%20and%20regional%20committees%20from%20several%20states%20arrived%20representing%20nationalities%20that%20benefit%20from%20Temporary%20Protected%20Status%20%28TPS%29,%20including%20Haiti,%20El%20Salvador,%20Honduras,%20Nicaragua,%20and%20Nepal.%20They%20gathered%20to%20coordinate%20local%20and%20national%20advocacy%20efforts%20as%20well%20as%20discuss%20the%20shared%20struggles%20of%20all%20TPS%20beneficiaries.The%20National%20TPS%20Alliance%20is%20formed%20and%20led%20by%20TPS%20beneficiaries%20from%20across%20the%20country,%20combining%20advocacy%20efforts%20at%20a%20national%20level%20to%20save%20Temporary%20Protected%20Status%20for%20all%20beneficiaries%20in%20the%20short%20term%20and%20to%20devise%20legislation%20that%20creates%20a%20path%20to%20permanent%20residency%20in%20the%20long%20term.%20Several%20organizations%20historically%20involved%20in%20the%20hard-fought%20battle%20for%20immigrant%20rights%20have%20helped%20lift-up%20initiatives%20of%20the%20National%20TPS%20Alliance%20through%20logistical%20and%20technical%20support.):
In June 2017, beneficiaries of Temporary Protected Status from across the United States gathered in Washington D.C. to form the National TPS Alliance. Local and regional committees from several states arrived representing nationalities that benefit from Temporary Protected Status (TPS), including Haiti, El Salvador, Honduras, Nicaragua, and Nepal. They gathered to coordinate local and national advocacy efforts as well as discuss the shared struggles of all TPS beneficiaries.The National TPS Alliance is formed and led by TPS beneficiaries from across the country, combining advocacy efforts at a national level to save Temporary Protected Status for all beneficiaries in the short term and to devise legislation that creates a path to permanent residency in the long term. Several organizations historically involved in the hard-fought battle for immigrant rights have helped lift-up initiatives of the National TPS Alliance through logistical and technical support.
Visit SaveTPS.com to join the movement:
Purchase a poster of the above artwork for $10 from artist Dichos de un Bicho:
**Follow the TPS Alliance / Alianza TPS on Facebook • Instagram • **Twitter
Nina Randazzo is a Ph.D. student in Earth, Energy, and Environmental Sciences at Stanford.
---
Read more Immigration Reporting in IMM Print