by Jarred Bean
Despite controversies over border walls, separated families and the Muslim travel ban, immigrants are still striving for American citizenship. We Are Witnesses: Becoming an American is a series from The Marshall Project that tells their stories and the stories of those trying to help and hinder them.
It didn't take long after Trump's inauguration for him to turn his anti-immigrant rhetoric into reality, and immigrants and immigration activists alike knew they would have to mobilize quickly in order to either avoid or respond to the deluge of racist policy that was soon to follow.
Though not the first nor, unfortunately, an uniquely cruel policy to arise from Trump's time in office, one of the most defining actions in the early months of his term came just seven days after he assumed the presidency: the Muslim Ban.
Nisrin Elamin, a Sudanese Green Card holder and graduate student, and Tahanie Aboushi, a Palestinian-American attorney born and raised in New York City, found themselves on opposite ends of this unconstitutional attack.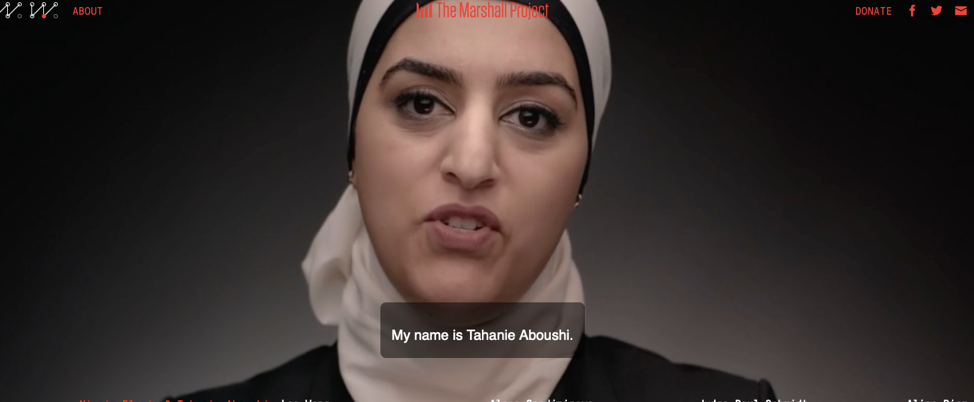 "I was doing research in a rural part of Sudan, and there were rumors that something like this could be signed," Nisrin said. "Frankly everything was so unclear, and so that kind of uncertainty, I think, also made me feel like I wanted to come home. So I got on the next flight out from Khartoum. From Khartoum I went to Bahrain, and then I caught a connecting flight to London. I couldn't sleep, I couldn't eat, knowing that this executive order might get signed while we're on the plane, and I just didn't know what I was gonna expect."
Tahanie was on her way back to NYC from Connecticut when she heard the news, and she went straight to John F. Kennedy Airport in Queens.
"If there was a moment in time that I was created for, it was for this moment," she said. "Being an attorney, being a child of immigrants, being Muslim. If I can't do something about this right now, then what have I been gearing up for all this time?
"When I first entered JFK, there was a massive amount of people, signs, banners. It was really, really robust. It actually gave me chills. I have chills right now just talking about it because it was such a passionate response to this. I just made my way inside the Terminal 4, and I saw the beginnings of what eventually would be our headquarters."
Nisrin also arrived at JFK just as the Muslim Ban was taking effect. In fact, it seemed to her that they were the first group affected by the ban.
"When we finally got off at JFK airport, I followed the regular US citizen/Green Card-holder line, went to the machine where you put your green card in, you know, my picture came out with an "X" on it. And so I went to the immigration officer and then he went to a supervisor.
"He said, 'What should I do with this person?' And he said, you know, 'Just process her like a normal Green Card holder.' And as he was walking back, the supervisor said, 'Well actually, wait, wait a minute, we have to take her in for further processing.'"
Tahanie and other advocates quickly learned they had to rely on the families of arrivals, as they weren't getting any information from CBP authorities.
"People would call us and say, 'I have a parent, a grandparent, or a child on the plane.'" Tahanie recalls. "And so we'd track the flight, we'd wait at the entrance of whatever terminal they were exiting, and if they didn't come out after the flight cleared we'd know, okay, they're in the back.
"If the family hasn't heard from them three hours, four hours, six hours, we'd start to press Customs and Border Protection," she continued. "In the eighth or ninth hour, we would then begin to draft petitions to the federal court requesting that they be released."
According to Nisrin's experience, those detained were subjected to interrogation and intrusive searches, despite the fact that authorities themselves indicated a lack of understanding of the new order.
"I kept asking throughout the night, 'What's going to happen?' And I was told, 'Your guess is as good as mine, we don't know,'" Nirsin remembered. "I noticed that the officer was reading the language of the executive order. I'm assuming to get some direction on how to question us or on what to do.
"I asked one of the officers if I could call a lawyer. And he said, 'You know, the border zone that we're in is a special jurisdiction, and we are both judge and lawyer in this space.' He started asking me if I knew people with radical views. Asked me about who I was, what I did, where I had lived in the United States. At some point they also searched our bags."
According to Tahanie, the ban lasted long enough for them to file petitions for detained immigrants, but was struck down before they could reach the courts. The experience left an indelible mark.
"I'm hurt for our community, not just the Muslim community, but the immigrant community," Tahanie said. "The attitude towards Muslims, it's not new, it just made me realize we've got so much more work to do."
Nisrin was left feeling dehumanized by the ordeal and thought she was about to lose everything.
"At some point in the night, we were told that we were gonna get transferred to a 24-hour holding area. We were escorted with armed guards, we were escorted out onto the tarmac and taken in this van. I had to put my hands against the wall. I was handcuffed. I thought this probably means that I'm gonna get deported. I started crying. I just felt like, yeah, there was something about that moment, that I felt like okay, like this is it, we just stepped a line, you know, crossed a line."
They said they didn't find anything against her and finally allowed her to leave. She became a US citizen later in 2017.
"I came out to an empty airport," Nisrin said. "It was like three or four in the morning, and my partner was there, as was a friend who had come at three in the morning to bring me some food.
"I want to love America. I consider this my home. But I can only love America if it loves me back."
Though that version of the Muslim Ban was struck down, a subsequent iteration was largely upheld by the conservative Supreme Court after a 17-month legal battle.
It's only one of the myriad ways in which the courts have upheld Trump's inhumane policies.
Jarred Bean is a writer and analyst working in the New York City Department of Education. Coming from a working class family in North Carolina, he has gone on to live in and serve working class communities in the US and abroad. He has previously written for Brand New Congress.