CIVIC's weekly spotlight on crimes committed by Immigration and Customs Enforcement. This week's crime: Deaths in Detention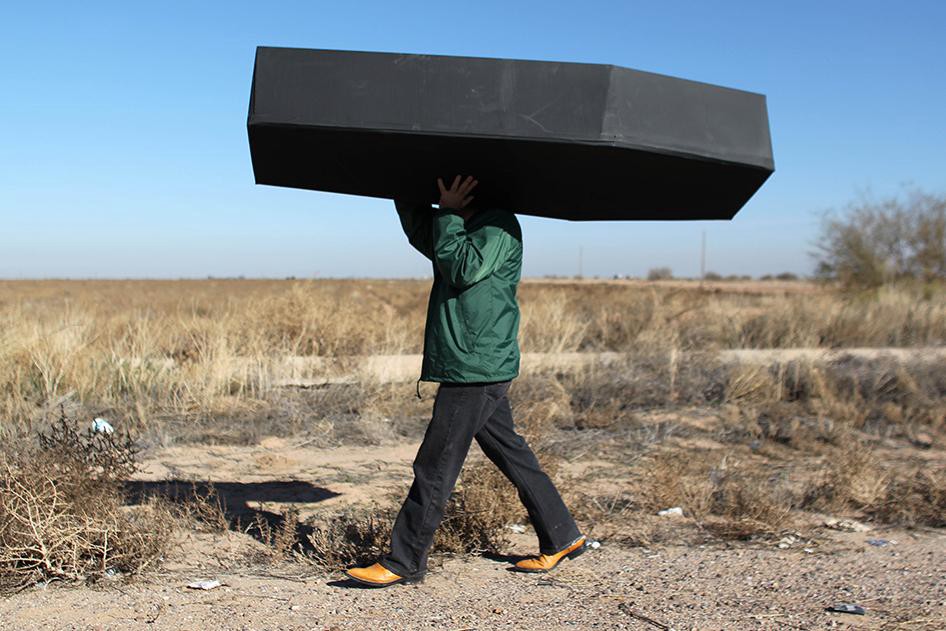 A demonstrator carries a coffin at the Eloy Detention Center in Arizona. Photo credit: ©2016 Associated Press and Human Rights Watch's 2016 report " U.S.: Deaths in Immigration Detention."
Last week, a 32-year-old Nicaraguan man named Omar Epifanio Gonzalez-Gadba died at the Adelanto Detention Facility in California after hanging himself in his cell.
Isolation characterizes his experience, what little of it we know. He was not immediately discovered and tended to because he was in a cell by himself. He never had a visitor while detained at Adelanto, and authorities are having difficulty locating his next of kin in the United States or in Nicaragua.
This is the fifth death in U.S. immigration detention reported by ICE in 2017. There have been at least 165–170 deaths in detention since 2003, when ICE began reporting deaths to Congress, but the numbers are fuzzy. Suicide, medical neglect, and missing information characterize these events, as deep-dive investigations and human rights reports continue to expose. As CIVIC has pointed out, ICE usually immediately mentions that apparent suicide victims did not seek medical attention before their deaths. However, ICE made no such claim this time. CIVIC demands an investigation of Mr. Gonzalez-Gadba's death.
If immigration detention is designed to make people disappear, death is the ultimate realization of a system rooted in imperialism and white supremacy.
The use of private prisons also exacerbates conditions that lead to deaths. The for-profit Eloy Detention Center in Arizona, run by CoreCivic (formerly Corrections Corporation of America), ranks highest in suicides and is deemed the "deadliest" in the nation.
Read "Why Are so Many Inmates Dying at the Eloy Immigration Center?" and "The Strange Death of José de Jesús"
A Pattern of Neglect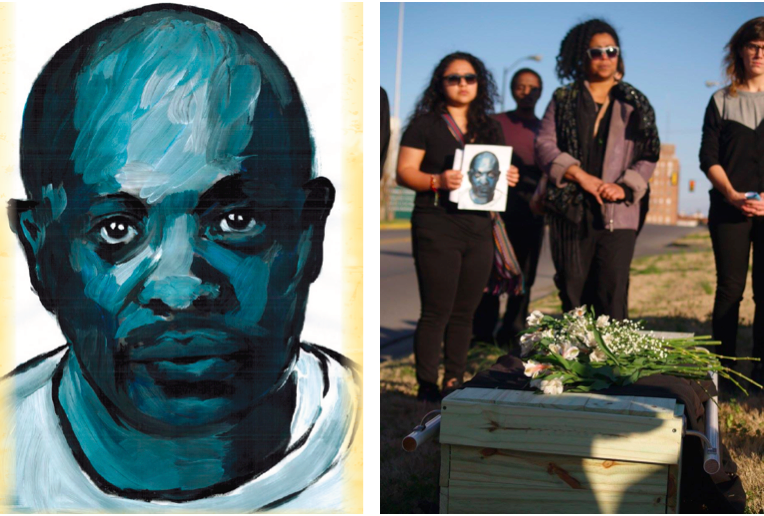 Left: Portrait of Teka Gulema. Right: Memorial service held by the #ShutDownEtowah campaign. Photo credit: CIVIC
Teka Gulema died in early 2016 as a result of an infection contracted in the Etowah County Detention Center in Gadsden, Alabama. But ICE failed to report his death.
After a failure to properly treat the infection, ICE "released" Mr. Gulema from custody, although he remained immobile in the same hospital bed in Gadsden that ICE had transported him to, thereby avoiding the agency's obligations to report Mr. Gulema's death to government entities and the public. His death will not be counted in ICE's death toll, but we will keep his memory alive.
Members of Adelante Alabama Worker Center, the #ShutDownEtowah campaign, and local faith leaders created and carried Teka's portrait during a memorial action they conducted on the street outside the center to remember Mr. Gulema and express outrage at his death and at ICE's attempts to disappear him.
Read CIVIC's complaint regarding Teka's death and a pattern of medical neglect at the Etowah County Detention Center.
Suicide: End of Hope, Act of Resistance, Ultimate Plea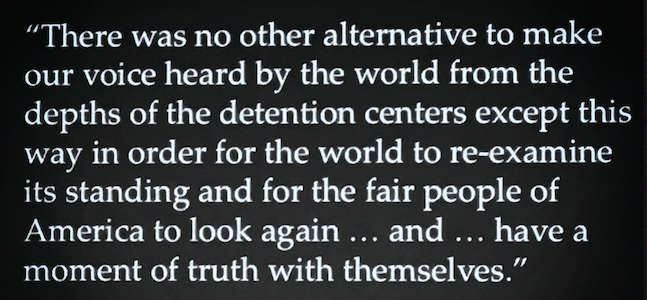 From a suicide letter by Jumah Dossari at Guantanamo Bay from October, 2006. Presented in a lecture by Dr. A. Naomi Paik at UC Irvine, 10/4/16. Photo credit: Tina Shull.
When people are driven to commit suicide in indefinite detention here, in England (where suicide attempts peaked at one a day in 2015), Australia, or at Guantanamo Bay, we must see the shared underpinnings of imperialism behind these events.
We may see these acts as the end of hope. Adnan Farhan Abdul Latif, who died at Guantanamo Bay in 2012 after multiple suicide attempts, wrote that he felt he was "living a dying life," and that "life… has become death."
We may also see these acts as acts of resistance. In 1981, Haitians who were being detained at the Krome facility in Miami were transferred to Fort Allen, Puerto Rico, an overflow facility that was chosen in part to make detention less visible to the American public. During the flight, three people tried to jump out of the airplane. Nineteen Haitian women wrote a letter to the INS from Fort Allen: "Since we arrived on American soil, we have been mistreated… Now we cannot stand it any more. It is too much. If we have not been freed by the end of November, a good number of us are going to commit suicide. Because we have sworn to die in the United States." It was signed, "The Unhappy Refugees of Enclave VI." In 1982, a man named Prophete Talerant hung himself in the bathroom. He was facing deportation and had spent a year at Fort Allen. In defiance, the other men did not allow INS officials to remove Prophete's body for a week.
Finally, we may see these acts as an ultimate plea to be seen. Jumah Dossari, a Bahraini man held at Guantanamo Bay for five years, three and half spent in solitary confinement, and repatriated to Saudi Arabia in 2007, wrote of his suicide attempts: "There was no alternative to make our voice heard by the world from the depths of the detention centers except this way in order for the world to re-examine its standing and for the fair people of American to look again…and… have a moment of truth with themselves."