by Freedom for Immigrants
Freedom for Immigrants is receiving widespread reports that ICE is planning to deport hundreds of Cameroonians imminently, including men who have been tortured, others who were hunger striking, and women coming forward about forced sterilization at Irwin County Detention Center. Many, if not all, of their travel documents are believed to be fake. The stories of three Cameroonian women at Irwin were featured on IMM Print on Saturday.
For months now, Cameroonians in detention have been sounding the alarm on the racist and violent conditions ICE has subjected them to via videos, hunger strikes, and protests. Last week, a civil rights complaint was filed by Freedom for Immigrants, the Cameroon American Council, Southern Poverty Law Center, Louisiana-AID visitation group and others detailing torture of Cameroonians in Adams Correctional Center in Mississippi (pepper spraying, solitary confinement, and physical assault including beatings and breaking fingers) done to coerce people to sign their deportation documents. Others are urgently calling our hotline and saying they don't have any travel documents at all, and never signed anything.
The situation is changing very rapidly, but mass deportations are expected late tonight or tomorrow. Please take a minute TODAY to make calls/emails to the Congressional Black Caucus alerting them of this situation and urging them to take action. Graphics with call info/script here.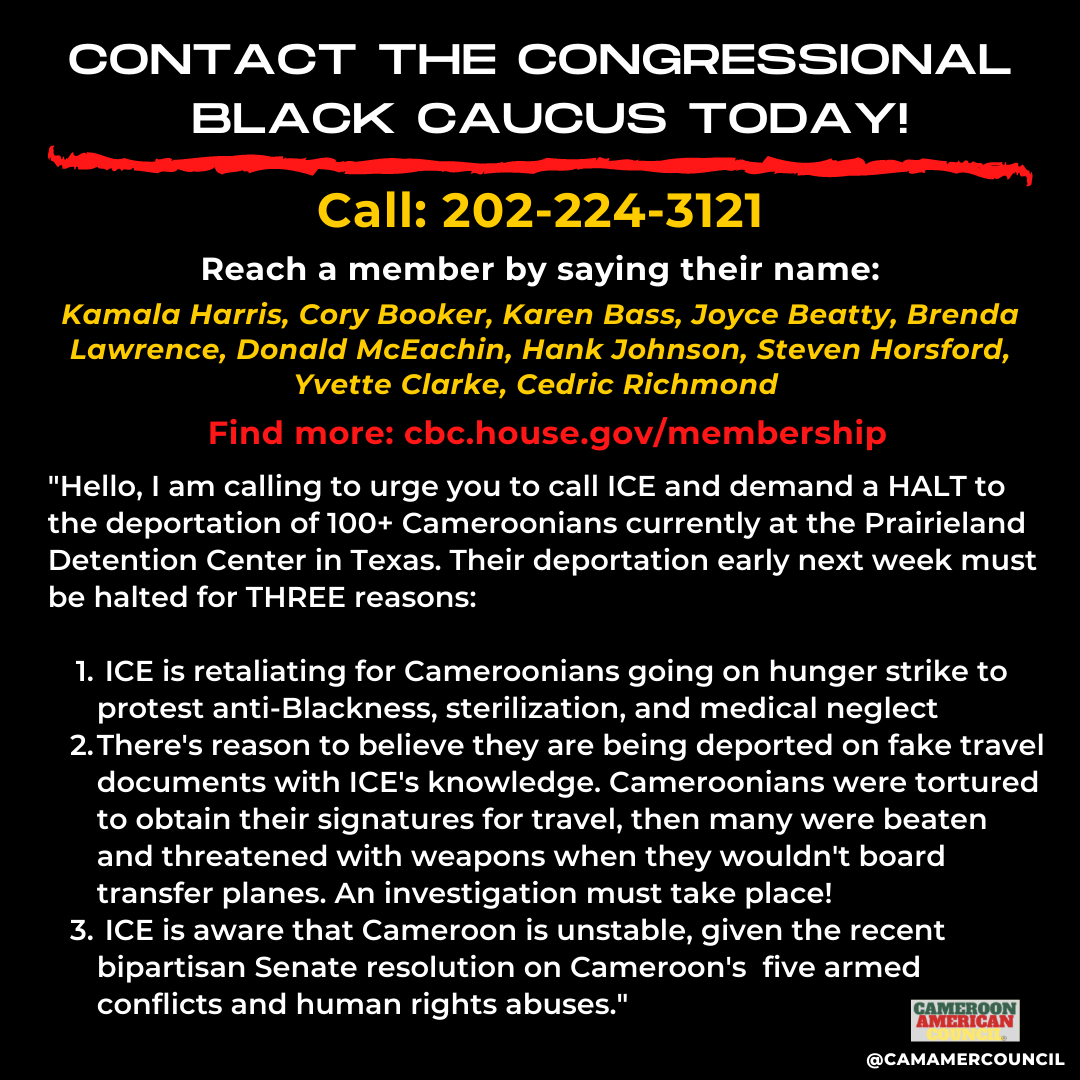 Cameroonians are also being held at Prairieland Detention Center near Dallas/Forth Worth. The Prairieland visitation group is mobilizing volunteers, Black Lives Matters and other justice organizations, plus local Cameroonian community members. If you live near or have friends or family there, please share this attached flyer for today's 2pm car caravan in front of Prairieland. There's also a mass action at the airport underway. Reach out to visitation coordinator Angie Andrade with North Texas Dream Team for more info: angelica@northtexasdreamteam.org