by Cindy Knoebel
On Monday, December 10th of last year American Friends Service Committee (AFSC) led a mobilization of faith leaders from across the country to the enforcement zone on the U.S./Mexico border for "Love Knows No Borders," a call for a world without walls. It was there, at the edge of the ocean, where they came face to face with riot gear-clad border agents. Here, in the first of a two-part series, Matt Leber of AFSC talks about what happened.  
Cindy Knoebel: So tell me a little about yourself.
Matt Leber: I grew up in a wealthy, mostly white suburb outside of Boston, MA, a great-grandson of immigrants who arrived in this country at the turn of the 19thcentury. I've been an organizer for much of my life, working for social justice organizations—mostly in solidarity with brown and black folks—defending workers' rights and immigrant rights. I joined American Friends Service Committee in the fall of 2018, and I'm currently based in Oakland, CA as a regional assistant director.
CK: Describe AFSC and the work it does.
ML: Founded in 1917, AFSC has over 60 programs around the country. We support efforts to demilitarize our communities through immigrant justice, dismantling the prison system, youth leadership work and more.
CK: What was the impetus for the December 10th protest?
ML: Simple, really. We want to bring justice to immigrants. The most recent exodus, in the form of the caravans, clearly needed our support. We have programs in El Salvador, Guatamala, Mexico and on the border that had been supporting migrants on the caravan and we were well positioned to respond. We decided to throw the entire weight of our organization behind it—and to build as much support from other faith-based organizations as we possibly could.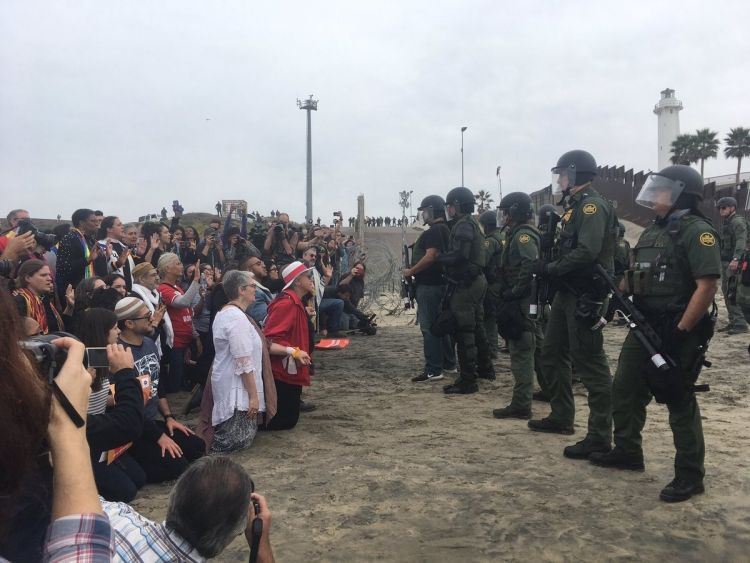 CK: What did AFSC hope to achieve by the mobilization? How did it all come together?
ML: We wanted to raise the profile of the migrant caravan and shift the public narrative to a vision of a world without walls, with a goal of defunding ICE and CBP (Customs and Border Protection). We sought strong collaborations with other faith-based organizations and support from hundreds of participants. These expectations were more than fulfilled.
We pulled it all together in three weeks. We recognized in mid-November that, as the caravan approached the U.S. border, we faced a pivotal moment, an opportunity to stand with migrants to support their rights. December 10thwas also Human Rights Day, and right behind it, on December 18th, was International Migrants Day, so the timing was perfect. We immediately reached out to a number of organizations, including Poor People's Campaign, CAIR (Council on American-Islamic Relations), Interfaith Movement for Human Integrity and others to ask them to join us on this action. They answered with a resounding "yes." We put the word out through our partner networks and had hundreds respond who were willing to put their bodies on the line and pray for a world without walls.
CK: What did you expect? Were you worried about your safety—and that of the others participating?
ML: We were all worried, sure, but we felt this was the time to take risks— and to support the risks the migrants were taking as well. We knew several thousand troops were stationed in San Diego to "confront" (to use Trump's word) the migrants, and we  also recognized that white nationalists might show up, possibly with weapons. For those reasons, we made sure we had a strong peacekeeping team in place. We required anyone willing to risk arrest to attend 4 hours of nonviolent direct action training, including role-playing to prepare for various scenarios we might face. We all came together: imams and rabbis, Quaker faith leaders and clerics. The energy in the room was powerful, electric; their willingness to transform their spiritual practices into collective action was extremely powerful.
We all gathered at the AFSC office at 8 o'clock in the morning, then traveled to International Park, a mile and a half from the border. We had music and a press conference, then proceeded through a narrow, puddle-filled track to the Pacific Ocean. For the last half-mile on the beach heading to the Federal Enforcement Zone at the U.S./Mexican border, we walked in pairs of two. Those willing to assume risk of arrest walked until they were only ten feet away from riot gear-clad border agents with machine guns who stood between the waves of the ocean and the concertina wire. At this point, row of 10 faith leaders—those willing to take the risk—approached within a few feet of the officers, and entered into a sacred ritual, calling for a world without borders and addressing migrants on the other side. After the ceremonial blessing, the leaders went onto their knees and moved toward the Border Control agents until they were just a few inches away. Then there was another call from CBP to move the faith leaders back. We decided to not only hold space, but to expand it by wading into the ocean, wading into the water, at which point the agents were forced to bring more officers to the zone.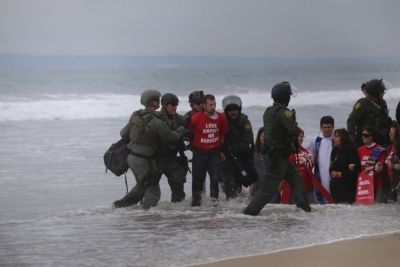 Bishop Minerva Carcaño helped to expand the line with members of her team, still in the waves of the ocean. At that point, a Border Patrol Agent decided to target me. He stepped outside the enforcement zone—and grabbed me.
END OF PART 1; in PART 2 (appearing tomorrow), Matthew writes about spending the night in detention.