Alexandra is a journalist, poet, and musician who was detained for 444 days at the Eloy Detention Center in Arizona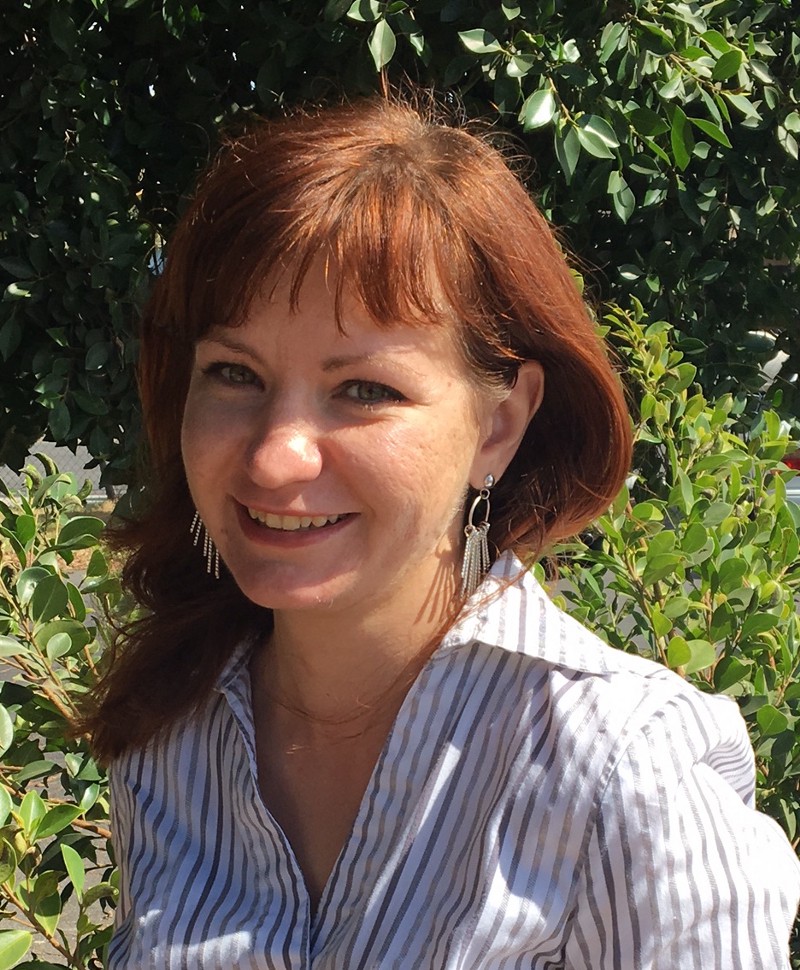 *Alexandra writes:*
"I started to write in immigration detention because I did not have many things to do, and I needed to express my feelings. Being interminably watched, one is not able to demonstrate one's grief or anxiety, but these emotions demand expression. So, at first, I wrote only in Russian, but later, I took shaky and unsteady steps as a child does in English. When I felt scared, I wrote "Ambiance." When I felt sarcastic, I composed "Silly Rhymes," perhaps not valuable as fine literature, but my rhymes gave me a few moments to breathe in the fresh air of opportunity and greet a new day with hope. The second poem below, "One Frank Poem" is exactly one of those poems, designed to conjure a reader's smile. The first poem below, "Hotel 'Mil Estrellas,'" is more wistful and melancholic; it depicts the moments of utter loneliness that sometimes invaded my soul while in U.S. immigration detention. I have a lot of stories to tell, and I hope you will listen. But maybe I should tell these stories, if only for the sake of their heroes — my fellow immigrants in detention, still waiting for their freedom to come."
Hotel 'Mil Estrellas'
Where I am going there will be nobody to take care of me.
Where I am going I will live in the Hotel of Thousand Stars.
They all will be mine. Their flight, unstoppable,
Will be as a notice of heavenly court –
They will mark the time of my sentence.
Where I am going I will be alone.
I will dwell on proverbial streets and under proverbial bridges.
And I'll count myself happy enough
to remember the meaning of home.
I will feed my old poems to warm my old hands,
And my face will be wrinkled and full of contempt,
And I will curse the passers-by in all known tongues –
For they are more lucky than me –
In the Hotel of Thousand Stars.
Where I am going you'll wait for me in silence.
With your arms wide open and your smile welcoming,
With your heart pumping your tricky blood.
But I can, even now, see the rusty bars
Of the cage you already prepared for me –
In the Hotel of Thousand Stars.
All those premonitions are gnawing at me,
Forging soul into stone, unbreakable.
I fight hard to awake that late warrior,
Who had started this way in the past.
I feel chill expanding under my ribs,
Where God has His secret shrine.
I am tossing away promises and beliefs.
I try hard to define what's mine.
If I manage to reduce myself to emptiness…
If I freeze this growling unease…
Then I maybe'll be able
to collect enough strength
And to make my step back to life.
It looks like I've been just put in storage.
Before, I had the courage to go into light;
Before, I'd raise my hand, wave at you,
And surrender to your embrace…
So now I take a deep breath –
And I finally go ahead
To the place unknown, to the words unsaid,
To the Thousand Stars.
One Frank Poem
What should I say being in here?
What, can I cry out of this place?
Should I behave as I am sincere
Or act like heroes of classic plays?
Would it be helpful
To be pathetic?
Would it be useful
To be myself?
I can shed real tears –
Or I can fake it;
I can make promises –
And be saved.
I thought a lot
What I will publish:
Which things to share,
Which poses to take…
Should I pretend to be a pile of rubbish?
Should I encourage like a piece of cake?
Should I describe to you all daily routine
To make you feel like you were inside?
Tell about people, their stories looting,
And push so hard, reader might have cried?
Could I persuade you, I'm kind and generous,
Caring and talented, full of faith?
I thought a lot and I found no answers.
So do your job –
and decide yourself.
About Eloy
In Eloy we have dates instead of names.
Nobody asks while meeting of your name –
They ask 'how much' and 'when'.
And if we speak of someone whom we miss,
We're shooting numbers as we all consist
Of numbers, not of memories.
Depersonalization is the beast
That haunts my dreams,
I watch the new-released
With mixed feeling of relief and pain –
Indistinct whisper still behind their backs –
Of numbers and of dates.
I've got used to most things about that place,
Though without stubbornness to keep my pace
I wouldn't last a year
It is clear.
I'm lost in crowd — crowd is my shield,
No one will look directly at my eyes –
There are so many of us…
My grandpa Lenin from his grave admires
The equality of rooms and dress
It's irony, I guess.
I hear the wailing preaching in the yard,
My eyes glued to the ground –
The sun so bright it seems to be turned up –
Prevents from look around.
We go in line — like animals in chain,
I' m moving slowly — and I know who I am –
I am the graph of income.
This soothing feeling comes to me sometimes-
They made me useful! Even grief and rage
Are numbers on the page.
I'm pulling garbage cart in heat of noon,
The air is so hot it's almost boiling –
And I know where I'm going.
From fence to fence in gleam of barbed wire,
I'm copying fences, put them in my mind
To calm the fire.
I vaguely remember being friendly
Or maybe even cheerful when I came
But here's the clue — nobody's left to tell me
If it was true.
I'm digging my escape through piles of paper
I must have gone insane to do such thing
But then I think
The paper is the best gate
To make one free.
Last week Event/Jane Doe
I must confess. I thought myself before
To be the craziest one in our pod:
Closed, uncommunicative and so on…
Until she came to rob me of my fame.
Though, it is not a proper place for jokes.
Nobody knows what country she is from.
Nobody knows her name — the rumor tells
That one on beige was made up in the office.
The rumor tells, she doesn't know herself.
I don't remember when she has arrived –
It maybe have been a week or even month:
I'm self-absorbed as already have told.
I didn't notice her for quite a time,
But now it's obvious that something's wrong:
I go back from my work — and here she stays,
As she was doing during previous days –
In front of officer's desk.
The chair behind, rejected without word –
As everything she does, she stands in silence.
She doesn't see the reason to explain.
I fancy it to be the "clear escape",
I envy her this catatonic state,
But basically, because I am Jane Doe myself…
I'd like to borrow silence of the corpse,
Be anonymous… What others think among 'em?
Does she strike them as scary and annoying?
Disturbing in her statue-like appearance?
Has she regrets without the memories?
Who knows? She never speaks.
What happened to her on the way through desert?
Has she got caught? Got raped? Lost someone there?
She seems to be confused by her own features:
Her eerie greenish eyes on tanned face,
So not at home — and glazed by emptiness…
To me, there's something horribly inhumane –
She stands for hours, begging by her pose,
Her bag in hand, her message obvious!
Nobody pays attention.
Her tendons twitching suddenly and then
Return to relaxation.
And with her hunched back, her cast down eyes
She looks obedient but stubborn twice.
She doesn't answer when somebody asks –
But no one asks for hours.
And then door opens — for the visitors –
And now she runs!
Oh, yeah, she runs away!
Her mind benighted, drunken on illusion
That she can really just run outside…
Hilarious!
She gives them quite a fight!
Of course, the doors are closed; and they collect her clothes…
She goes away in cuffs as wordless as she comes.
She disappears in some usual noon…
We will find nothing out.
And forget her soon.
The Snow
In this fake December
I remember the snow;
I try to recall
How it was soft and tender.
It was like laced veils;
It was like humming fireflies –
Reflecting crimson lights
Of passing cars and vans.
I danced in drifting snow,
In sparkling hive of fairies,
Muttered silent prayers
And they responded all.
I went through streets of town
I'll never see again…
Only the snow'll remain:
Snow doesn't choose the ground.
---
Alexandra was released from the Eloy Detention Center on April 21, 2016, after 444 days in detention with the support of Mariposas Sin Fronteras, Casa Mariposa, and Casa Libre en la Solana in Tucson, Arizona, who raised funds for her $5,000 bond. Over 50 people, many of whom are writers themselves, contributed to her campaign, including poet Franciszka Voeltz who wrote custom-made "Poems-to-Go" for contributors. Alexandra is now free, and just two days out of detention, she made her inaugural performance of her poetry at the Casa Libre Fair Weather Reading Series.