by Sharareh Frouzesh
Some 55 years ago the writer and philosopher Hannah Arendt coined the phrase "banality of evil," which recognizes that despite our expectations of evil as exceptional, and despite its grand representations in religious and eschatological terms, evil is in fact often mundane, routine, bureaucratic, and subtle. Evil is often just quotas, forms, and petty decisions, a "game of papers," which while seemingly innocuous or necessary, directly results in violence, dispossession, and wanton pain that far exceeds the ordinariness of the encounter.
The immigration system in America today is a kind of model for how this game of papers and bureaucracy routinely makes and breaks lives, unites or tears apart families, provides sanctuary or certain death.
This game of papers is happening all over this country but I will focus on one particular site, in Batavia, a small suburb of Buffalo, New York. Despite the public focus on the southern border, the northern one is also a highly securitized zone. The number of border security personnel tends to be based on the population and ethnic diversity of the closest major city across the border; in the case of Batavia, the closest major city is Toronto, Canada. Given this proximity, Buffalo is populated by an enormous number of ICE and CPB agents who in turn direct a steady inflow of immigrants to the Buffalo Federal Detention Facility in Batavia.
I became interested in Batavia by chance, when I came across an article about the case of Abigail Hernandez. I briefly researched the case and became fascinated with one of the judges she had encountered, someone who I came to learn was known as the "hanging judge" of the Buffalo immigration courts, a man whose indifference to the suffering and mistreatment of clients and counsel alike in his courtroom had become the stuff of legend.
Abigail Hernandez is but one of the hundreds of people who have faced Immigration Judge Philip J. Montante, Jr. in court. On February 15, 2018, Abigail, who was a 21-year-old Edison Career and Technology High School student with a severe intellectual disability, wrote the following threat on an East High School Facebook page: "I'm coming tomorrow morning and I'm going to shoot all of ya bitches."
County probation officials wrote that Abigail "at the time of the offense likely had no insight as to the full ramifications of her actions" and that "while the defendant admitted to the offense, such actions should be viewed through the lens of a much younger individual than the defendant's age would suggest." While Abigail was charged with a felony, she pleaded to a misdemeanor offense, and the initial "terroristic threat" charges were reduced to "third-degree falsely reporting an incident." It was after the criminal case that Abigail's real troubles began, when her case was sent to the immigration court, because Abigail was a DACA recipient who had been living in the United States since the age of 3.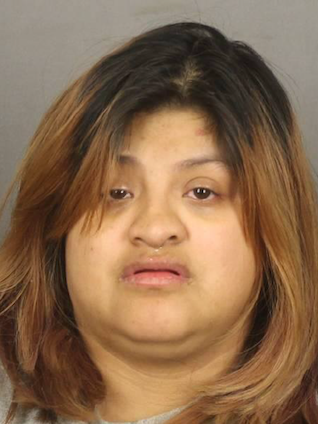 The fact that her charges were reduced to a misdemeanor didn't protect Abigail from the threat of deportation to Mexico. Even though Abigail had no history with the police, her DACA status was revoked subsequent to the charges, and she has since been detained in the Buffalo Federal Detention Facility.
Judge Philip J. Montante, Jr. has on various occasions deemed her "too dangerous" to be released into her parents' custody and has continuously denied bond and issued deportation orders, fully aware that such orders would endanger the life and well-being of a mentally disabled and vulnerable young woman who would have no support system in Mexico.
And despite the fact that another immigration judge, U.S. District Judge Michael Telesca, determined that Judge Montante had erred, the case was returned to Judge Montante's courtroom time and again. Last May she was granted a stay of deportation through August. Then, on August 8, Judge Montante ruled that Abigail would remain in custody.
Here's a twist of irony: In 1992, Judge Montante co-authored what was the standard defense of the basic rights of detained children, a 1992 law review paper entitled Protection and Custody of Children in United State Immigration Proceedings, which had long been a kind of bulwark against abuses in cases like Abigail's.
A January 26, 2019 complaint letter filed with the Department of Homeland Security's Office for Civil Rights and Civil Liberties questioned the vastly different track records of Judges within the Buffalo district in terms of granting bond in immigration cases, drawing upon Judge Montante as an example of a judge with the lowest bond approval rates in his district. According to an article in the Albany Times Union, "[t]he letter questioned why immigration judges, granted discretionary powers by the same agency and reviewing similar cases, could have totally different track records." Judge Montante has been an immigration judge in both Florida and New York. According to the Times Union, "Data ... shows that in Orlando's court, he denied bond in 96 percent of his cases - among the top 20 judges with the highest denial rates in the country. After being transferred back to Buffalo's court, he denied 68 percent of cases, dropping his ranking. He was appointed as an assistant chief immigration judge supervising Batavia and Buffalo immigration courts in March 2019.
Michael Ray, a defense counsel who argued many cases in front of Judge Montante, was disturbed not just by Judge Montante's behavior in the courtroom but by his dismal record of granting asylum to Haitian applicants. According to court documents, he granted asylum to only one of Mr. Ray's clients, a Tiananmen Square protester from China, while denying all his other clients, mostly Haitians. Ray sent written complaints in 1996 and 1997 to the chief immigration judge in Virginia accusing Montante of "regularly refus[ing] to consider evidence that Haitians seeking asylum faced political persecution if they were deported."
A judge's treatment of both defense counsel and clients matters. The immigration process is chock-full of large and small aggressions. For Abigail Hernandez, the denial of bond and appeals for asylum means an indefinite purgatory and literal imprisonment. And for those who are deported? They face a potentially life-threatening banishment from their homes and families in the US.