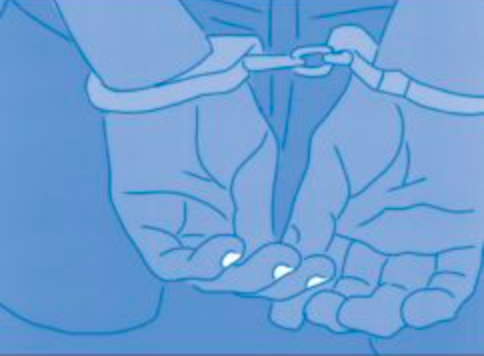 From the Immigrant Defense Project:
Defend Against ICE Raids and Community Arrests, the product of IDP's and CCR's collective work against ICE arrests under Bush and Obama, serves as the first comprehensive guide and organizing resource to fight back against the Trump administration's efforts to criminalize communities and deport millions of people. (Updated in July 2017)
As Latino Rebels reports:
As U.S Immigration and Customs Enforcement (ICE) arrests and raids continue to escalate under Trump's administration, immigrant rights organizations are working to develop more resources to better assist the community.
The Immigration Defense Project (IDP) is one of the groups expanding "community defense materials to support those standing up the attacks on immigrants," according to an IDP release. These updated tools and resources seek to prepare advocates, organizers and community leaders to protect their communities against ICE raids.
IDP's #StopICECold toolkit offers a variety of materials with information on how to respond to ICE, and helps organizers understand ICE tactics, who their targets are and how they are trained. The toolkit also contains data on the country's detention and deportation system.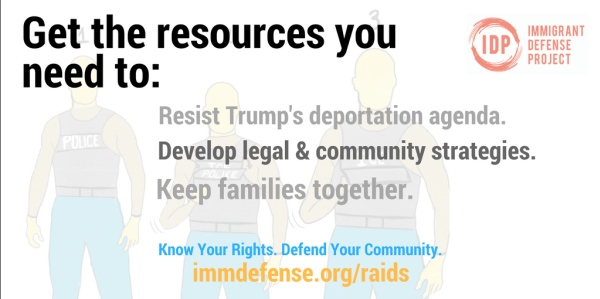 Graphic by IDP/Part of press package sent to media
Download **Entire Toolkit (incl. Appendices) **(Total 250 pages)
Also available in Spanish ("Defensa contra las redadas y los arrestos comunitarios de ICE").
Download Toolkit without appendices (Total 53 pages)
Download appendices (Total 209 pages)
Appendix A (149 pages) : Select documents pertaining to ICE enforcement tactics obtained in the Immigrant Defense Project et al. v. ICE et al. FOIA litigation.
Appendix B (50 pages): Reports of raids collected by IDP, broken down by the identified ICE tactic, demonstrating the range of strategies used in their enforcement actions.
Appendix C (7 pages): Press coverage on the human toll of raids. Select stories that have been in the press humanizing individuals who have been subject to ICE enforcement.
Visit here for other resources related to ICE raids and community arrests, including Know Your Rights flyers and emergency preparedness tools.
Based on years of community defense experience, litigation, and legal research, including hundreds of first-hand accounts of ICE raids from immigrants, our joint #stopICEcold toolkit offers social justice advocates, lawyers, and community members critical information and analysis of our country's massive detention and deportation system, as well as straightforward guidance on how to prepare for the ICE raids.
Inside the #stopICEcold toolkit:
Definitive information on who ICE targets for deportation, priority locations for ICE activity, and common ICE arrest tactics and strategies.
Recommendations for immigrants and advocates on emergency preparedness for those at risk of deportation, individual rights during ICE encounters, and potential legal and community challenges to ICE raids.
Key takeaways from years of critical research and experience with the mechanics of the world's largest detention and deportation apparatus — including an initial forecast of what we may see under a Trump administration.
Select internal DHS/ICE enforcement memos and training documents secured through a pending FOIA litigation — as well as summaries of raids reported to IDP, organized by common ICE tactics and ruses.
Coming soon:
An online interactive map of the raids reported to IDP in the New York City area.
An online directory of FOIA documents from Immigrant Defense Project et al. v. ICE et al.
A web-based version of the toolkit.
Ongoing updates and more resources on emergency preparedness.
---