by Rachel Melancon
Just off I-95 in Jessup, Maryland, the Howard County Detention Center is a county jail with a maximum capacity of under 500. According to the website, "The facility houses pre-trial offenders, as well as inmates sentenced up to 18 months." But then beneath that, in careful language, the official website adds:
"The Department also by contract houses detainees in the custody of the  federal Immigration and Customs Enforcement agency.  It is the policy of the Howard County Department of Corrections to only accept detainees from ICE who are criminally involved.  This includes:
1.  Those convicted of crimes.
2.  Those charged with jailable offenses.
3.  Those who are members of criminal gangs.
4.  Those who are deported criminal felonswho have illegally reentered the U.S."
Jessup is not quite halfway between Baltimore and Washington DC, and the exit for Howard County Detention Center is a lively place with blocks of hotels and recreation areas. If you stopped off exit 41A on I-95 in Maryland for a Starbucks latte while commuting, or stayed at any of the several hotels in the neighborhood, you would never notice the unassuming Department of Corrections building on Waterloo Road. If anything, the maximum security Patuxent Institute just down the highway will command your attention. You could sit at McDonalds with some coffee on a dark, quiet night with no traffic, and you would be close enough to, theoretically, hear a man scream.
But you won't. Roberta and Dick Dunning, who volunteer with DC Detention Visitation Network, are quick to tell you that Howard County Detention Center is not one of the horror stories. It is a county jail that has a contract with ICE. They haven't, actually, even encountered anyone from ICE, or anyone federal. It's only local security, and one guard even helps recruit incarcerated immigrants for monthly visits. The Dunnings work with the director and he's "very timely" for approvals for visits. The Dunnings have been visiting people at Howard County since 2015 and this is one of the better facilities to be placed in, if you're going to be detained.
Roberta has a background as a school counselor and Dick worked in public health/global health with Johns Hopkins. This is their retirement volunteer work. They visit in person and in addition, they ask volunteers to write to immigrants, to be pen pals.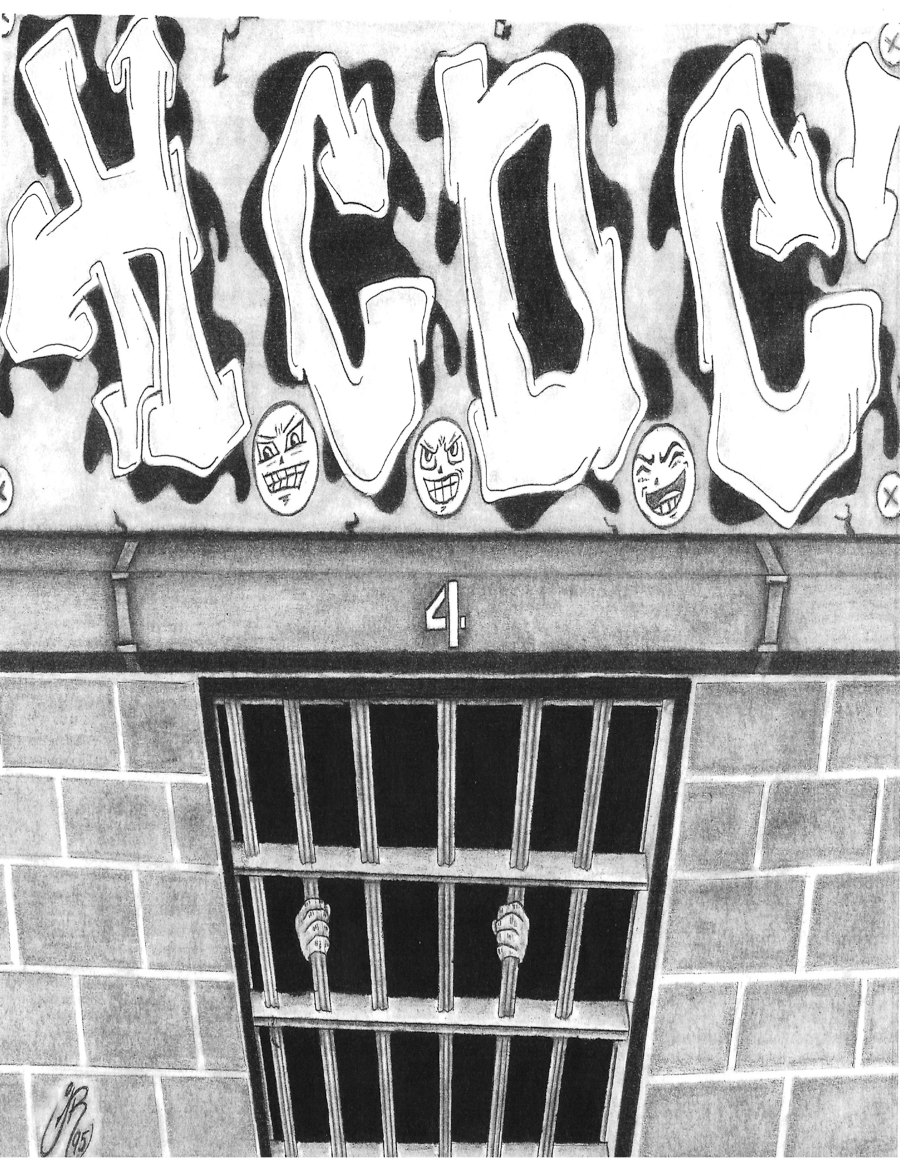 "It's really hard because a lot of immigrants don't respond [to letters]--not sure why," Dick says. "Some have trouble getting envelopes. They are provided paper and pencil once a week. So we're going to try providing envelopes."
Sometimes it's a logistical issue preventing someone from responding, such as no access to envelopes or paper, or a language barrier. Sometimes it's just that immigrants disappear. Unfortunately, Dick says, "a lot of immigrants are no longer there to reply to--they're transferred, deported."
More effective is in-person visitation. At this particular facility, visitation takes place through an old telephone and a glass wall. (Another facility in Maryland lets visitors sit across a table from friends and family.) It's hard to hear through the phone and Dick has to plug his other ear with his finger. There's static and lots of background noise from other people talking loudly. It is hardly an intimate place to emotionally connect, but at least Dick can press his palm against the window and the man he is speaking with can lift his hand, and they can be palm to palm with only the thick glass between them.
"I come from a background where I want to know the whole story before making any decisions," Dick says. "But here you just have to relate and be there in that moment."
Roberta agrees, and describes their hand-to-hand gesture as a unity symbol. "So they know they are not alone or forgotten."
The exception is family visits. Those are only performed through recorded video, even when the detained person's family is local.
"One person said to me, 'People who are not immigrants who are here for crimes, they can still have the [family] visits through the window.'" Roberta relays. "'But we have to do it through the video, and we may never see our families again face-to face because we may be deported or shipped off.'"
Since they began visiting in November of 2015, the Dunnings say the number of people detained has appeared to increase and there appears to be more turnover. It's hard to keep track of any particular person for letter-writing or relationship-building because they just disappear.
"There are more Hispanics. There used to be more people from Africa and other countries," Roberta says, and Dick agrees.
"I used to visit with a Caribbean man and an Indian man," Dick recounts. "That's more and more rare; there are more and more Central Americans. More in the last year than in the last two years." He is not comfortable offering estimates, but it seems to him that the proportion of Central American immigrants has grown significantly.
Dick has seen this reflected the most in the pen pal program that the couple coordinates. The number of Spanish-speaking immigrants has dramatically increased to the point where he is having trouble matching pen pals due to the limited number of volunteers who can write in Spanish.
"I noticed the other day, looking at the list of visit requests, only seven spoke English," he tells me.
In Maryland, Spanish is not as ubiquitous as it is in some other regions of the US.
This perhaps minor regional challenge—of finding Marylanders who can write in Spanish—is by design. More and more detention facilities are opening and expanding east of the Mississippi, particularly in the southeast. The hope is that a more xenophobic culture and greater incidence of racism in immigration judges, as well as fewer immigration community resources, will combine to create a hostile immigration environment.
Neither the Dunnings nor the DC Detention Visitation Network are flinching from this challenge. Roberta describes a pair of men in detention that she and Dick have befriended: Isaac and José. (Their names have been changed for this article.) The two men are from opposite corners of the world, but bonded over their shared passion for art. Isaac writes poetry and José is an artist. José sends his pieces to his mother in Maryland, but makes copies for Isaac to send to Roberta. Roberta describes Isaac as "very anxious" to have his work published, even as he, as a practicing Christian, works to minister to his fellow detainees and nourish his own faith throughout his detainment.
Roberta continues to write to Isaac, although he has recently been sent to a distant state, where his mother in the DC area can no longer visit him. No one knows the reason for Isaac's transfer.
It's easy to make a guess, though. One of the major elements of state-run intimidation is the looming specter of uncertainty. It's hard to make friends or connect to people in the outside world when you could be sent across the country at any moment, when the person you're making eye contact with at meals could be deported any day now. It's scary to reach out when you're not sure whether or not your relationships are being noticed, if you're visiting too often, if you're becoming too popular and must be sent away. You can only suspect that such transfers are punitive in nature, especially when you have no faith in your jailers. You can only hope that it's not, because the loneliness of detention is soul-shattering.
"The amount of time people spend behind bars not knowing anything about when they get out, not knowing when, where, what…" Roberta trails off. "Their life hanging, powerless."
The frequent transfers offend Dick. "At least Americans know when their sentence ends. These people have no concept of when they'll get out. It's mentally traumatic for them."
Roberta tells a story of a nameless African man of about 30 years old. "He witnessed his mother and grandparents being murdered, so he came over to the US with his father and sisters when he was about 11. He was still traumatized, and he went down the wrong path, and sent to live with his sister. He was living on the street, made more bad choices, and was arrested. He served eight years in jail--and then put in detention for a couple years.
"They wanted to send him back. He was shipped from Howard County to somewhere else and was protesting being deported. He wrote saying that they shackled him and put him on a plane, but he carried on until they took him off the plane, arrested him and put in federal prison for a year for refusing to be deported."
She has since lost contact, but still thinks of him. "It's really heartbreaking: no support growing up, maybe some PTSD. He just didn't have guidance. If he had been American, he'd have been arrested, served time in jail, and gotten out. But he just went back to detention for another few years and may be deported back to a country he doesn't know."
"He was concerned he would not be sent to his home country, but to a receiving country where he would be placed in jail unless he could pay, and would have been very mistreated." Dick concludes the story. "What concerns me a great deal is the lack of information about what's going to happen to these people."
It seems the whole point is the not knowing, sometimes. Not knowing timelines, not knowing languages, not knowing how to find or pay for lawyers, not knowing what gets you transferred and if it's a punishment. Not knowing how to find family or sympathetic ears, and then on the outside, no one even knows you're there.
"There are people being held here without any real good reason, as if they were prisoners and criminals. Held in shackles in court as if they were murderers," Roberta describes.
"The likelihood of them escaping is zero," Dick interjects, "and I have never thought a person I met was threatening. They're just unfortunate and sad people."
"It's dehumanizing," Roberta says flatly.
Dick agrees. "No matter how good the facility, it's still dehumanizing. Why do they need the shackles?"
"There are an awful lot of people who don't realize what's going on and how close [an ICE detention center] is, and what really goes on, and who is there," Roberta says. "We didn't know until we began visiting! It's been eye-opening!"
It's a black hole of information, they agree, and one set up right across from free pancakes and WiFi at IHOP.
The views and opinions in this article are the author's own and do not necessarily represent the official policy or views of any other organization, agency or company.
Rachel Melancon went to school for history and international studies, specializing in Western authoritarianism. She lives in the Deep South with her husband, a handful of animals, and her daughter.