by Cindy Knoebel
When asked about what strikes her about the detained people she visits at Adelanto, Milena Jankovic replies, "Their confusion. They just don't understand what happened. Those seeking asylum say, 'I didn't do anything wrong – why am I here?' Those who've been transferred from jail say, 'I served my time – why am I here?' Adelanto is an artificial little city in the desert where there shouldn't be anything. It shouldn't exist."
Milena is one of dozens of volunteers who regularly makes the round trip drive to Adelanto, typically two to three times per month. On each visit, she usually spends time with one or two people.
An immigrant herself, Milena, who was born in Serbia, has lived in the US for 12 years. "I left Serbia when I was 18. I first went to Cypress, then later New Zealand and Austria. In 2004 I won a scholarship for a master's program in Italy. That's when I decided I never wanted to go back."
Milena acknowledges she was incredibly lucky to win a green card in the lottery when she came here.
"I went from no privilege to a lot of privilege in a matter of a couple of months simply because I was lucky," she says. "One moment I was being told I couldn't rent a room in Rome because 'we don't rent to Serbians' and the next I had a green card in a country where nobody knew where Serbia was. Having been an undocumented person before, then to have status, has really made a difference not only to myself but how I view others."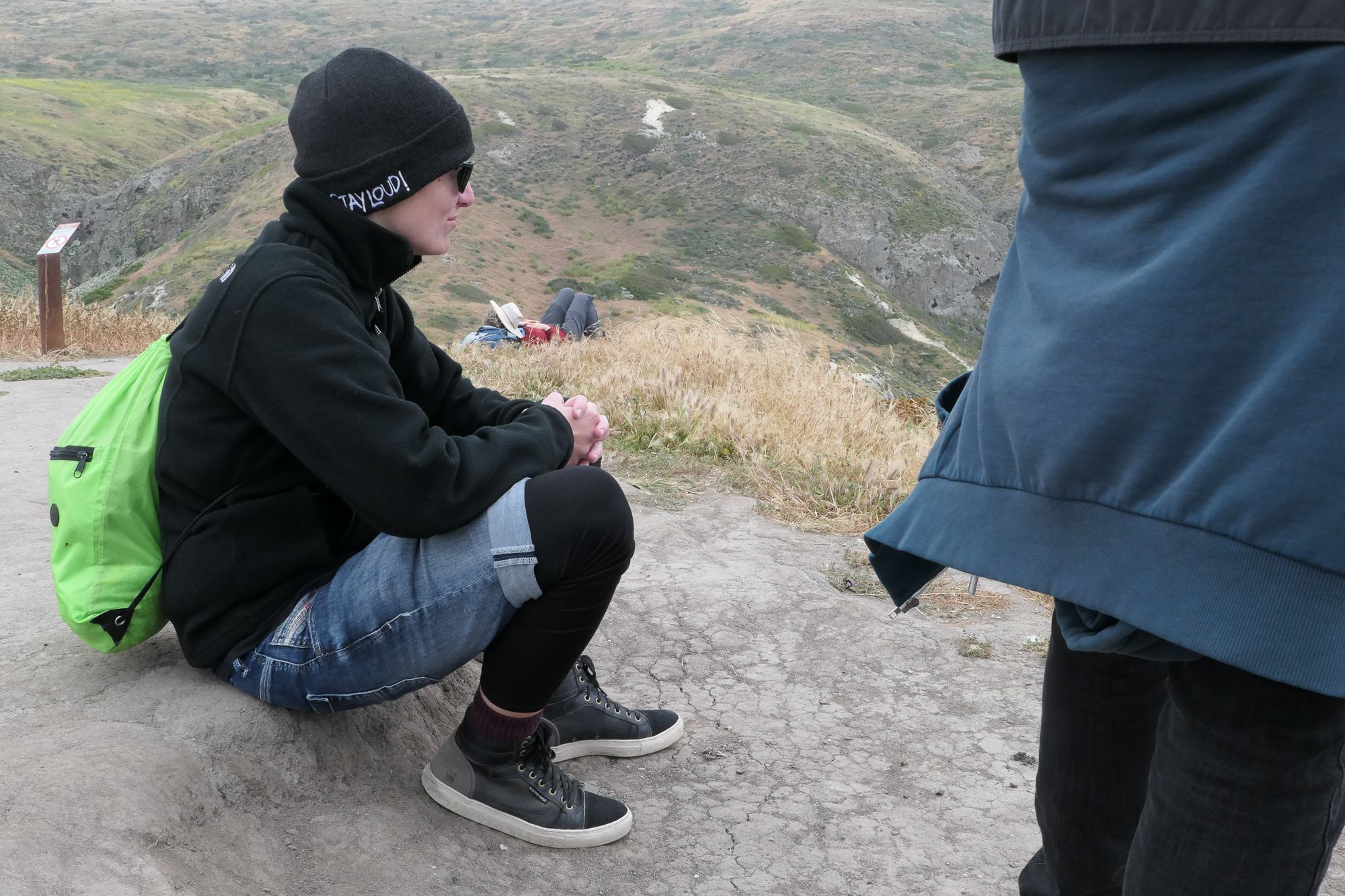 When asked about the first time she visited Adelanto, in early 2018, Milena admits she was nervous. "I kept wondering, will I do OK? Will I bring value to someone? And also, being an immigrant and living through some negative experiences of my own, I wondered if I'd be traumatized personally."
The sterility of the environment was something she noticed immediately. "Then there's this powerplay, where you have to stand in a certain spot, and address the guard only when they say you can address them," she recounts. "The ludicrous bureaucratic aspect of it … they have a notebook and they write down your driver's license number, the person you're visiting. It has a very 1984 feel to it, with the pen and paper instead of a computer, right there in your face."
Then there are the children's waiting rooms. "There are two tiny waiting rooms for kids there, one in each wing," she says. "It always makes me so sad. I can't help but think about all the children that come through here to visit a loved one."
She and other volunteers endure long waits to see the people they've come visit.
Every visit presents challenges. For example, Milena notes that while the facility has a large parking lot in front, nearly all the spaces are reserved for GEO employees, so most of the time visitors have to park in the dirt across the road. She and other volunteers endure long waits to see the people they've come visit. "The best case is 30 minutes," she says, "but the wait can also be as long as an hour and a half. You have to learn to be patient. It's that powerplay thing again, and you don't want to give them the satisfaction of showing you're frustrated."
Noncontact visits are made by phone through glass. But Milena says that while there are 6 phones in Adelanto West, there is only one they're allowed to use. When asked why they can't use the other phones, visitors are told they're broken, or that they don't have staff available to monitor more than one phone. "What can you do?" Milena says. "You just say, OK, no problem. And you wait your turn."
Milena recalls the first person she visited, a man from Nigeria named Okeke*. "He had a valid visa when he landed at LAX. CBP agents flagged him, asked to see his phone, asked about the people in his photos, asked a bunch of questions. The next thing he knew, he was in Adelanto. It took awhile for his family to find him. And this is a person who had a visa! Why did they stop him? Because he was black?" After that first visit Milena ended up visiting Okeke every other week. She learned that he fought against female genital mutilation back home. She ended up helping his friends and family raise money for his bond, and picked him up on the day he was released. And they're still in touch.
When asked whether she usually maintains contact with people she visits after they're released, Milena pauses. "It depends … I know two guys who were deported to Cameroon – and they can't leave the house. They're literally in hiding. When they landed at the airport, their families had to show up at the airport with ransom money so they wouldn't be taken to prison. Yet when I ask them how they are, they'll say fine – 'I'm alive, I can't do much, but I'm alive.'"
"When the desperation solidifies, it's hard to provide any kind of relief."
"I'd say everyone is experiencing some level of depression and desperation," Milena continues. "Some handle it better. Some say, 'I have a hearing in two weeks, I think it's OK and I'll be out of here.' But then you meet people who've been there a year and half or two years and have gone through the entire exhausting process, and they just don't know anymore." When the desperation solidifies, she says, it's hard to provide any kind of relief.
She recalls one woman telling her, "I can't see myself outside of these walls. I can't see myself in a bus or a car. It's like this place is blocking my imagination."
After three years of visiting people in Adelanto, Milena has two things to say to those thinking about signing up as a volunteer visitor. "One is: think about what this means to you personally, and what you're trying to get out of this. I see people who get very invested very quickly – and then they disappear, because of the intensity of the experience. The second thing is, go see for yourself the people that are in there. Let them tell you their stories. A lot of people don't know that people who ask for asylum go into mandatory detention. I tell them, you will be surprised at what you learn."
*the name and other details about this person have been changed for privacy purposes