Immigrant rights advocates are torn over whether to embrace the bill, call for solidarity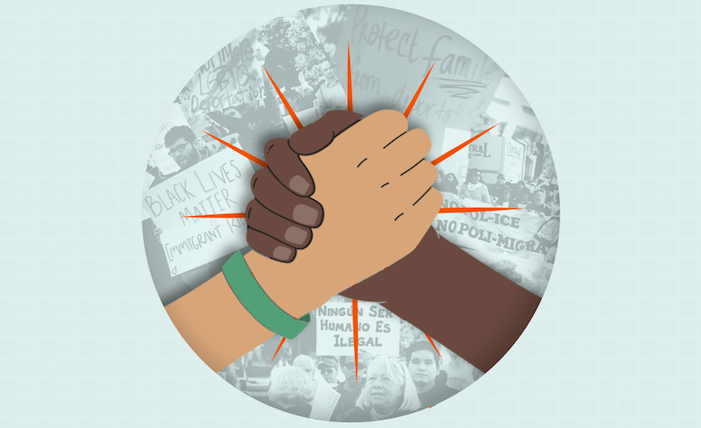 On Thursday, July 19, Senators Dick Durbin (D-IL) and Lindsey Graham (R-SC) re-introduced a bipartisan DREAM Act bill at a press conference in Washington, D.C. Senators Chuck Schumer (D-NY) and Jeff Flake (R-AZ) are the bill's co-sponsors. This comes at a time when both the DACA (Deferred Action for Childhood Arrivals) and TPS (Temporary Protected Status) programs are under threat from the Trump administration.
Immigrant rights groups have responded with mixed reactions over whether to embrace the bill. Critics fear the bill will further criminalize those who would not qualify for protection under it. Overall, most advocates have re-asserted the need to remain in solidarity with ALL undocumented members of our communities.
Watch the press conference on YouTube:
Summary
Re-posted from Latino Rebels. Click here to read a draft of the bill's text.
This is another attempt by lawmakers to pass a bill that could fix part of the country's broken immigration system.
There is approximately one million undocumented young immigrants, known as DREAMers, who came to the U.S at an early age.
"We don't believe that young people should be held responsible for the errors or the illegals actions of their parents," Sen. Durbin said during the press conference.
"We believe that those who are brought to the U.S as children, have grown up in this country, have no criminal record, who are prepared to serve this country in variety ways should be given the chance to make America a better nation," Durbin added.
Currently, there are around 900,000 young people protected by President Obama's DACA executive order. The order was established in 2012 after Congress was not able to agree on a piece of legislation that would address the situation. It is now facing legal challenges.
DACA gives a work permit, social security number and protection from deportation to these DREAMers.
"You stay if you can prove that you are moving in the right direction and you can add value to our country," Sen. Graham said during the conference.
Durbin has been introducing different versions of the DREAM Act since 2001.
The new DREAM Act introduced at the press conference presented these eligibility requirements:
Have come to the U.S before they were 17 years old.
Haven't committed a felony.
Must have been in the country for four years from the day the legislation passes
Have graduated from High School or gotten a GED
Pursuing higher education
Either they serve two years in the military or work lawfully for three years
Have fulfill an English language requirement
Have undergone a criminal background check and paid a fee
This bill is very similar to versions introduced before. One of the new additions to the provision is that the person needs to demonstrate three years of work and be in the country for at least four years after the legislation is enacted.
This bill will not consider undocumented parents of U.S citizens. "This is not about the parents," Sen. Graham said at the end of the press conference.
The rough draft does not specify the fee costs DREAMers would have to pay.
The introduction of the bill comes one day after Trump's administration said they will not support the bipartisan bill, as McClatchy reported.
---
By María Camila Montañez, a journalism student at CUNY Graduate School of Journalism. She is originally from Colombia and tweets from @mariacmontanez.
Eligibility Bars
The Act presents bars from eligibility for relief based on prior contact with the criminal justice system. Here is an analysis from University of Denver Sturm College of Law professor César Cuauhtémoc García Hernández in his blog crImmigration:
He concludes:
"Overall, the Dream Act of 2017 marks a renewed effort to do right by the millions of young people who have made their lives in the United States but lack formal authorization to be here. Regrettably, the bill adopts the common stance of pitting some migrants against others: the good versus the bad, the desirable against the undesirable. As the bill moves through Congress, it's worth keeping in mind the people who are being excluded from the Dream Act's reach. These, too, are young people who have made the United States their homes."
---
The bill has drawn criticism, but mostly calls for unity, from migrant rights organizations.
Comments: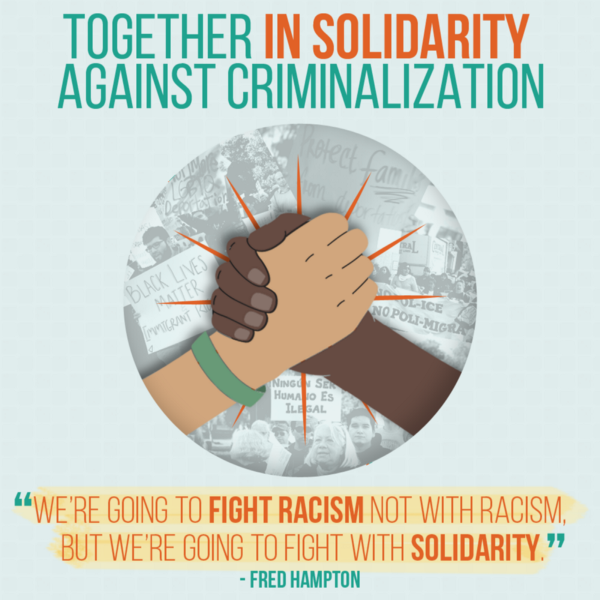 From California Immigrant Youth Justice Alliance (CIYJA):
The DREAM Act (Development, Relief, and Education for Alien Minors), garnered support from immigrant rights advocates and "DREAMers" in 2009 and 2010. It ultimately failed to become law due to lack of Democratic party unity.
While many immigrant rights advocates welcome this development, we at CIYJA see this as a huge step back for immigrant justice in California and the entire country, especially under a Republican-controlled Congress and White House. Like most legislation attempts to patch up our exploitative immigration and justice system, it comes with heavy enforcement and tough-on-"crime" amendments that would only worsen as it makes its way to the president's desk and further isolate people that have been victims of state violence.
We have come a long way in steering away from narratives that criminalize community members and create division since the days of the DREAM Act. Immigrant communities moved away from relying on legislative solutions and invested in building a movement that focuses on anti-enforcement, bridging the needs of immigrants and other oppressed people. Supporting the DREAM Act during a Trump administration not only normalizes Trump, but it sends a clear message about the lack of solidarity with those who continue to be scapegoated, "criminals." We see the flaws of the immigration system as part of larger structure that is rooted in racism, patriarchy and profit, one that can only be reformed through collective community action and not by scapegoating the most vulnerable.
In Solidarity,
CIYJA
---

From Mijente:
From the second he descended from his tower, we knew that Trump would be a nightmare for immigrants and the people who buy into his false solutions.
Since his inauguration, ICE agents who feel emboldened and unbridled have increased the arrests of our loved ones by 40% more than their already high rates.
The white supremacists in the White House will be happy to read that the terror they unleashed to combat the changing face of this country is having an effect — as short-term as their gains may be. 
 
With our Justice Department handed over to a man who was considered too racist to be a judge, DHS Sec Kelley may move to end TPS and Governors like Abbott in Texas now see an opening to roll back the clock by attempting to take away the Deferred Action for Childhood Arrivals (DACA) program that so many of us fought so hard to win and has benefited nearly 800,000 undocumented young people, not to mention the families they support and the communities they contribute to.
But our community is not unfamiliar to threats. Threats to our lives is what drove many of us to migrate to the US to begin with. Threats to our future is what drove many of us to organize: for the DREAM Act sixteen years ago, for DACA five years ago, for an end to deportations three years ago, and every day of our lives.
Neither the threat nor the possibility of what could happen has ever defined us. The Republicans have defined themselves with hateful rhetoric, racism, and repression — including Lindsay Graham's opening statements re-introducing the DREAM Act and applauding Trump yesterday. The Democrats insistence on compromising with them instead of presenting a real challenge has defined them and gotten us to where we are today.
Let what defines us be how we respond to this moment.
Let's seize clean opportunities and quickly condemn anything that turns a Dream into a nightmare, anything that would increase the criminalization of any of us.
While the bill today discusses "Dreamers," whatever gets negotiated will impact many more in our houses so let us have our entire community at the forefront of this debate.
Let our victory not just be defined by the acts of politicians but in the strength we build from this round of the fight.
Winter is coming, winter may already be here. This is not a time for divided kingdoms.
So let us band together.
---
So far, Attorneys General from 20 states and Washington, D.C. have stood up to announce their support of the DACA program.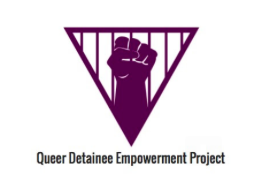 From the Queer Detainee Empowerment Project:
Our vision at The Queer Detainee Empowerment Project is to win permanent protection, citizenship and equity for all of our communities. This bill comes at a time when DACA and TPS, programs that seek to protect over 1 million immigrants, are under attack by anti-immigrant legislators who seek to end these programs at all costs, and our job is to stop them.
To win permanent protection for all of our communities, we must come together to protect DACA. Doing so will give us the political currency to win more in the fights ahead.
Actions:
From United We Dream:
Dream Act or not, we must continue to protect DACA: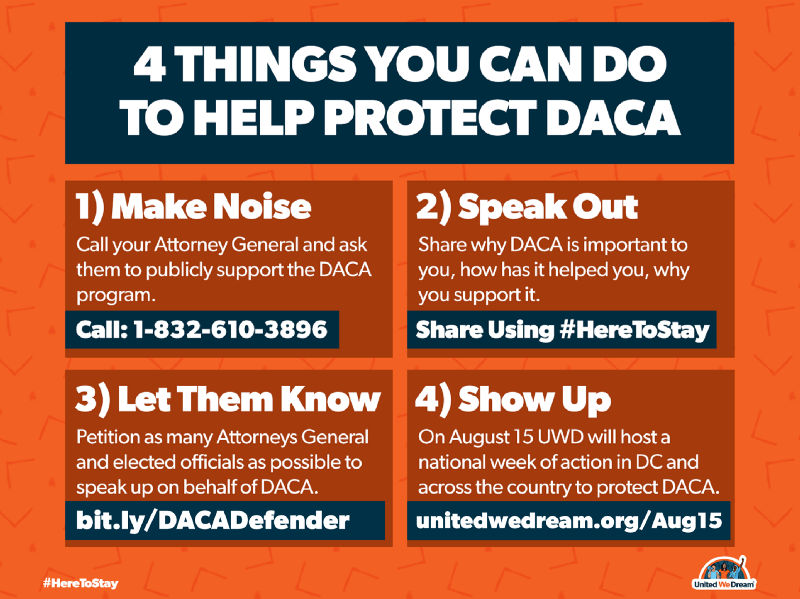 While there is still much that is unknown about this bill, one thing remains certain: we have been able to win when enough of us take action together. Here are four things you can do right now to help protect DACA:
**Make Noise: **Call your Attorney General and ask them to publicly support the DACA program. You can connect to your Attorney General by calling 1–832–610–3896. Here is a script: "Hello, my name is [name] and I am calling to ask the Attorney General to come out publicly to defend the DACA program. This program has changed the lives of hundreds of thousands of immigrant youth across the country and it must be protected. I expect my attorney general to support the immigrant community and protect DACA."
**Speak Out: **The only reason we won DACA in the first place was because thousands of us courageously spoke out and shared our story. We must continue doing this to protect it. Share why DACA is important to you, how has it helped you, why you support it. Do it through a tweet or an instagram video using the hashtag #HereToStay.
**Let them know: **Tell your state Attorney General to publicly defend DACA with a statement about how it benefits your state. We need to get as many Attorneys General and elected officials as possible to speak up on behalf of DACA. Add your name here to your local Attorney General here: Also sign our national petition here.
**Show Up: **Join us and thousands of others in the streets. On August 15 (the 5th anniversary of DACA) United We Dream will host a national week of action in DC and across the country. If you have DACA or support immigrants, we need you there. Find more information here.
---
**Follow more immigration News and Actions on IMM Print