By Melanie Pino-Elliott
By now we've probably all heard about or seen pictures of the seesaws installed along the U.S.-Mexico border wall. Developed by Berkeley professors Ronald Rael and Virginia San Fratello, the seesaws allow children on both sides of the wall to play together. It's an ingenious invention, and it's served as a nugget of happy news in the midst of a grim humanitarian crisis surrounding U.S. border control and immigration.
When I began to look further into this "Teetertotter Wall," I found out some interesting things about the inspiration behind it and what it says about our future.
The seesaws actually continue a tradition of U.S. and Mexico border towns seeing past the simplicity of a physical barrier. From 1979 until 2007, residents in the neighboring towns of Naco, Mexico and Naco, Arizona played friendly games of "wallyball," using the barbed wire fence that divided them as a net.
In his Ted Talk, Ronald Rael discusses making visits to the wall and documenting his thoughts and experiences in the form of posters, board games, and snow globes. He imagines the wall as a giant xylophone, the boards acting as keys; the backstop of a baseball stadium; or a barrier cutting right down the middle of a house, dividing everything from the kitchen table to the bed into two sides. With these souvenirs, Rael tells "the story of resilience at the wall and [seeks] for ways that design could bring to light the problems the wall was creating."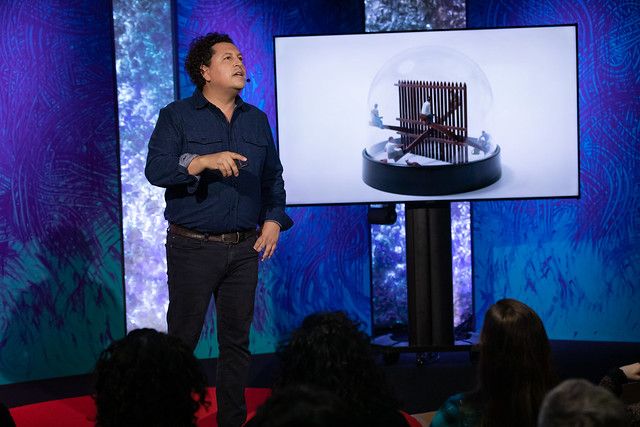 While many of us resisters push back against the "Build the wall" crowd, promising to tear the wall down, Rael has taken a more creative approach. Rather than dismantle the wall, he's found ways to subvert it for good. As the seesaws illustrate, actions on one side of the wall have a direct impact on the other, helping to foster interdependence and cooperation--the opposite of what the wall is intended to do.
It's hard not to despair in the face of the United States' growing tide of white nationalism and xenophobia, but Rael's work reminds us how strong the human spirit can be. It shows us that we can not only continue to fight the good fight, but also find some levity in doing so. Most importantly, we can instill these ideas in our children, preparing them to continue this crucial progress and pass on the same lessons to the next generation. Maybe by that time, the border wall and the harmful politics behind it will have been left behind, a dark chapter in American history.
Melanie Pino-Elliott has conducted research and communications in the fields of international affairs, public policy, and human rights. She holds an MS in Criminology from the University of Pennsylvania and currently works in nonprofit development.