by Cindy Knoebel
ICE has confirmed that it is force-feeding a group of hunger strikers detained at the El Paso Processing Center in Texas. The strike began on December 30 with two detained individuals and soon grew to eleven. Others joined last month and some sources indicate as many as 30 could currently be refusing food. An ICE spokesman  has also confirmed that four other individuals at different ICE detention centers across the country are on hunger strike.
According to a statement by ICE, six of the strikers are "currently being hydrated and fed non-consensually under court orders." The AP has reported that they are being force-fed through a nasal tube.
Those on strike, mostly from Cuba and India, are refusing food and drink to protest what they claim is rampant verbal abuse and threats of deportation from guards lengthy lockups while awaiting legal proceedings, the Associated Press reported.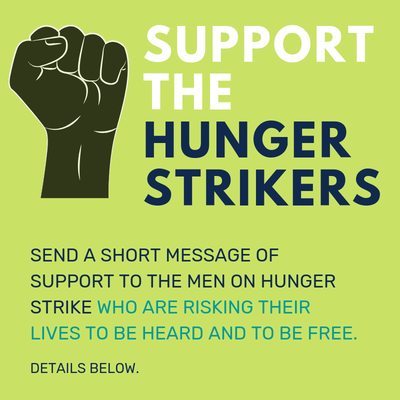 The men with nasal tubes are having nose bleeds and are vomiting several times a day, Amrit Singh, whose two nephews from the Indian state of Punjab have been on hunger strike for about a month, told the AP.
"They are not well. Their bodies are really weak, they can't talk and they have been hospitalized, back and forth," said Singh, from California. "They want to know why they are still in the jail and want to get their rights and wake up the government immigration system."
You can send a short message of support to the men detained in El Paso.  Let them know that you stand in solidarity with their calls for freedom. Email cgalaz@freedomforimmigrants.org by next Tuesday. The messages can be in English, Spanish or Punjabi. If you speak Punjabi and would like to help us translate, please contact the aforementioned email.