CIVIC files civil rights complaint alleging visitation denials and restrictions at 14 immigration detention facilities; Over 400 organizations and individuals sign letter urging ICE to ensure public access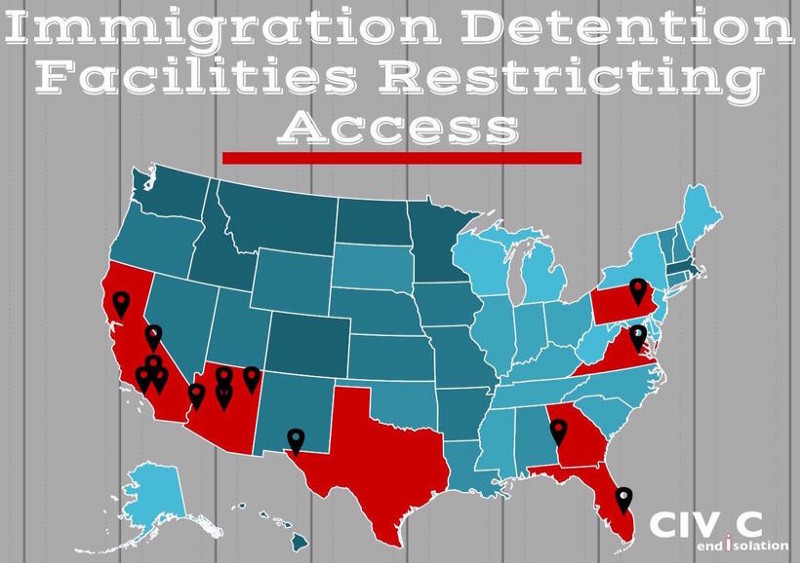 Today, Community Initiatives for Visiting Immigrants in Confinement (CIVIC) has filed a [federal complaint](http://www.endisolation.org/wp-content/uploads/2017/03/CIVIC_DetentionAccess_Complaint.pdf) with the Office for Civil Rights & Civil Liberties within the Department of Homeland Security detailing access denials and restrictions in violation of federal policy at **14 immigration detention facilities in Arizona, California, Virginia, Florida, Georgia, Pennsylvania, and Texas.**   *"While CIVIC has experienced restrictions of public access in previous years, we are concerned that these denials and restrictions may be indicative of an emerging pattern or practice to restrict or eliminate access by the public to immigration detention facilities," said ****Rebecca Merton****, Program Coordinator of CIVIC's National Visitation Network.*   Over **400 organizations and individuals** joined CIVIC in an additional letter urging Immigration & Customs Enforcement (ICE) to uphold its commitments to transparency and public access to the detention system by maintaining the 2011 Stakeholder Access Directive. The Directive provides access to detention facilities for organizations that request to tour a facility and speak with individuals in immigration detention. Organizations who signed on include groups, such as the **NAACP, the ACLU, Human Rights Watch, Detention Watch Network, Southern Poverty Law Center, Code Pink, and the University of Southern California Gould School of Law.**
Medical Abuses Discovered on Tour of Adelanto
During a stakeholder tour conducted by CIVIC in March 2017 at the Adelanto Detention Facility in California, many detained individuals who had signed up ahead of time to meet with the stakeholders were not allowed to speak with them. In one of the dorms, not a single person who had requested to meet with the stakeholders was granted the opportunity to do so.
 
In a letter sent to CIVIC from H.M., an individual detained at Adelanto Detention Facility, he wrote, "I highly suspect it had to do with [facility owner and operator] GEO's institutional staff preventing our visits. This is not the first time this, or something similar, has happened."
On the tour, CIVIC found:
76 nationalities represented
1,780 out of 1,800 beds full
20 out of 64 solitary confinement beds full
60% of people detained have criminal records
500 GEO employees and 45 ICE employees onsite
CIVIC also documented these egregious medical conditions:
2 pregnant women with no access to pre-natal care
A woman who has suffered multiple strokes has not been taken to a hospital
A woman with a growing lump on her breast as verified by other women
A woman who had been in a car accident before being detained has not received medical attention and is having trouble walking
A man who slipped and twisted his ankle was only given ibuprofen as treatment.
Stakeholders also experienced longer than usual waiting times and attempts to deny the use of pencil and paper to record observations and detained individuals' information.
Read more in an op-ed for the *Huffington Post *written by CIVIC co-Executive Director Christina Fialho:
Trump Administration Restricts Access to Immigration Detention Facilities
President Trump's new travel ban will go into effect tomorrow, and his Administration already has begun to discourage access to immigration detention facilities.
Trump's first attempt at a travel ban resulted in detentions at airports, where officials barred travelers from getting legal help. While most travelers were not transported to one of Immigration & Customs Enforcement (ICE)'s 211 dedicated immigration detention facilities, the Trump Administration holds 42,000 people in immigration detention every day. This includes asylum seekers fleeing persecution from all over the world, including the six countries identified in Trump's recent travel ban.
While in immigration detention, people are isolated from the outside world. Only about 16 percent of people in immigration detention are represented by an attorney. And many are held in remote facilities run by private prison corporations, such as the Stewart Detention Center in Lumpkin, Georgia, and the Adelanto Detention Facility in the Mojave Desert of California. In the past, attorneys, community members, family members, and even a Congressional representative have been barred from accessing adult and youth immigration detention facilities.
In September 2011, ICE took a step toward increased government transparency by creating the Stakeholder Access Directive. The Directive provides access to detention facilities for organizations that request to tour a facility and speak with individuals in immigration detention. The Stakeholder Access Directive has been incorporated into federal standards and is an additional form of access to traditional family and community visitation.
Ensuring that immigration detention facilities are held accountable requires that the public and our elected officials continue to have access to them. However, recent visitation denials and restrictions have advocates concerned that this is just the beginning of further restrictions to public access to immigration detention facilities.
Last month, ICE's Field Office in Washington, D.C., denied a stakeholder tour and visitation of the Farmville Detention Center in Virginia. The local community groups requesting the tour were hoping to start a visitation program to provide people detained at Farmville with a consistent connection to the outside world. In denying the stakeholder tour, an Assistant ICE Field Office Director cited Trump's Executive Orders, explaining that ICE is "undergoing significant operational changes and is in the process of reviewing all ongoing programs."
The practice of denying the public access to immigration detention facilities did not start with Trump, but it has worsened in recent months. Since Trump's election, community groups have been denied tours or temporarily suspended from visiting six separate immigration detention facilities, including the Theo Lacy Facility that last week was cited by the Department of Homeland Security's Office of the Inspector General for serious health and safety violations.
Rescinding or narrowing the Stakeholder Access Directive would mark a significant step backward in government transparency and accountability to the people. We urge ICE to uphold its Stakeholder Access Directive and to ensure that family and community members are not faced with additional restrictions when visiting people in immigration detention.
Read CIVIC's full complaint here.