by Akiceri Carrillo
Quiet, scared ... HIDE.
You know they are coming soon.
But you never know when it will be the last time to hear their voice ... to feel a hug.
Fearful, lonely ... RUN.
You replay the stabbing words "order of deportation"                                                         and all you want is a caricia, a caress of your loved one's smile
Lost, grieving ... SURVIVE.
You begin to assimilate                                                                 the stark truth of hurting
And once more, you choose to remain HOPEFUL.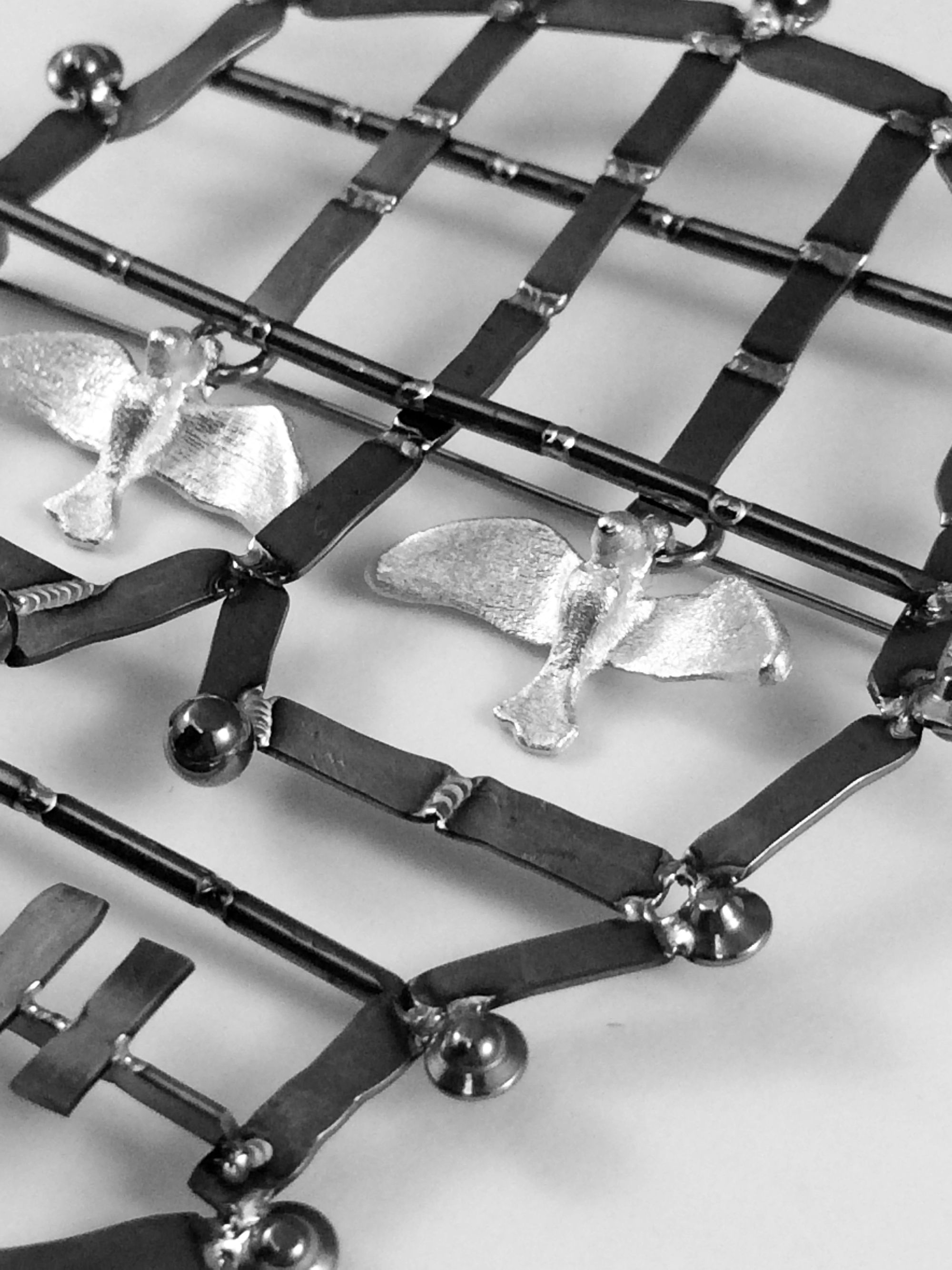 Artist's Note: "La Mirada del Alma" represents hope in the darkest moments of life, such as death. "Eyes are the windows to the soul". This common expression is explored in the brooch. The birds, also a representation of freedom and peace, depict the spirit of the soul. Additionally, for me, the piece represents hope for our current political climate of hate crimes, mass shootings, deportations and racism.
The methodical aspect of the piece is behind its fabrication. I have been using stainless steel shot, a polishing media used in a tumbler, as my main material. I use this because 1) I bring value to the material and 2) it is a metaphor to individuals doing the "polishing" in our society and making our world a better place. I manipulate the shot by hammering it and grinding it to the needed sizes to form the piece. Hammer, grind, weld and repeat. The process is similar to drawing, where outlines and sketches are done before committing to the weld. The piece is completed when the design elements are in harmony with the concept.
About the artist: Alejandra Carrillo-Estrada is an interdisciplinary artist who grew up on the U.S.-Mexico border of El Paso, Texas and Cd. Juárez, Mexico. In 2009, she received a BFA from the University of Texas at El Paso, graduating cum laude and an MFA from University of Illinois at Urbana-Champaign in 2018. She has participated in internships, residencies, and workshops throughout the country and has exhibited nationally and internationally. Her background as a public art administrator reinforced her commitment to create art that addresses issues of racial and social justice and migrant and refugee rights. Currently, she lives and works in her hometown and is committed to addressing border issues through the lens of contemporary jewelry and art. Her work can be viewed at https://www.akiceri.com and she can be followed on instagram as @ale_akiceri