By Cindy Knoebel
The award-winning Netflix series, Orange is the New Black, is back for its seventh – and final – season. And in a real-life twist, it features Freedom for Immigrants. Episodes highlight FFI's work and that of its volunteers, including a hotline volunteer.
Shortly after the season premiere, two actors, Emily Tarver, ("CO McCullough"), and Vicci Martinez ("Daddy"), decided it was time to see an immigration detention center for themselves. Accompanied by FFI Northeast Regional Coordinator Dania Darwish and others on August 8,they visited the Hudson County Correctional Facility in Kearny, NJ.
Recently, I spoke with Dania about the visit – and the challenge of meeting with individuals in detention.
"I've been visiting Hudson since I began working with FFI," Dania says. "But I still haven't been able to meet with someone yet. I go during visitation hours, but every time I go there's always an excuse as to why I can't visit someone. It's been discouraging."
Dania, who previously served as the founder and Executive Director of the NYC-based Asiyah Women's Center, is currently working to form a visitation group of volunteers committed to regular visits to the Hudson facility.
Dania remembers her first visit to Hudson. "I felt very lost while driving there," she says. "There were few signs for the facility – it was very isolated. I remember being in the parking lot and seeing many sad people coming out. While the facility houses about 1,000 people, there were only a few cars in the parking lot, which speaks to the small number of friends and family able to visit their loved ones."
One of the first things that struck Dania was the lack of windows at the Hudson facility. "While it was a hot and sunny day, it managed to feel very dark," she says. "It was freezing inside and the guards don't look at you when you check in. They ask for your ID, and that's it."
And then there was the smell: "There were ducks walking around outside, and the area reeked of duck feces. It occurred to me that the ducks were free, and probably treated better than the prisoners."
In May, a lawsuit was filed again Hudson County and other parties by the family of Carlos Bonilla, a father of 4 who died in 2017 after being detained for two months at Hudson. Bonilla died in a hospital of internal bleeding shortly before his bond hearing. In January 2018, a 34-year woman held at Hudson died after attempting suicide.
The visit to Hudson with Emily and Vicci resulted from a conversation they had with FFI Co-Founder Christina Fialho at a party for the series premiere. She asked if they'd be interested in visiting an immigration detention center – and their answer was yes.
While Dania's mother drove, the three women made #DoneWithDetention signs to hold outside the facility.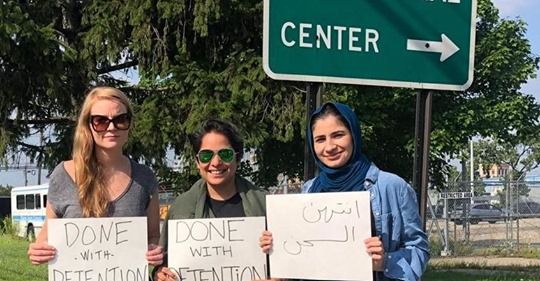 "Emily and Vicci asked a ton of questions on the drive to Hudson," Dania recalls. "They were curious about my experiences, US policy surrounding immigration detention, the number of facilities in the country and the number of people detained at Hudson. And of course they wanted to know what to say to the people they'd meet."
Both Emily and Vicci were both inspired by the courage and resilience of the two women they met, according to Dania.
Following their visit, the women went to the nearby office of First Friends of NY/NJ, a nonprofit organization serving immigrants and asylum seekers held in detention in the Elizabeth Detention Center, the Essex County Correctional Facility, the Bergen County Jail and the Hudson County Correction & Rehabilitation Center.
"We talked about how we can continue to mobilize the community to visit people in detention, what they need and how we can support them," Dania says, who hopes to accompany other OITNB cast members to Hudson in the future.
On August 16, an op-ed co-authored by Emily and Vicci appeared on Salon.com. "The experience was both eye-opening and deeply troubling," they wrote. "Our hearts are hurting for these people and at the same time, full of hope and determination to spread awareness regarding this painful situation."