We're putting #ICEontrial over systemic abuse against immigrants.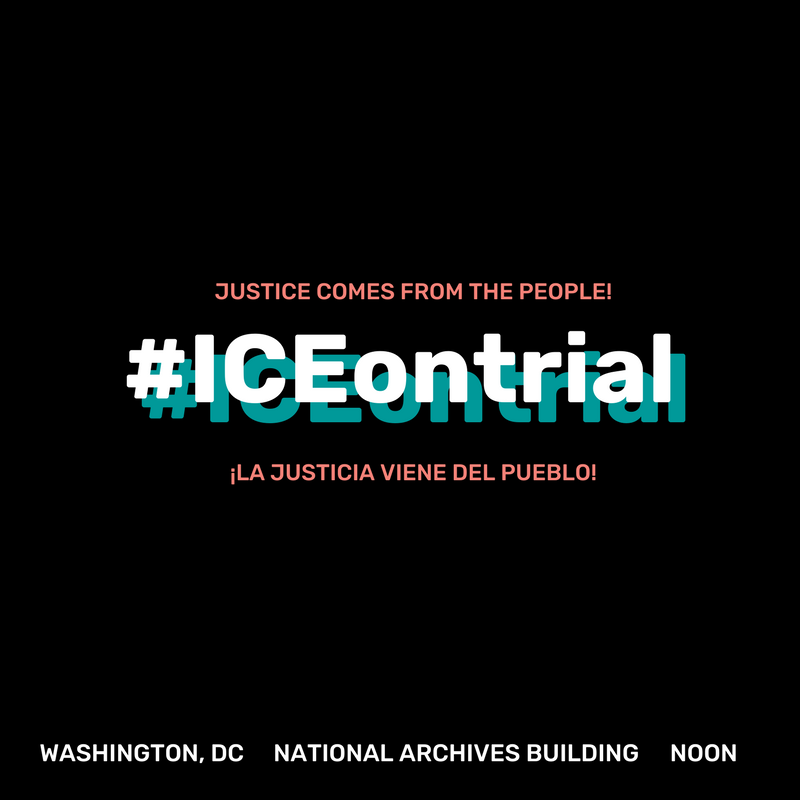 T
his week, Freedom for Immigrants (formerly known as CIVIC) sent ICE Director Thomas Homan and Attorney General Jeff Sessions notices to appear at the People's Tribunal in Washington, D.C. For too long, these leaders have sat quietly by while people in immigration detention have been sexually harassed, assaulted, and raped with our very own tax dollars. It is time that we hold ICE accountable — on our own terms.
The tribunal is one of a series of coordinated people's tribunals across the country as a part of the #ICEonTrial campaign. Today's tribunal is being held one year after Freedom for Immigrants filed a federal civil rights complaint on behalf of 27 people who have survived sexual abuse in immigration detention.
Freedom for Immigrants is a national nonprofit working to abolish the U.S. immigration detention system. We visit and monitor 43 of the largest detention facilities and we run a national hotline that allows people in all 200 plus facilities to call us at no cost to them. Through these two windows into the immigration detention system we began to see a disturbing and growing pattern or practice of sexual assault in immigration detention in early 2016. We decided to see if the government's data was tracking a similar pattern, so we filed a Freedom of Information Act (FOIA) request.
The data we received from the federal government was shocking, though not surprising. We found that between January 2010 and July 2016, Homeland Security's Office of the Inspector General received over 33,000 complaints of sexual assault or physical abuse against DHS's component agencies. But the Inspector General investigated less than 1 percent of these cases.
More complaints were submitted against ICE than any other DHS component agency. Of the total number of complaints, over 44 percent (or nearly 15,000 complaints) were lodged against ICE. followed by CBP.
Sexual assaults are being perpetrated against men, women, transgender immigrants and even children. For example, a young girl under 18 at the Karnes Detention Center filed a complaint about sexual assault. A medical exam of the child showed indications of a sexually transmitted disease and vaginal scarring. Despite physical evidence, ICE declared the allegation of sexual abuse unfounded.
This is extremely disturbing because immigrants who have survived sexual trauma in detention are re-victimized by an ineffective or non-existent investigation process.
By not properly investigating each allegation of sexual assault, our government sends a message that sexual abuse of immigrants will be tolerated.
At the Tribunal today, we will be presenting evidence about abuse in immigration detention, which has been collected by the federal government.
Some examples include:
We also will hear public testimony from our three People's Judges who were sexually harassed, assaulted, and raped in immigration detention.
Despite this growing evidence, nothing has been done to curb sexual abuse at ICE facilities since we filed our complaint. In fact, under the Trump Administration, we have continued to document sexual assault cases in immigration detention. Just last week, at the West County Detention Facility in California, a sheriff's deputy was arrested for unlawful sex with two women held there. This is the same facility that just last month banned our visitor volunteers, in retaliation against us for speaking out publicly about abuse.
Well we will not be silent. It is time that we #BreakTheICE. It is time that we hold ICE accountable — on our own terms.
Check back later for the written decision from the People's judges.