By Cathy*
My husband, Dio, has been detained at Adelanto for 5 months. His court date is Monday, June 24 and we desperately need to raise money in the next 24 hours for a lawyer to attend the hearing with him. He has a sponsor – my brother-in-law.
Dio and I have been married for 15 years and have 3 children: 15-year old twins and a 2-year old son whom he's never met. He is a kind and loving father.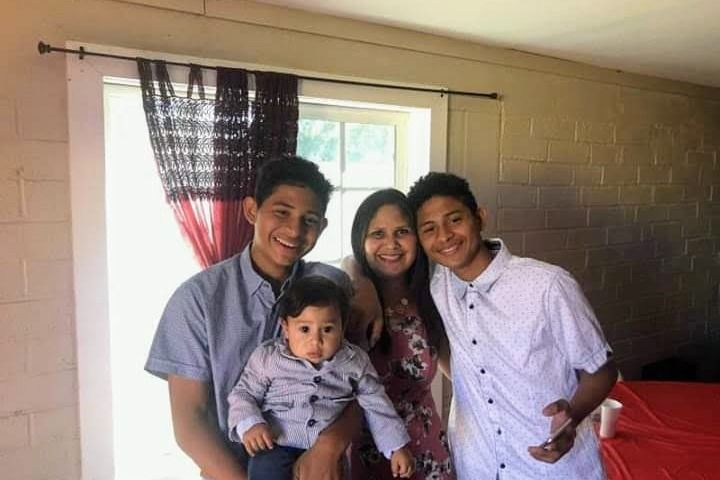 I came to the US in 2016 from Honduras with our twins. I was 30 at the time, and four months pregnant. Dio is an electrician and ran his own business. But the country is basically in a state of war. It's a very dangerous place to live. There are assassinations, high levels of crime, and extreme violence. The gangs demand bribes from business owners, and threaten physical harm. I decided I had to leave Honduras to seek a safe future for my children.
By 2018, Dio knew that it was too dangerous to remain in Honduras, and he wanted to rejoin his family here. He traveled to Mexico with a caravan of about 3,000 other migrants. It took him 2 months and was a very difficult journey. They had to endure flooded rivers, and were hungry and thirsty all the time. When they were trying to cross into Mexico from Guatemala, the police threw gas bombs at them, killing an infant.
My husband arrived at the border in San Diego on December 27, 2018. He managed to call me the next day. At first I was happy that he'd made it across the border, and hopeful that our children and I would finally be able to see him. But at the same time, I was afraid he'd be deported.
Dio was transferred around between 5 different detention centers. It was very stressful for me. There were times, sometimes a week, when he was in the hielera, the ice box, when he wasn't allowed to call me, and other times when I wouldn't know where he was. I pleaded with ICE to move him to Adelanto; his children hadn't seen their father in three years, and he'd never seen our baby. He's been there since January.
My children and I have visited Dio in detention. They are glad they are able to talk to and hug their father, but it's traumatizing to see him in prison. We are all trusting in God that he will be released.
Dio says it's very crowded and uncomfortable at Adelanto. The food is bad. He suffered severe dental pain and inflamed molars for a week – and they pulled his tooth. At times, he's been depressed, especially during the first few months when he had no court date, and no communications from ICE or anyone. Now that we have a court date – Monday - he's feeling more hopeful.
As for me, I am happy because I have Christ in my heart. God willing, he will be released and reunited with his family.
*Real name withheld by request.
Editor's note: Please donate here to help Cathy hire a lawyer to attend Dio's court hearing on Monday. We also welcome donations via Venmo to @Claire-Okeke as it does not take a fee.