by Jose Marcos Tapete Gonzalez, currently detained at Adelanto Detention Facility
(Editor's note: Jose's story appears below in both English and Spanish)
I have been here for three years. And in this time I've experienced how ICE and the corporations that they are in business with treat us without any regard to our personhood. I've been cornered into wanting to give up and sign my deportation papers because I am so tired of their attempts at denying my humanity. I am sad and I feel very bad, but I'm not giving up. On the contrary, I'll use this opportunity to expose the negligent treatment, horrible conditions and humiliations that we have to endure in ICE jails.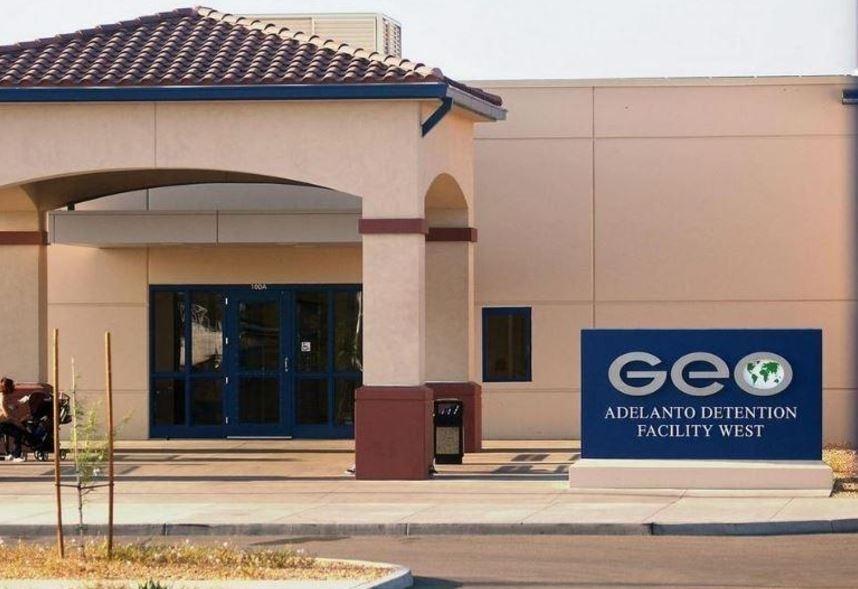 I was a victim of torture in my country of origin, but I thought I would be safe in the U.S. I never imagined that the U.S. government would also cause a serious impact to my mental and physical health. To this day, I still live with the trauma and consequences of the torture I endured in Mexico, and I know that I'll have to endure the trauma of being in GEO's custody for even longer. In GEO's Adelanto facility I've suffered medical neglect and humiliations that have had serious consequences to my health.
After I had a surgery at the Apple Valley Desert Hospital, their doctors gave GEO instructions on how to take care of me during the following days. However, instead of taking care of me, GEO's personnel left me bleeding and suffering for 13 hours. Because the facility didn't provide me with the proper follow-up care, I started bleeding from my genital area, where I had just had surgery. I was ignored and laughed at every time I asked for help. I felt like they were laughing at my demands of being treated with respect and dignity. This lasted for hours.
I called the Mexican consulate to ask for help and they contacted GEO and demanded that I receive proper care. But even then, they took that as an opportunity to humiliate me. The guards made me go to the intake area and told me to take my pants off to prove that I was really bleeding. This happened in front of other detained individuals that were just arriving to Adelanto and in front of female personnel. This caused me a lot of stress, anxiety and deep humiliation. Enduring this humiliation was the only way to get clean clothes. After showing them, I only received clean clothes; I wasn't allowed to go to the medical unit to get properly disinfected.
Of course, this had consequences to my health. Due to GEO's negligence, the wound became infected. It got to the point where I couldn't walk due to the pain I was experiencing. I had to be taken to the medical unit on a wheelchair. There wasn't any doctor in the facility because it was Sunday. So, I was prescribed antibiotics and disinfection care by phone. I shouldn't have had to go through all this pain; this happened because of the negligence that takes place at the Adelanto Detention Center. ICE and GEO do not take responsibility for the people in their custody. This is not a safe place for people that need medical care.
I have been a victim of, and a witness to, the medical negligence that takes place at Adelanto. It's not an isolated incident, I see this every day. This happened to me and will continue to happen to others as long as the Adelanto Detention Facility exists. My friend was given "bad" insulin and he's now blind and left dirty in an isolated medical unit. We can't see him unless we're in sick call.
I want you to know that this is not ok. No one should have the power to deny others' humanity. I want you to know that my life and my dignity matter and that I will fight for justice. Please listen to my story and fight with me.
---
Spanish version:
Negligencia médica en Adelanto, Cuando te niegan tu humanidad
He estado en este lugar por tres años ya. Y en este tiempo he visto ICE,  y  a las campañías con las que hacen negocios, nos tratan como si nuestras vidas no valieran. Muchas veces me han empujado al punto de querer rendirme y firmar mi deportación por que estoy ya cansado de que traten de negarme mi humanidad. Estoy triste y me siento mal, pero no me voy a rendir. Al contrario, voy a usar esta oportunidad para que se sepa la negligencia, horribles condiciones y humillaciones que se viven en cárceles de ICE.  
Yo fuí víctima de tortura en mi país de origen, pero pensé que en Estados Unidos estaría a salvo. Jamas me imaginé que el gobierno de Estados Unidos también causaría más daño a mi salud mental y física. Aún hoy vivo con el trauma y las concecuencias de la tortura que viví en México, y sé que viviré con el trauma de estar en la custodia de GEO por mucho más tiempo. En Adelanto he sufrido negligencia y humillaciones que han tenido un fuerte impacto en mi salud.
Después de una cirugía en el hospital del Apple Valley Desert los doctores del hospital les dieron al personal de Adelanto instrucciones del cuidado que yo debía tener mientras me recuperaba. Pero, en vez de atenderme, el personal de GEO me dejó sagrando y sufriendo por casi 13 horas. Como no se me dió el cuidado adecuado yo comencé a sangrar de mis genitales, donde había tenido mi operación. Cuando pedí ayuda me ignoraron y se burlaron de mi. Casi como si se burlaran de que yo pedía respeto a mi dignidad como persona. Estuve así por horas.
Llamé al consulado Mexicano para pedir ayuda y ellos contactaron a GEO demandando que me atendieran. Pero no lo hicieron sin antes hacerme pasar por más humillaciones. Los guardias me hicieron ir a la area de procesamiento y me obligaron a bajarme los pantalones y a enseñarles mi herida en frente de otros detentidos que acababan de llegar y del personal femenino. Esto me causó mucho estrés, ansiedad y el sentimiento de una humillación profunda. Pasar por esta humillación fue la única manera de recibir ropa limpia. Aún después de enseñarles mi condición, solo me dieron ropa limpia, no se me fue permitido ir a una clínica para que me desinfectaran.
Claro que esto tuvo repercuciones en mi salud. Debido a la negligencia de GEO, la herida de la cirugía se infectó y comenzó a soltar pus. Despés de poco tiempo dejé de poder caminar por el dolor. Me tuvieron que llevar en silla de rudas al área médica. Esto sucedió en un domingo, así que no había médicos que me pudieran ver. Así que por télefono me recetaron antibioticos y una limpieza del area. Yo no tenía por que pasar por todo este dolor, pero continua pasando por la negligencia que toma lugar en esta detencion. ICE y GEO no se hacen responsables por la salud de las personas que estan en su custodia. Este no es un lugar seguro para personas que necesitan atención médica.  
He sido víctima y testigo de la negligencia médica que sucede a diario en Adelanto. No soy solo yo, esto sucede todos los días. A mí me pasó y va a seguir pasando mientras la detención de Adelanto continue existiendo- A mi amigo le dieron insulina "mala" y ahora está ciego y sucio en una unidad médica y sin accesso a sus compañeros. No lo podemos ver a menos que estemos en una cita con el doctor en el área médica.
Quiero que sepan que esto no está bien. Que nadie debería de tener el poder de negarle a uno su humanidad. Quiero que sepan que mi dignidad importa y que voy a luchar por que se haga justicia. Por favor, escuchen mi historia y luchen conmigo.