Alex Mensing reflects on supporting the #Adelanto8 and over 50 hunger strikers at the Adelanto Detention Center over the past month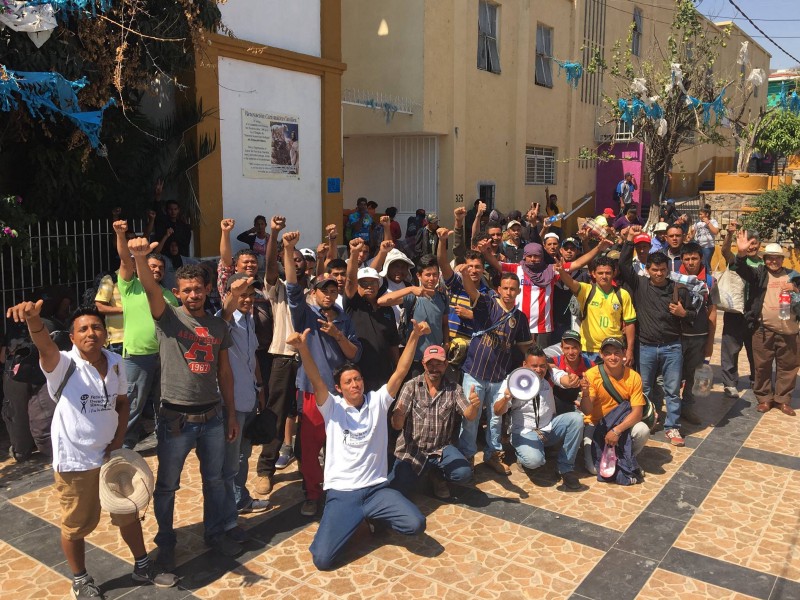 [en español abajo]
One month ago, on June 12th, nine brave Central American asylum seekers refused to eat the tasteless excuse for a breakfast issued to them by employees of one of America's richest private prison companies — GEO Group — at Adelanto Detention Facility.
The immigrants, who had participated in the 2017 Refugee Caravan and spoken out about the abuses, dangers and barriers faced by Central American asylum seekers throughout Mexico and at the US border, had a simple request. They wanted to speak to an ICE officer about a list of demands enumerated in a letter announcing their hunger strike.
The demands included simple things like decent clothing and acceptable food, but they also included things that are established as fundamental principles under international law. Refugees are not to be imprisoned. They have committed no crime (not that imprisonment is a just or effective response to crime), they have experienced extreme trauma in many instances, they are exercising their rights to a protection system established by law, not to mention the time-honored practice of helping other human beings. Requiring a $35,000 bond to an indigent, incarcerated refugee is not fair.
In the past month, I've had the honor and responsibility of spending many hours on the phone with these 9 inspiring companions, with the other detained immigrants who have joined them, and with the dedicated advocates who have risen to the call for solidarity. At times, of course, it has been a challenge, I know, not just for me but for those around me. And it hasn't just been the last month, but it's been more than five months since Irineo, Lukas, Roberto and I began to discuss plans for the Refugee Caravan.
If you're one of the people who I've hung up on after the terse phrase "I'm getting a call from Adelanto," then I apologize for the abruptness. If I've canceled plans again and again, if I've broken down a few times in your presence, I do want you to know that the #Adelanto9 appreciate everyone who has taken action — however small — to stand in solidarity, to speak out, or even just to not ignore them, their struggle, or this injustice. And I appreciate you, too. Very much.
I look forward to the day when I get a call from the liberated #Adelanto9 on their cell phones to say what's up, and not from a detention center through an expensive Telmate call to tell me they've just been pepper sprayed in the face by a prison guard, that a compañero has just attempted suicide, or that ICE has set their bond at $35,000.
It's been one month of nonviolent action in Adelanto. Three hunger strikes. Over 50 detained immigrants participating. Hundreds of refused meals. My phone number has been blocked by Adelanto Detention Center. Twice. So have many of my colleagues' numbers. ICE and GEO continue to take unconstitutional retaliation against nonviolently protesting detained immigrants. We are watching. We are standing in support. The hunger strikers are taking the lead, and we're supporting in solidarity.
La lucha sigue.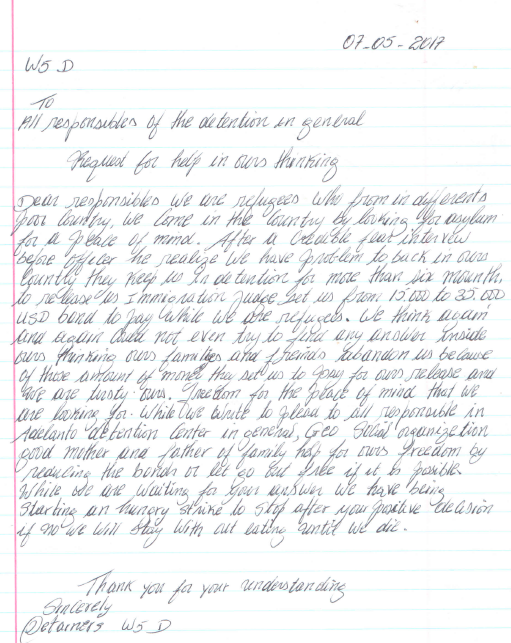 ---
Hace un mes, el día 12 de junio, nueve valientes solicitantes de asilo centroamericanos se negaron a comer la sustancia sin sabor que pasa por el desayuno en un centro de detención de una de las compañías de cárceles privadas más ricas de América — GEO Group, en Adelanto.
Los inmigrantes, quienes participaron el la Caravana Viacrucis de Refugiadxs del 2017 y alzaron sus voces sobre los abusos, peligros y obstáculos que encaran los refugiados centroamericanos a través de México y en la frontera con EEUU, tenían una petición sencilla. Querían hablar con un oficial de migración acerca de una lista de exigencias escritas en una carta en la cual anunciaron su huelga de hambre.
Sus demandas incluían cosas tan sencillas como ropa decente y alimento aceptable, pero también cosas que están establecidas como principios fundamentales bajo ley internacional. Las personas refugiadas no se les debe encarcelar. No han cometido ningún crimen (aún así la cárcel no es una respuesta justa ni eficaz para quienes rompen la ley), y en muchos casos han vivido traumas muy fuertes. Están ejerciendo sus derechos bajo un sistema de protección establecido por ley, y aparte pues que como seres humanos nos debemos ayudar. Ponerle a un refugiado encarcelado e indigente una fianza de $35,000 dólares no es justo.
En el último mes he tenido el honor y la responsabilidad de pasar muchas horas en el teléfono hablando con estos nueve compañeros inspiradores, con otros inmigrantes detenidos quienes se han sumado a la lucha, y con los organizadores y voluntarios dedicados que se han apuntado para levantarse en solidaridad. Por momentos, por supuesto, ha sido difícil, yo sé, no solamente para mí sino que para los que me rodean. Y no ha sido un mes solamente, sino ya más de cinco meses desde que empezamos a hablar sobre los planes para la Caravana de Refugiadxs.
Si eres una de esas personas a quienes he colgado la llamada después de que yo diga "me llaman desde el centro de detención," lo siento por lo abrupto que es. Si he cancelado planes una y otra vez, si me he desesperado algunas veces en tu presencia, quiero que sepas que los #Adelanto9 aprecian mucho a todas y todos quienes han tomado acción — aunque sea pequeña — para levantarse en solidaridad, alzar la voz, o incluso el no ignorarlos a ellos, a su lucha, o a esta injusticia. Y yo te aprecio también. Mucho.
Espero con ansias el día cuando recibo una llamada de los #Adelanto9 ya en libertad, desde sus celulares, para saludar, y no desde un centro de detención con una llamada carísima de Telmate para que me digan que los guardias le acaban de echar gas pimienta en la cara, de que un compañero se ha intentado suicidar, o que ICE les a puesto la fianza a $35,000.
Ha sido un mes de lucha no violenta en Adelanto. Tres huelgas de hambre. Más de 50 inmigrantes detenidos en participación. Cientos de comidas rechazadas. Mi número de teléfono ha sido bloqueado por el centro de detención de Adelanto. Dos veces. Igual de algunos de mis compañeras y compañeros. ICE y GEO siguen tomando represalias no constitucionales en contra de inmigrantes detenidos que protestan de manera no violenta. Estamos mirando. Estamos de pie apoyando. Los de la huelga dirigen, y apoyamos en solidaridad.
La lucha sigue.
Alex Mensing*** is an immigrant rights organizer in Oakland, CA, and author of the blog ***Porque El Sur También Existe
---
5 Huelgas de Hambre en Adelanto
From Sureñxs En Accion on July 14:
Resistencia sembrando más resistencia- aquí va un crónograma mostrando los 5 (o posible 6!) huelgas de hambre por más que 50 personas en la carcel Migrante Adelanto desde 12 de Junio. Una huelga sigue hasta el momento! Pueden encarcelar la resistencia pero no pueden apagar la chispa!
Resistance spreads! Here's a timeline of the 5 (maybe 6!) hunger strikes involving over 50 people in the Adelanto detention center since June 12th. One is still going on now! They can jail the resistance but they can't put out the spark!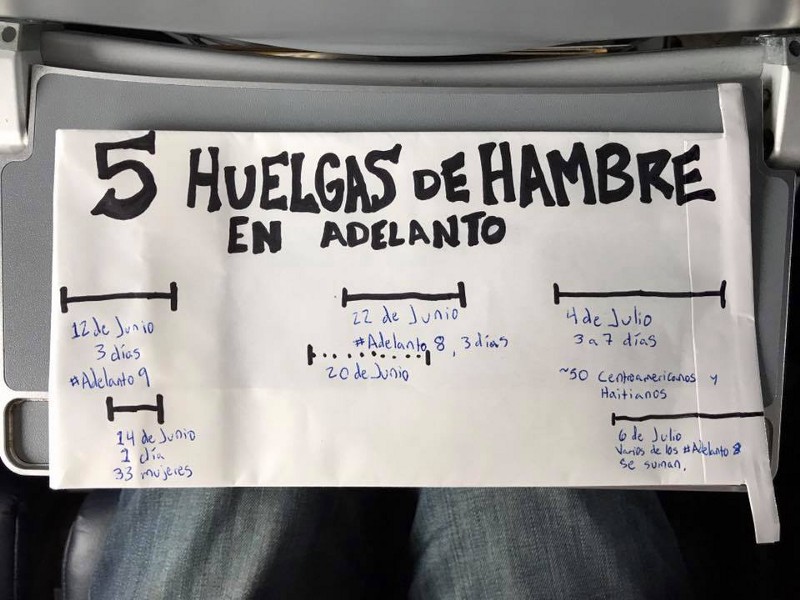 Support the #Adelanto8 and all hunger strikers! Sign the petition here: