From a NHK World News Broadcast, with reporter Tobias Burns
Japanese-Americans are voicing their support for the tens of thousands of migrants arriving in the US every month fleeing poverty and violence. In this video from NHK World, Tobias Burns, who also produced the segment, reports that current events are surfacing painful memories for many Japanese-Americas. Labeled "alien enemies", about 120,000 Japanese Americans were rounded up during WWII and placed into camps.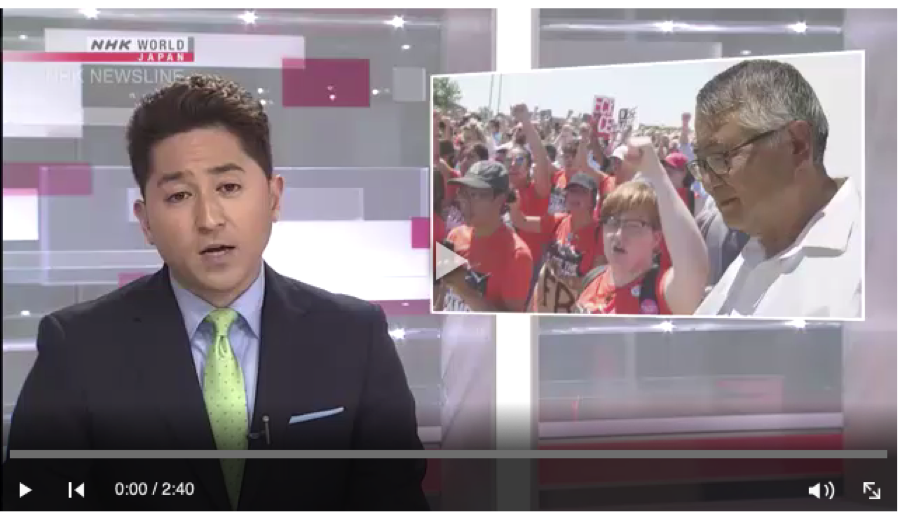 Click here to watch the video.
At a July protest in Fort Sill, Louisiana against President Trump's immigration policies, Burns met Louis Watanabe, a 63 year-old third generation Japanese American. In the newscast, Watanabe is seen marching while carrying a framed photograph of a memorial erected at the site of a World War II internment camp.
"I stand here today because the experience of the incarceration of children .... reminds me of my family's suffering in World War II," Watanabe says to a group of protesters that included Buddhist priests, Japanese Americans, Central Americans, and others. Watanabe's mother and her parents were incarcerated in a camp in the desert.
Today, Watanabe is a volunteer with Detention Witness, a group that visits and assists detained immigrants held at the Adelanto Detention Facility in CA.  
"We know what happened to our families," Watanabe says at the end of the newscast. "And we don't want it to happen again."
Cameraman: Takamishi Murayama