by Daniela*
I am originally from the Philippines, but in 2012 I was working as a machine operator at an electronics company in Juarez, Mexico when I first got my tourist visa to the US.
The last time I entered the US was on September 9th, 2017. I was in a relationship with a man and overstayed my visa. I had lost my job in Mexico and was sharing an apartment in Tempe, AZ with a friend.
I was in a fifteen-month relationship with this man, but he was a womanizer and we fought all the time. Then last year, on the night of November 26th, we got into a big fight and he assaulted me. I screamed for help to my housemate, but she was scared and didn't leave her room. He pushed me down on the floor and he ran outside. I chased him on his car on the parking lot and a neighbor peeked out from their window due to commotion. Due to shock, I just kept crying and arguing with him on his car. The man, afraid that the neighbor would call cops, just called the cops himself to save himself from possible trouble. While he was waiting for the cops to arrive, I hid at the back of the apartment and sat crying under a tree. I was frightened because I knew my permit had expired and didn't want to be caught by the police. This gave the man a chance to reverse the true story.
But they found me, and handcuffed me. They asked me my name, and if I was OK, and then they took me to their car. They did a check on my name and the next thing I knew I was at the police station. I spent that night in jail. I didn't have anyone I could call to help me. I have family in the Philippines, but they are poor and have problems of their own, and I knew there wasn't anything they could do for me.
I had a hearing the next day and based on the man's story, I was charged with assault and criminal damage violence, even though I showed the judge the bruise on my arm where he had hurt me. I filed a motion to continue the case because it wasn't my fault – I hadn't done anything wrong.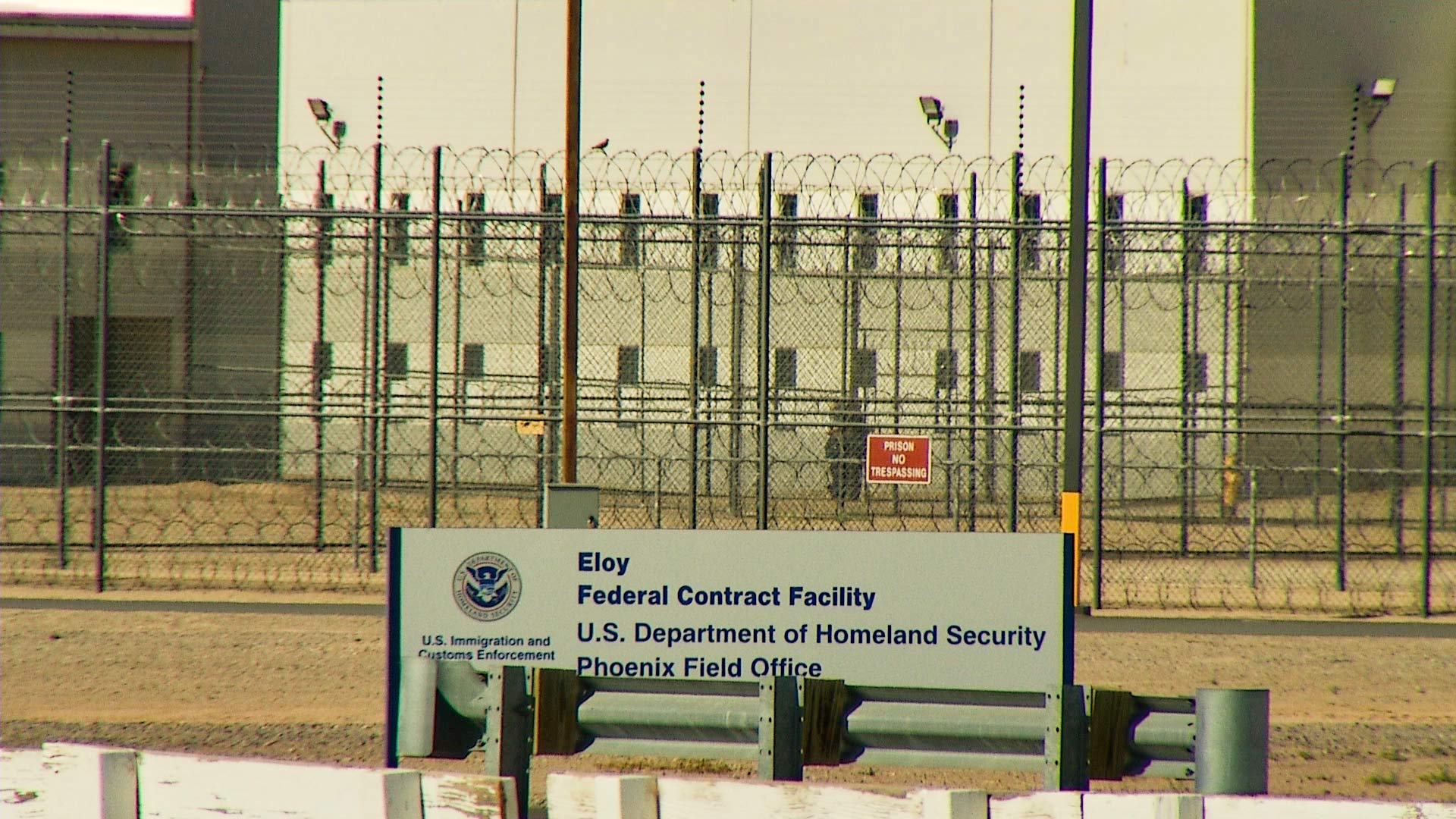 Because of my expired permit, I was immediately turned over to an immigration officer. From the Tempe police station we first drove to Phoenix, where I was put into a cold cell with a blanket while they processed my papers. From there, I was transported with others on a bus to an immigration center in Florence. We slept there and the next day traveled to Eloy.
At the detention center in Eloy they let us take a 5 minute shower and took all our clothes, shoes, everything, and gave us a detention uniform. All the clothes and underwear were very old and discolored.
I was placed in a cell with high security detainees. There were 25 cells, with 2 detainees per cell. Each cell had a bunkbed and a toilet. The door is metal with a window near the top. They conducted random checks and head counts around the clock beginning at 6 in the morning while we're still sleeping. At around 7 o'clock we're allowed in the common area where there is a TV and a shower in the corner. The officers were ok, not friendly, but strict.
When I first got to the Eloy detention center, I was allowed to make a 5 minute call, but the only number I knew was that of the man who had assaulted me, so I called him and asked him to go to my apartment and tell my housemate I was in detention. After a few days I got her number. I didn't have any money and had to borrow phone time from another detainee.
My housemate said she was surprised I hadn't been deported yet. She had already started to clean out my stuff. She'd also found my ATM card, and my password from a notebook, and withdrew all my money, $948. She also found $3,000 cash I had in the apartment.
I told her I was going to fight my case because I was innocent of the assault. I was going to have a hearing and I asked her if she would be my sponsor and that I would use my savings to pay the bond. The lease was almost up and she was searching for a new apartment and she said I could use that address to give to the judge, and that she would help bail me out. I kept asking her to send me money for a lawyer and for phone calls – but then she started avoiding all my calls. I had no money to buy extra food or items for hygiene.
I was detained at Eloy from November 28th to January 21st. Then I was transferred to Adelanto.
It was quite different at Adelanto There are no cells. There's one big corner with all the bunk beds lined up, and that's where everyone sleeps. The clothes there, though, were all brand new. Some officers were disrespectful towards people there. I think they thought we were bad people. Most of the detainees watch TV during the day, but I don't like watching TV. But the library had books and puzzles. And we had outside and soccer time for 3 hours a day.
My charges from the assault were dismissed on February 4, 2018. I told my story to a lawyer and she contacted my housemate. I think that call scared her because she managed to transfer $2,000 to my family in the Philippines – except they didn't know how to send it to me in Adelanto. My housemate still had my identity documents and I feared that she would hide or throw them away based on her indifferent behavior. Without someone to keep the documents for me, I urged her to send it to the detention. center But all the documents were given to ICE custody. They don't want to give them back, even to my lawyer, until my immigration case is over. So I don't have any identification.
Before my bond hearing, I phoned the number of a woman named Blanca and asked for a shelter sponsorship. She took the contact number of my lawyer to learn more about my case. The shelter agreed to provide sponsorship, which would help me in my hearing. Finally, on June 13th, I was granted a $3,000 bond. But two weeks later, I told my lawyer I couldn't leave because I didn't have any money to pay the bond. After few days, a woman named Carolina Goodman visited me unexpectedly in the detention center. She asked me about my story and I told her I had been granted a bond but that I had no money to pay it. She took my lawyer's number too. In a week or so, my case coordinator informed me that Freedom for Immigrants paid my bond.
I was both happy and worried when I found out where I was going because I didn't know what life in a shelter would be like, I didn't have any money and I had no friends here. After I was released, I kept asking my housemate for my money and cellphone, which had messages – evidence – from the guy who assaulted me that could have helped me. But she didn't want to help and be implicated. I text her and send messages to her on FB and she's not replying.
I am thankful to Freedom for Immigrants for paying my bond and getting me out of detention because it gives me a chance to fight my case on the outside.
Before I left Adelanto they put an ankle monitor on me. It comes with a charger and 2 batteries, one on the monitor and one extra. The battery needs to be charged after 8 to 12 hours each day.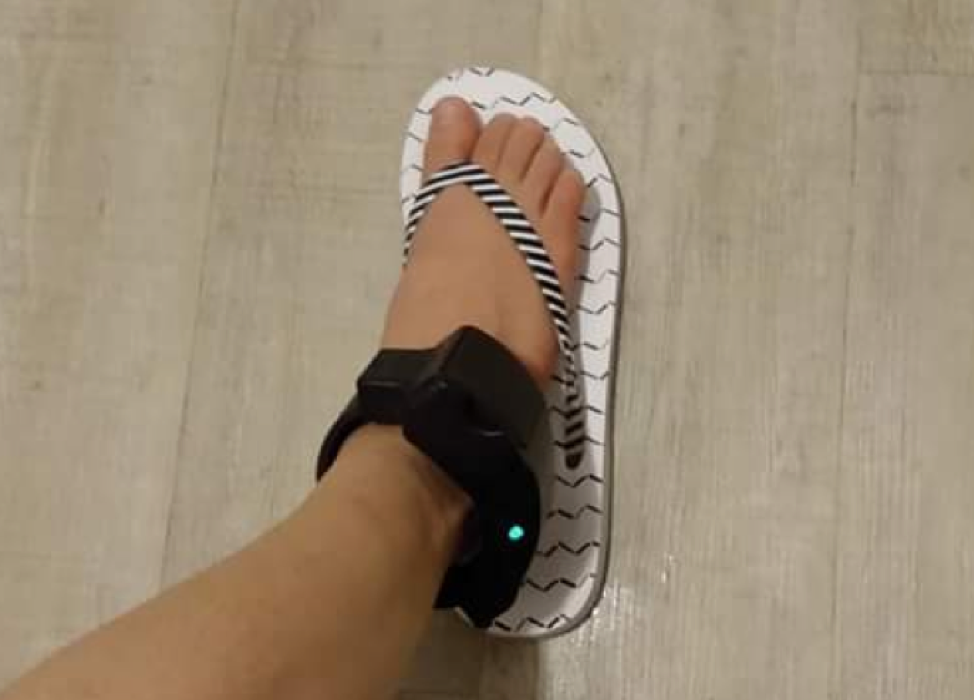 The monitor is big, and kept hitting my ankle bone, rubbing my skin, and creating a small wound and bruises that lasted for about 2 weeks.
I wore the monitor for 102 days. During the first couple weeks I had nightmares, about monsters. I thought the monster was on my foot – then I woke up and realized it was the monitor.
After they removed the ankle monitor my phone was enrolled in the voice ID system. They call once a month, on a random Wednesday, between 10 and 12 in morning. They say numbers, which I recite back on the phone so they can identify my voice. I need to be alert because if I don't answer the call it's a violation of the rules and I could be taken back to detention. So far they have called twice.
After living in the shelter for 3 months, I am now living in transitional housing, and while it's a very good place for me, they don't provide food here like they did in the shelter. And it's almost impossible to find work because I don't have proper identification. Fortunately, I have assistance from Harbor Interfaith Services and the Tzu Chi Foundation. I filed an asylum claim before I left Adelanto and my hearing is on Friday, December 13th, just a few days from now. I have a new lawyer from Asian Americans Advancing Justice who is helping me.
I don't know what will happen on December 13th.
I am alone. I don't a boyfriend or any friends. If I win my case, I would like to help others – detainees – just like me. I would like to pay people back in good ways, like volunteering or donating.
*Name changed for privacy purposes