Thomas was deported to his home country in Africa in April of 2017 after being in immigration detention for over three years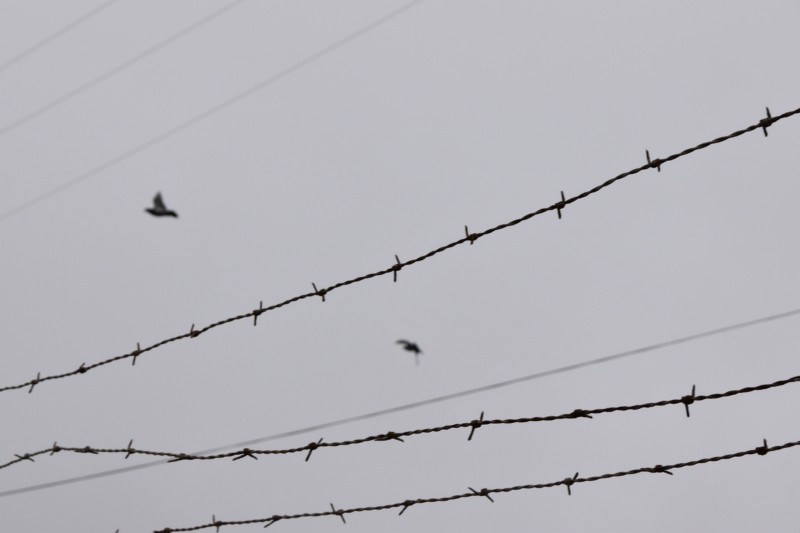 This is Part II of Thomas Dube's story. Read Part I
here
Thomas was deported to his home country in Africa in April of 2017 after being in immigration detention since 2013 and transferred multiple times between four states. His name has been changed, as he currently lives in fear.*
If it was a vacation, I could be all smiles telling people that I have been from state to state in the U.S.A. But my case is a different one. I have been to these states in chains and pain.
After losing my case with the Board of Immigration Appeals, within two months DHS-ICE commenced my removal. On the 15th of February at around 1 a.m., they took me from the Monroe County Jail in Key West to Krome SPC in chains. I arrived at 6 a.m. and was processed until noon. After that, they took me to the dorms until 3 p.m. and suddenly at that time, they told me to pack up to be transferred.
My thought was that they were going to transfer me to another facility in Florida, but I was in for something else.
They took us to processing cells and we were there until 11 p.m. that night. Then they took us, with less than an hour of sleep, to the multi-purpose room. After an hour, they took us back to the processing cells until 6 a.m. Then they chained us and put us on a bus to the airport. We boarded a plane in the back of the airport, an ICE airplane called EXTRAirways. Inside, we were chained and allowed to use the bathroom only once for the whole journey. We were given a small breakfast bag of food.
From Alexandria to Alexandria
After approximately two hours, we stopped in Georgia to pick up more people and then we set off for Louisiana. We arrived in Louisiana at noon at the Alexandria airport (and at the airport is a detention center called Alexandria). Processing us took until 11 p.m., when I could finally go to bed.
I was there for five days, then they moved me to the LaSalle Detention Center, an hour from Alexandria. I arrived at 11 a.m. Processing took all day until 12:30 in the morning. I was escorted to a unit in general population, and was in my bunk for less than four hours when I was awakened to be transferred to Washington, D.C.
I was escorted on a commercial flight to Atlanta, then D.C. When I arrived, I was taken to a jail called Alexandria in Virginia. I arrived at 7 p.m. and was processed until 1 a.m. I slept for three hours, then two ICE agents came to take me to ICE headquarters in Fairfax to await my deportation flight. After two hours, they notified me that my flight had been cancelled, but they would still take me to the airport to be flown back to Miami-Krome SPC, where I began.
I was back at Krome for two weeks before being put through the same process again, of no sleep, breakfast bags, chains, and more pain.
This time, they flew me with other men from Miami to Alexandria airport in Louisiana, and then back to the LaSalle detention center.
I was there for four days, then put on an ICE plane called Swift to Pennsylvania. When I arrived at the airport near a military base, an ICE officer came and asked me if I had money. He took the money I had and left.
After that, they took me to York County for processing for two days, before being taken again to Fairfax in Virginia for deportation. Before I left York County, I had a discussion with a Mr. Lewis about my luggage. I told him that two deportation officers from Miami knew where it was. He told me he would get my luggage from them at Fairfax before my flight to Africa.
I refused all of it
The next day, I was taken to Fairfax, then Dulles airport. To my surprise, when I arrived there, the two officers from Miami asked me where my luggage was. I told them that Mr. Lewis and other officers at Fairfax assured me that they would have it.
When I said that, one of the officers started to intimidate me. He said if I didn't get on the airplane, he would make sure that when I got back to Miami I would be sent to a County Jail. I told him I could not go on the plane without my luggage. He said that would not be possible; I would have to leave the U.S. without my luggage.
After thirty more minutes of intimidation, he offered me a deal. He told me he would give me $140 to pay for my lost luggage if I would agree to leave the U.S. I refused to take the deal. He said since I refused to take his deal, he would have to follow ICE's protocol — which was to put in their record that I acted up at the entrance door to the flight and "violently" refused to leave the U.S.
I refused all of it. When it was time to board the airplane, they handcuffed me and took me back to Fairfax, and then the Farmville Detention Center in Virginia.
I hope this story will help me or others in some way. I don't know what I will face, but I pray to be alright.
Best regards, Thomas Dube.

*Thomas was ultimately deported to his home country in Africa in April of 2017. To those who visited and wrote to him while he was in detention, he says: "I never felt alone because of your support."*
---
Click ❤ to recommend this story
Follow IMM Print on Twitter and Facebook