Miguel Perez' story made headlines earlier this year when the decorated U.S. Army veteran and legal permanent resident was deported to Mexico. Perez, who served two tours of duty in Afghanistan and suffers from PTSD, moved to the U.S. as a child. He was turned over to ICE after completing a seven- year prison sentence, and subsequently spent eighteen months in detention prior to being deported on March 23. Recently, I spent time with Miguel in Tijuana. Here, for the first time, he tells his story in his own words.
I moved to the U.S. when I was eight years old. My grandfather is a natural born citizen of the U.S. He moved to Mexico in his mid-twenties to start a family. My father was born there, and I was too. When I was growing up we'd visit California, Disneyland, relatives, things like that.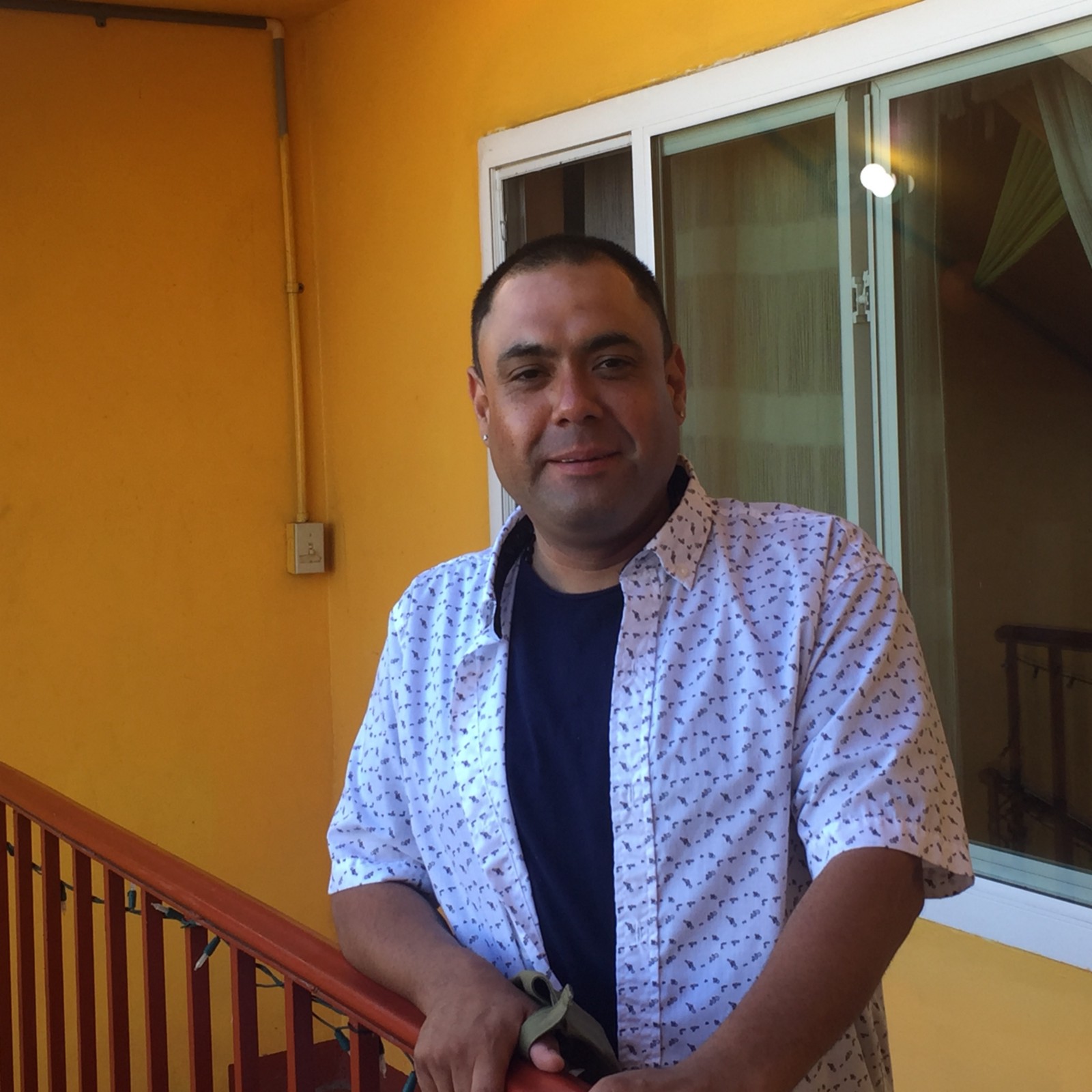 Miguel Perez in Tijuana on August 13
We were a soccer family, and in the mid-80s my father got a job offer from a Chicago soccer team. We moved there as legal permanent residents. I went to grammar school, high school and college in Chicago.
In 2001, I joined the military; I went to Afghanistan in 2002 for the first time, and in 2003 for the second time. I left the military in August of 2004 and after that … well, it's not an excuse, and I didn't realize it at the time, but I was struggling with PTSD. I started withdrawing from everyone. I became a loner. I was drinking — a lot — and self-medicating with cocaine. It was a coping mechanism because I was just feeling so bad. I didn't even notice my own behavior; when I needed groceries, I'd go to the 24-hour market at 3 in the morning when there wouldn't be anyone else there. And if I were driving, going from point A to point B, I would take the long route, just to keep moving, so I wouldn't be stuck in traffic.
By the end of 2007, my mother started pressing me to go to the VA hospital in Chicago. But they just gave me the runaround, and kept telling me to come back in a month. I had a friend who was a drug dealer, and I was always hanging out with him. What I didn't know at the time was that he had been under investigation for months.
One day, in one of my drunken rages, I left town. When I came back, about a month later, I called my girlfriend. We argued, so I called my friend. I spent a couple days with him, and then called my girlfriend so I could meet up with her and my son. That same day my friend went to drop off some drugs, and I went with him. That's when we got arrested. He went to jail, bonded out and fled to Mexico. I ended up doing seven and a half years at Hill Correctional Center in Chicago. It was the worst time of my life, because I was separated from my family, but it was also the best, because for those seven years I saw a psychiatrist once a month and a psychologist twice a month. I was also able to attend group meetings and get the right meds. It took about two, maybe three years, to get the right dosages to control all my symptons. It was there that I found out that I, a United States Army veteran, would be deported.
It was 2015, and I had less than six months to go. Along with others preparing to be released, I'd practice mock interviews and work on my resume. I'd been working for four years as a TA (teacher's assistant) helping guys prepare for their GEDs, and later with a professor helping guys get their associate degrees. But I was only getting paid about $30 a month, and I figured I should get a different job and save some money so I could get a decent job when I got out. But when I applied, I was turned down because I wasn't a U.S. citizen. I was told I was on ICE hold, that after I finished my prison term, ICE would come and pick me up.
I initiated contact with Immigration. I wrote a letter to ICE and the judges and never got a response. Finally, I got a Notice to Appear informing me it was official, that ICE was going to pick me up. I was able to speak to an attorney with NIJC (National Immigration Justice Center) in Chicago and she explained everything to me. But she said there nothing I could do.
I had support — including my pastor, Emma Lozano at Lincoln United Methodist Church, plus my father contacted a group of activists including Pueblo Sin Fronteras and LULAC. They visited me and said they would not give up on my case.
But early in the morning on my last day in prison, I was turned over to ICE and placed in detention, first at Dodge County Detention Center in Wisconsin, then for a year and two months at the Kenosha County Detention Center. That's a horrible place — with lots of violations of human rights. For example, the phone number they posted for reaching the Inspector General was wrong. So to make a call, you had to enter your ID number, and then your phone call would be recorded, instead of being private.
And the correctional officers didn't seem to have any formal training. All they need to be hired is a GED. The training is on the job. Some of them are kids — 18 or 20 years old, and they learn from whoever happens to be in charge on any given day. I once filed a complaint against a particular officer, and an administrator wrote me that the correctional officer is who dictates what goes on. I wrote back and said, no, the correctional officer is supposed to enforce the laws and policies that are already established, not dictate. That conversation ended up going nowhere.
It was a constant battle, but I always tried to speak up for everyone. A lot of the guys there are immigrants and they don't speak the language. They see the badges and are afraid to speak up, because they might be thrown into segregation. Just for trying to share a carton of milk, passing a tray at lunch, you could get placed into segregation for six days.
On February 1, I started a forty-day fast. I spoke to the chaplain and told him I wanted to do a religious fast, and he approved it. But the guards knew it was a hunger strike, and they tried every single day to get me to eat. They threatened me with segregation unless I ate a biscuit and broke my fast. But I wouldn't be bribed. I drank water and Gatorade, and prayed.
When I reached the third week of my fast I was told I was being put into segregation because they were worried about my condition. But they took away all my property, including my Gatorade and my fluids. And then they turned off the water in segregation so I had to knock on the window to beg for it.
At that point, I started getting really mad. I brought out my Army card, which I hadn't done before. I fought for this country, I told them, I made a mistake, but I paid for it, and I'm not going to beg for water anymore. You can turn on the water, and then leave. So they would come in, turn on the water, and I would drink some, then they'd come back in and turn it off. They'd bring trays of food, but I wouldn't touch them.
They started messing with my medications, too.
I was in segregation for about a week. But because of my pastor, and rallies outside, and media exposure, they finally upped my medications. Then I was transferred to the detention center in Kankakee, IL.
It sucked there — but it was probably the best jail I'd been in. They treated me with respect, and talked to me like a normal person. They respected my fast.
Illinois Senator Tammy Duckworth — the Army veteran who lost two legs in Iraq — has been advocating for me. She actually introduced a bill with my name on it to the Senate floor.
But I lost my case. The prosector treated it like a criminal case instead of a civil case. He kept bringing up my past, the prison and the drugs. Then we appealed to the BIA (Board of Immigration Appeals) and lost that, too. Next, we appealed to the 7th Circuit.
But this is the craziest part of all this: I finished my hunger strike on a Monday, March 12, the fortieth day. They called Immigration and told them the hunger strike was over. That same day, ICE called my attorney and told them to bring me in on Thursday, because they were going to look into my application for citizenship.
We went in, and they gave me a citizenship test. When we finished, we went through the citizenship paperwork, and then we did a mock oath. My attorney is sitting there, together with reps from ICE and Homeland Security. I'm cuffed, and I say the oath. Then they showed me the paperwork with my name on it, asked me if everything was spelled correctly, told me to double-check everything. My lawyer and I looked at each other and I thought, wow, it's done.
Two hours passed, then three. There were camera crews waiting outside, together with my mother and my pastor. Then we were called upstairs and handed a manila folder. My citizenship application had been denied, due to my "moral character;" in other words, for the felony for which I'd already served time.
And I was sent back to Kankakee.
I found out later that the decision to deport me had been made before I went to that appointment. The document had already been signed. In fact, they originally planned to deport me the day after the appointment, on Friday, but they waited a week because of all the media attention.
Then on Thursday, March 22, when I tried to call a friend, I found out my phone had been cut off. I learned this typically happens the day before deportation. So I couldn't contact my family to ask them to bring me clothes and money.
I'd heard that the protocol was that I'd be sent to Louisiana for two weeks before being deported to Mexico. About 3 in the morning on the next day I was called over the intercom to get ready. But I told them I wasn't going. They had to call the extraction team to get me out.
I was taken to a detention cell where I saw an Immigration Officer and a man representing the Mexican Consulate. He asked if he could do anything for me, and I said, yeah — call my family, because they wouldn't let me call. The Immigration Officer said, "My understanding is that you had the chance to call your family at 3 this morning, but you refused to come out of your cell." I replied, "For your information, the phones are turned off from 9:30 in the evening to 9 the next morning. Even if I'd come out, I wouldn't have been able to make a call." The man from the Mexican consulate let me use his phone.
I called a friend and told her I was heading to Louisiana, but the Immigration Officer interrupted and said no, that I was going straight to Mexico. My friend said she was going to call Senator Duckworth right away.
I was shackled and put on a bus and taken to the airport. Before I got on the plane, the guards took selfies with me, turning me this way and that, like I was a major prize.
I was stuck in the very back of the plane, separated from everyone else by six rows. We flew to a bunch of different places, picking up and dropping off people. Then we reached Brownsville, TX.
One officer came onto the plane asking for "the veteran." He said, "You're a high profile case, and you're coming with me." I thought maybe they'd reached the senator, and was excited for a minute. I got on a bus, and eventually we reached a building with a big flag. I figured it was another detention center.
We got off, he removed my handcuffs, and we started talking. He asked why I'd never become a U.S. citizen. I told him it had never crossed my mind, and that I'd been legal here my whole life. He said, "It was a huge deal for me. I wasn't born in this piece of shit country. I came here and joined the military to get my citizenship." I replied, "That's the difference between us. I joined the military for the love of my country." He said, "Well, maybe all this can be resolved." And we kept chatting, and he asked why I didn't want to go to Matamoros (Mexico). I said, "Because I'll be murdered. My case is out there."
He opened a door, and as soon as I went through, he closed it behind me and said, "We're done here. See those green arrows over there? That's Mexico. Go ask them for help."
All I have is this bag — it's like a potato sack — black joggers with no laces, and a dirty t-shirt. No money. I wanted to escape, jump headfirst into the river, but it was all gated in, and I knew I was stuck. I was just heartbroken.
I started walking across the bridge, and the Mexican authorities stopped me and asked why I was alone. They'd been expecting something like 200 people. They asked, "What did you do? Go to prison?" I said yes. "Are you a high profile case?" I said yes, that I had been in the U.S. military.
I was taken to a little reception area where they did my intake, then I was allowed to call my mother. She told me to call my pastor. I did, and found out a hotel room had been set up for me, and that a cab would come get me.
It was a long night. I kept calling Chicago because I couldn't find the cab they'd sent.
There were some guys on the corner with their trucks and their shiny shirts, probably drug dealers, and they kept honking their horns and waving. One of them finally came over and said, "You just did some time, right?" I said no. He said, "Oh come, on. Look, I did time too. Don't worry — we take care of our own. Come on over." When he walked away, I went back to the phone and made another call. Finally, the hotel sent someone to pick me up.
Now, I haven't been out for nine years, and I'm dressed the way I am, and it's a nice hotel. I'm getting into the elevator with these people, they're having a wonderful time, and then they get real quiet. I feel like I'm ruining their evening.
It was a huge hotel room. I went into a corner and didn't move all night, just kept going over all my paperwork. I kept hearing pop, pop, pop and tried to tell myself maybe they were Mexican fireworks but I knew they were gunshots.
I didn't eat for two days. I didn't want to go out. My friends told me to order room service, but I didn't order anything for a couple days because I didn't want to open the door to anyone or have to talk to anyone.
Then a veteran from Chicago and a friend from California flew down to take me to Tijuana. We had security — there was a camera crew in the lobby of the hotel — to escort us to the airport, where we first flew to Mexico City and then to Tijuana. And here I am.
One of the candidates running against Bruce Rauner for governor of Illinois is J.B. Pritzker — who has, on video, promised me an unconditional pardon if he's elected. Every time he sees my mother, he tells her he hasn't forgotten about me.
I'm getting by here with help from my family and friends. My rent is paid for another few months. I want to work— but my PTSD is bad sometimes and I'm worried I'm won't be able to keep a job.
When I was released, I was supposed to be given three months of medications. They gave me about 12 days' worth. My pastor and my mother brought me medicine, and I got some money to buy some here. But I've had a few really bad episodes.
I talk to my son every few days. It's really hard on him. He's only eleven. And I talk to my daughter almost every day.
Maybe in November, if J.B. Pritzker wins the election, I'll be able to go home to them.
Editor's note: In addition to the Army Commendation Medal, Perez received a National Defense Service Medal, Global War on Terrorism Expeditionary Medal, Global War on Terrorism Service Medal and an Army Service Ribbon.