"We've created a model policy."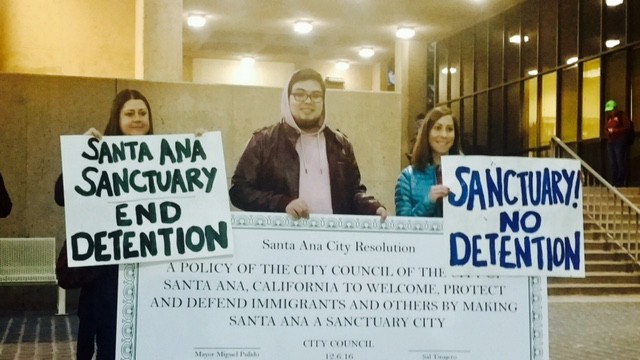 Last night, the Santa Ana City Council voted unanimously to pass a resolution to make Santa Ana the first Sanctuary city in Orange County, California. It also voted to eventually terminate its contract with ICE to detain immigrants at the Santa Ana City Jail.
These resolutions (55G and 60A) are the culmination of years of pressure community members, activists, and allies have been placing on the city since it entered into a contract with ICE to detain migrants at the Santa Ana City Jail in 2006.
A plethora of public comments were unified around these central demands:
Block the sharing of Santa Ana residents' personal information with federal authorities.
Set a specific timeline to terminate Santa Ana's ICE contract.
Turn Santa Ana's Sanctuary resolution into an ordinance by January 20th, the inauguration of president-elect Donald Trump.
Create a blue-ribbon commission comprised of directly impacted individuals from the community and their advocates.
However, Santa Ana is Not a Sanctuary City (Yet). Christina Fialho at CIVIC writes:
"In fact, the City will continue to operate the only official detention facility nationwide that detains transgender women, despite protests by local community members and national campaigns to end the detention of trans people and all immigrants. Even Congressional representatives have weighed in, calling for an end to the detention of transgender immigrants in Santa Ana and beyond."
While the vote is largely symbolic at this point, the city council offered a stronger commitment to turning the resolution into law. Councilmember Sal Tinajero said he wanted to send a "message loud and clear to our community, your people are protected," and he told the audience to continue to "hold their feet to the fire."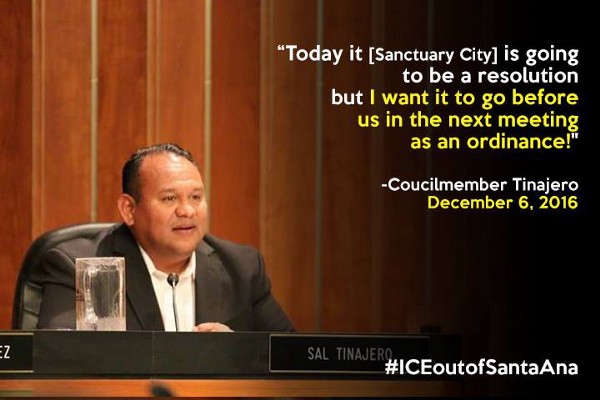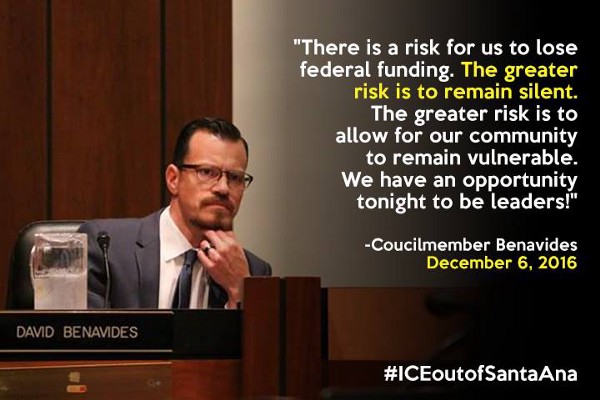 The City Council also unanimously voted to re-confirm the city's earlier promise to phase out its ICE detention contract that is currently in place until 2020, and reduce the number of beds from 200 to 128.
Advocates were disappointed that the City Council continued to waffle on setting a specific timeline for phasing out Santa Ana City Jail's ICE contract.
Councilmembers discussed the fiscal impacts of phasing out its ICE contract ($663,000 a year and 16 jobs), but also considered reconstituting the city's debt as well as opportunities for potential profit and job creation from facility re-use.
Council member Benavides said, "The funds have to come from somewhere." All spoke in favor of directing city funds to conduct a prison re-use study.
The UC Irvine Law School's Immigrant Rights Clinic has been working closely with advocates and the city to craft the Sanctuary resolution and ordinance plans. Professor Annie Lai stated, "We created a model policy."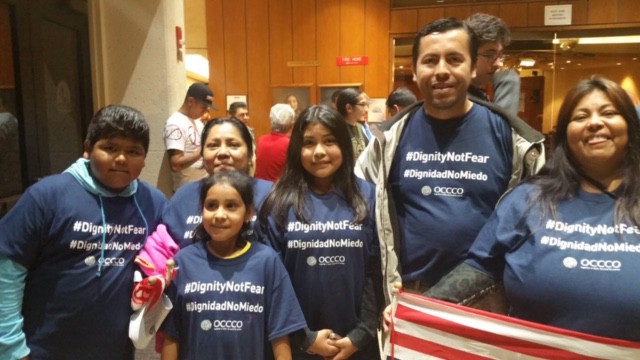 From the Public Comments:
"Today is a historic moment. Bold action is what is needed and bold action is what we deserve."
"The Muslim community has seen first-hand [the results of] the comingling of local and federal law enforcement."
"When you're a soldier in a foxhole, you don't ask your neighbor what religion they are, what race they are, you act to protect them… [anti-immigrant sentiment] is the Achilles heel in U.S. history."
"I am a U.S. citizen and I have the right to protect my parents."
"I'm angry that I have to remind folks of my humanity and that immigration detention shouldn't exist in the first place."
"Let us live."
"Abolish the police!"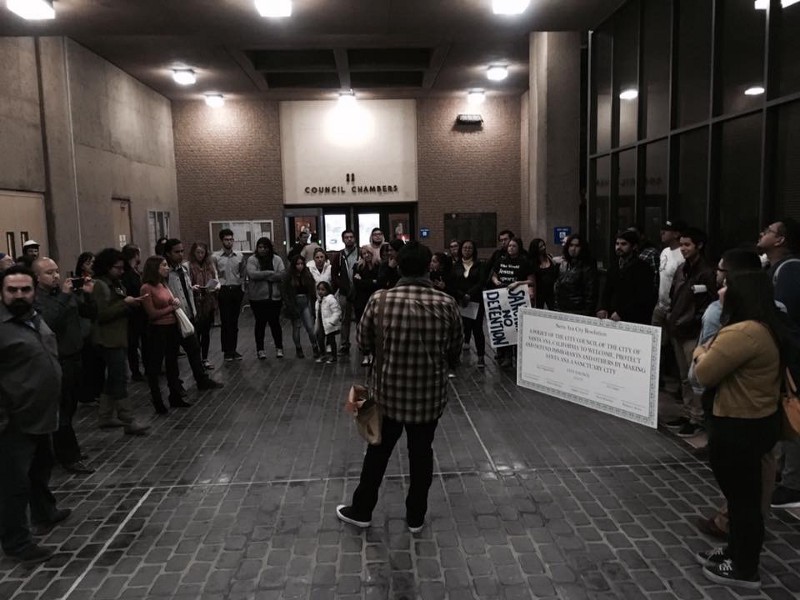 *Organizations represented include Orange County Immigrant Youth United (OCIYU), RAIZ (the OC chapter of the Immigrant Youth Coalition), Community Initiatives for Visiting Immigrants in Confinement (CIVIC), National Day Laborer Organizing Network (NDLON), UCI Law School, UC Irvine faculty, Clergy and Laity United for Economic Justice (CLUE), Latino Health Access, the OC May Day Coalition, Orange County Congregation Community Organization (OCCCO), and Unite Here Local 11 hotel and restaurant employees union, among others.
Authored by Tina Shull.