July 01, 2018
To whom it may concern:
This is a cry out for help from the people (or aliens, as we are called) at Northwest Detention Center, Tacoma, WA, spending the dark days of our lives.
The prison is run a la modern slavery. The officers, who mainly are retired military people, are getting overpaid to watch us. All other work is done by the prisoners. We work at the barbershop, we paint, we cook, we do buffing, we clean dishes, we do laundry, and we clean the entire building inside and outside, and we clean our units.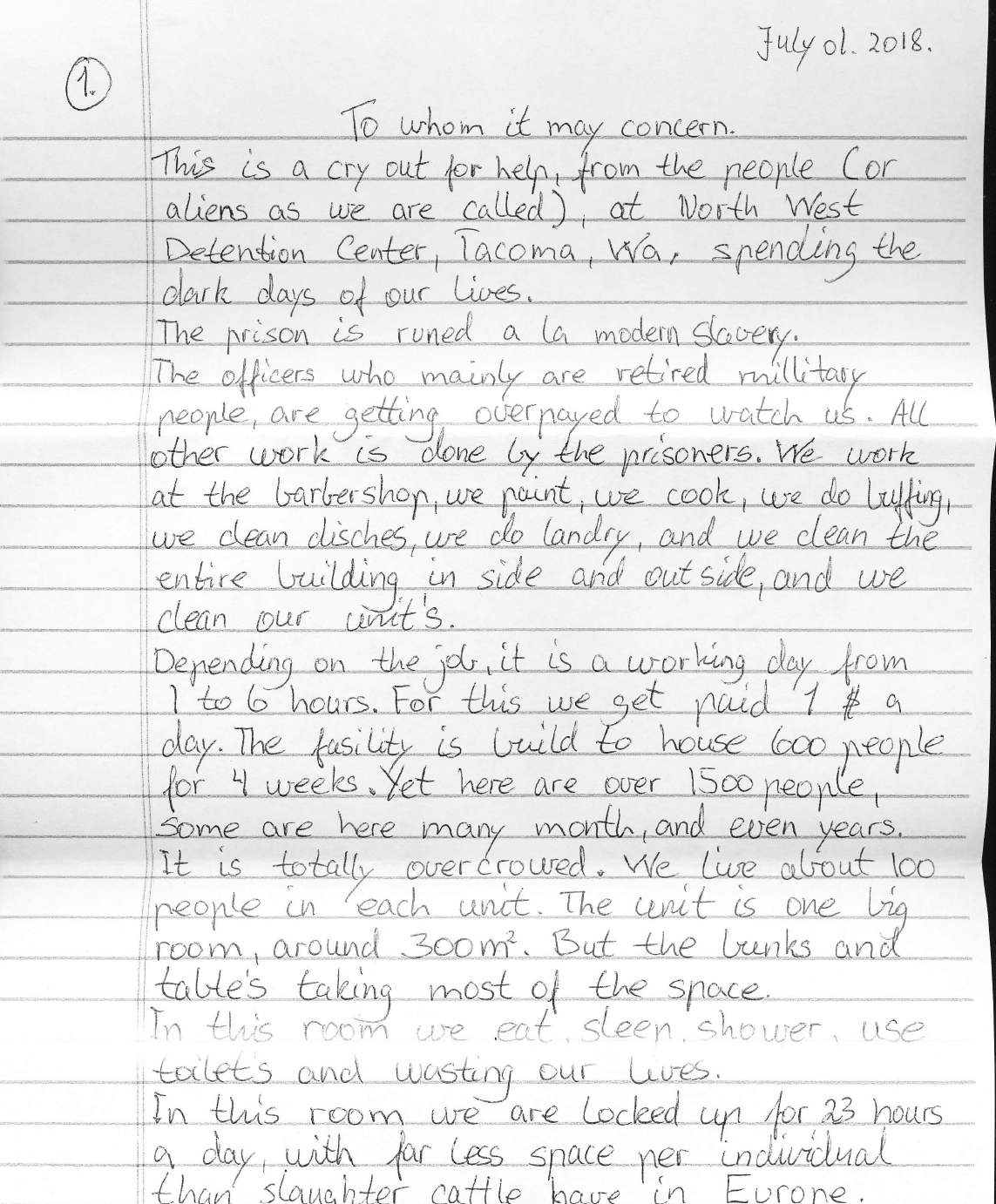 Depending on the job, it is a working day from 1 to 6 hours. For this we get paid $1 a day. The facility is built to house 600 people for 4 weeks. Yet here are over 1,500 people, some are here many months, and even years. It is totally overcrowded. We live about 100 people in each unit. The unit is one big room, around 300 square meters. But the bunks and tables take most of the space.
In this room we eat, sleep, shower, use toilets and waste our lives. In this room we are locked up for 23 hours a day, with far less space per individual than slaughter cattle have in Europe. For 1 hour we are allowed to come out in a rec yard. With one small soccer field, if 4 play on each team it is overcrowded. There is one basketball court and a few iron exercise machines. All this is fenced with a razor sharp curl of wire. After this there is another fence 15–18 feet high, with 7 (seven) razor sharp curls of wire, similar to Auschwitz! Totally overdoing it for a so-called detention center.
On the other side of the second fence officers are patrolling with cars, and walking officers with guns. We do not understand the guns. We come as immigrants to live in America, not to escape.
In the facility there are waiting cells for everything we do. If we go to the dentist, to medical, court, attorney visit, regular visit, or if we talk to our ICE officer. These cells are identical with a prison's, with a stone bench inside and a toilet. That's it. This bench is almost impossible to use because it saps all the heat from the body immediately due to the cold temperature in the room.
When people are deported, they are taken out of the unit at 10:30 p.m., then placed in a holding cell to around 10:00 a.m. Before, they are cuffed on both hands and feet, with a chain around the waist, hands placed in front.
We are counted 5 times a day. This means we must go to our 20 inch wide iron beds with a 1–2 inch mattress, depending on its age. The officers take this very seriously, screaming at us to be quiet. It takes about 1 hour to count us, every time.
We are forced to wear uniforms. The clothes we wear and the blankets we use for sleep are washed in the laundry at the facility. In the laundry they use chemicals in our clothes and blankets (to calm us down) so we don't fight, due to the extreme stress it is being here.
These chemicals result in many getting exams (red marks on several places on the body, and red eyes as well as dizzyness, also problems with the throat and airways.) Just to add a note!! The reason for writing the human rights act back in the late 1940s was with the interest that no one ever again should be exposed to gas or chemical attacks.
Of course we can go to the medical department, and get medicine for the symptoms. Never have so many young people needed so much medicine as people here.
We are given 3 very nutrition poor meals a day. There is never enough for a grown up. On the weekends, we get one small sandwich and one orange for lunch. That is not even a snack for an American. We have the possibility to order from the commissary twice a week, overpriced.
The facility is a for profit business. It gets paid a huge amount daily for each detainee. Because of that, they always keep the detainees for weeks and months after the final court hearing before they are deported to squeeze the last money out of them. The facility also earns on the medicine they give us, on communications, commissary, and money saved for not having employed staff beside the officers. It is truly a dirty business, instead of what it is supposed to be, immigration for humanity. The people who come here are mainly victims of persecution, torture, etc., who all seek protections from harm. What we get is far from America-worthy!
Here have been several suicide attempts, many mental breakdowns. And way too many are traumatized from this horrible way human beings treat non criminal fellow human beings. Many grown ups are crying on a daily basis, not understanding or comprehending the treatment which we are being given, nor the way way our lives are being wasted, for the sake of money!!
We are treated unrespectfully, are humiliated, our human rights are repeatedly violated, and we are living like and feeling like animals in a cage.
The immigration law as it is, is destroying families, marking them for life. Sending them into limbo financially, due to far too long a time in prison, unable to pay bills. Therefore we cry out for help to be set free, and be reunited with our loved ones. To be treated as what we are, human beings (and not aliens or prisoners). To be trusted till otherwise proved. Are we not innocent? We implore and beg for an investigation and a reconsidering of the immigration law.
Kind regards from the prisoners without any crimes,
(names withheld by request)