"I just want justice for so many people who are alone and needing help."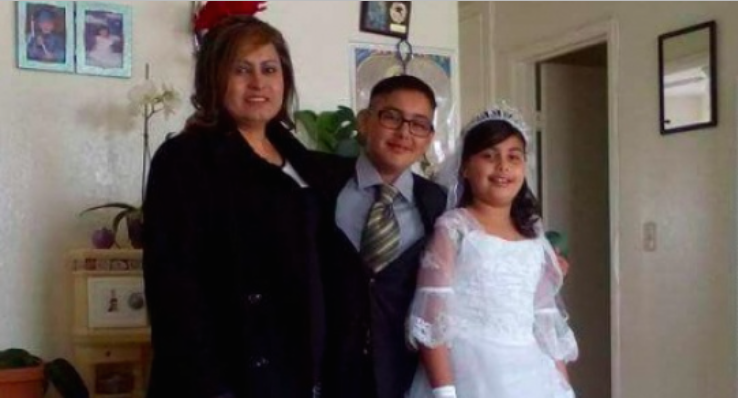 *Quiero que esta carta la pongas … donde sea escuchada y vean como esta esta situación en la que estoy y como me encuentro que no tengo casa ni carro, menos dinero, ni un mueble, estoy durmiendo en el piso pero pronto tendré casa y carro trabajo para estar bien pero no me importa como estoy, solo quiero justicia para tanta gente que esta sola y ocupa ayuda. Para quien esta carta llegue a sus manos demen ayuda a mi y a tantas personas que las ocupan les mando muchos saludos, MARIA ORTIZ*
Please put this letter … where it is heard and where people can see what this situation is like where I am and how I feel that I have no house nor car, nor money, nor a piece of furniture, I'm sleeping on the floor but soon I will have home and car work to be healthy but I do not care how I am at the moment, I just want justice for so many people who are alone and needing help. Whosever hands this letter reaches please help me and help many people who need help. I send many greetings, MARIA ORTIZ
---
Maria Ortiz is the mother of two children, Brandon, age 14, and Marisela, age 12. Maria was detained at the West County Detention Facility in Richmond for over eighteen months.
The Contra Costa Sheriff's Office, like many across the country, collaborates with the Trump administration's ambition of mass detention and deportation. Up to 200 people are in ICE custody in Richmond. Taxpayer money pays for the incarceration of people like Maria.
During her time in immigration detention, Maria experienced sexual abuse and racial discrimination, as well as anxiety and depression. Maria also suffered injuries while being transported by ICE and was not treated.
After a successful campaign helped Maria get out on bond, she is now thankfully out of confinement.
Today, Maria is still in need of our help.
She is no longer in confinement but she has no money for food, transportation, basic living expenses, furniture, or rent. She has applied for asylum but needs to wait 3 to 6 months for a work permit. If she works before receiving the permit she can lose her bond money, be put in jail again, and this would hurt her asylum case.
She is wanting to rent a place where she can house herself and her two children.
https://www.youcaring.com/mariaortiz-968128
She has written the public several letters. Here is an excerpt:
… Y por mis dos hijos estoy luchando y soportando… son mi razón de vivir… no tengo nada para ellos ni casa ni trabajo, ni en que acostar a mis niños menos un plato pero primeramente Dios todo esto tendré y si ustedes publico me dan su ayuda. … y se que lo voy a lograr porque soy una mujer muy trabajadora y no me gusta depender de nadie al contrario me gusta tener por mi misma.
… And for my two children I am struggling and enduring … they are my reason to live … I have nothing for them neither house nor work, nor someplace to lay my children down to sleep, not even one plate but God willing all this I will be able to have if the public can give me their help. … and I know that I am going to achieve it because I am a very hardworking woman and I do not like to depend on anyone, on the contrary I like to support myself.
And here is a another letter:
Hoy en esta carta la estoy haciendo con mucha tristeza dolor y un poco de depresión así me encuentro en estos momentos y mas porque por ahora no puedo trabajar ICE no me dio permiso y ahora tengo que esperar … la verdad estoy muy desesperada porque no tengo un lugar fijo y hasta este tiempo e pedido un préstamo para estar sobreviviendo. Ahora yo les pregunto amable Publico que le comenten a ICE que si me van aprobar mi permiso de trabajo para ya pronto salir de toda esta pesadilla y problema es mi mas grande deseo y es lo que más quiero y espero contar con ustedes Publico que son tan amables conmigo. … estoy muy triste y mas porque estoy completamente sola pero pronto saldré de todo esto y mas con su ayuda y seguir contando así de la manera mas amable y atenta les pido que sigan pensando en MARIA ORTIZ y en su caso.
Y espero pronto su contestación acerca de mi caso y tenga buenas noticias en todo. Y que Dios me los bendiga siempre es lo mejor que tengo en estos momentos para este Publico.
- — -
Today in this letter I am writing with a lot of sadness and a little depression that is how I find myself in these moments and more because for now I can not work ICE did not give me permission and now I have to wait … the truth I am very desperate because I do not I have a permanent place to live and until now I have been living on a loan to survive. Now I ask you kind Public to ask ICE if they are going to approve my work permit so that soon I will wake up from this nightmare and problem is my greatest desire and it is what I most want and I hope to count on you Public who are so nice to me … I am very sad and more because I am completely alone but soon I will leave all this and more with your help and continue counting with you thus in the most kind and attentive way I ask you to continue thinking about MARIA ORTIZ and in her case.
And I expect your answer soon about my case and I hope to have good news about everything. And may God bless you always is the best I have right now for this Public.
Please share Maria's story and contribute here: