Hugo was last seen on April 13th on a highway between Mexico City and Puebla making a plea on Facebook Live. Here's how you can help.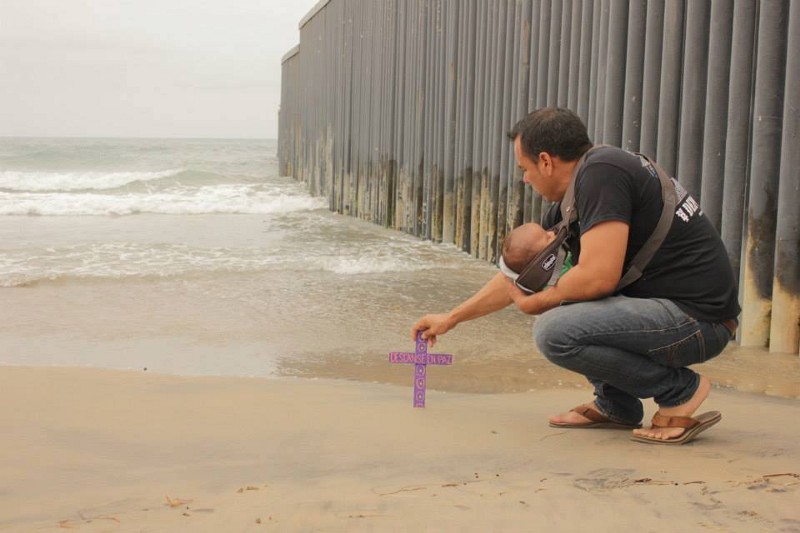 **UPDATE, 4/18/17 2 p.m.: According to Hugo's wife Gaba Cortes, he has been located alive!**
Border Angels Tijuana Director and beloved human rights activist Hugo Castro has not been seen since he posted a live Facebook plea for help on Thursday, April 13th. He was traveling to join the Viacrusis de Refugiados / Refugee Caravan 2017 to help raise awareness of the violence facing asylum seekers Central America making their way north through Mexico. But he never made his destination. Instead, he posted a disturbing 20-minute Facebook live video while alone on a highway between Mexico City and Puebla, describing how he had to flee from a criminal group threatening him.
Hugo is a U.S. citizen, dear friend, and fierce advocate for migrant rights whose efforts to provide shelter to refugees and deported migrants in Tijuana have garnered threats to his well-being in the past.
Here are three ways to help, immediately:
1. Make a phone call
From Hugo's friend Kirsten Zittlau:
CALL TO ACTION: I know many of us who care greatly about Hugo are feeling somewhat helpless, but here is something we can do — please see below for the phone numbers of embassies and consulates we can all call repeatedly to urge them to do everything they possibly can to help find Hugo Castro:
US Embassy in Mexico (if calling from the US): 011–52–55–5080–2000
US Embassy in Mexico (if calling from Mexico): 01–55 5080–2000
Mexican Embassy in the US (in Washington DC): 1–202–728–1600
Mexican Consulate in San Diego: 1–619–231–8414
2. Donate to his wife Gaba Cortes and family's efforts to travel to Mexico City to help the search
Donate one of two ways:
via Pay Pal: 
aavelazquez2001@yahoo.com
direct deposit: 
Oxxo Saldazo
4766 8400 8537 7096
Gabriela Cortés López
In a Facebook status, Hugo's wife Gaba Cortes says, "In a country of missing persons, Hugo Castro, you will not be one more number. You will not be a statistic. We will find you."
1. Share his story
Remezcla: http://remezcla.com/culture/immigrant-rights-activist-hugo-castro-missing-mexico/
Democracy Now: https://www.democracynow.org/2017/4/17/headlines/migrant_justice_activist_hugo_castro_disappears_in_mexico
Latino Rebels: http://www.latinorebels.com/2017/04/17/border-angels-activist-still-missing-in-mexico-after-he-calls-for-help-on-facebook-live/
NBC News: http://www.nbcnews.com/news/latin-america/hugo-castro-american-who-aids-immigrants-reported-missing-mexico-n747631
San Diego Union Tribune: http://www.sandiegouniontribune.com/news/public-safety/sd-me-missing-castro-20170415-story.html
KPBS: http://www.kpbs.org/news/2017/apr/15/san-diego-activist-disappears-mexico-after-begging/
Read a transcript of Hugo's Facebook Live video, translated in English here.
Use the hashtag #BringHugoBackHome