From the Immigrant Youth Coalition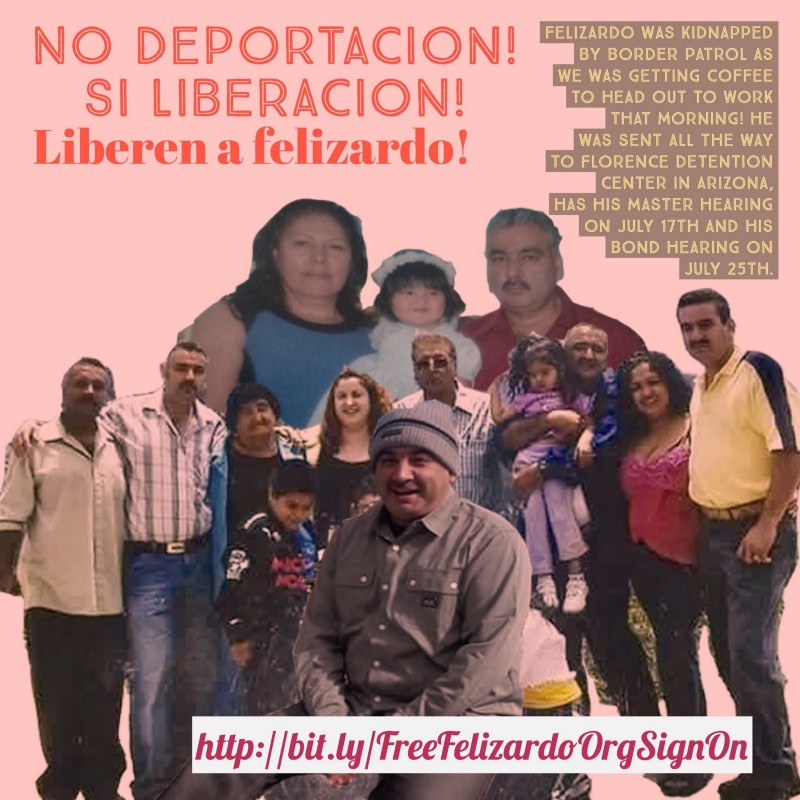 #### Felizardo's Story:
On the morning of Thursday, May 18, Border Patrol went into the Boyle Heights community, knocking on doors to try to locate our member, 22-year-old youth Claudia Rueda, ultimately cornering, arresting and detaining her along with any other community members that crossed their path! This was a very traumatic experience for community members in Boyle Heights. 7 community members were kidnapped in total and 4 of them were deported the same day. Claudia, Felizardo, and Sindy continue to fight their cases in order to stay with their families, loved ones and community here in the United States.
Felizardo was kidnapped by Border Patrol as we was getting coffee to head out to work that morning!
He was sent all the way to the Florence Detention Center in Arizona. He had his master hearing on July 17th and his bond hearing on July 25th where the judge gave him a $15,000 Bond!
He is now appealing that bond with the help of NDLON but has upcoming court dates and needs to pay $2,000 to continue having legal representation and continue to fight his deportation.
**Florence Detention Center has one of the worst rates of lawyer accessibility! Only 26% of community detained there have access to an attorney. **We don't want Felix to lose his current legal representation.
Felix is a loving brother, uncle and godfather who has been living in the US for more than 15 years and has established strong roots in his community. His days are devoted to his work as a carpenter and painter, and also to the care of his family, friendships, and giving support to members of his community.
He has often supported his sister in taking care of his 5-year-old niece, Alexa, who is also his goddaughter. Alexa, has been experiencing depression after her godfather was taken. As a five year old, she is doing everything she can to try and maintain her beloved godfather in her life.
Felix regularly assists his brother in taking care of his 16-year-old for year, including support with completing his homework. Furthermore, he is the economic support system for two of his children which reside in Mexico.
Any donation helps! We are looking for at least 75 supporters who can donate $20 each: