September 30th marked the twentieth anniversary of the passage of the Illegal Immigration Reform and Immigrant Responsibility Act (IIRIRA). Immigrant rights groups shine a light on the dark legacy of the 1996 laws and collectively challenge lawmakers to Fix '96.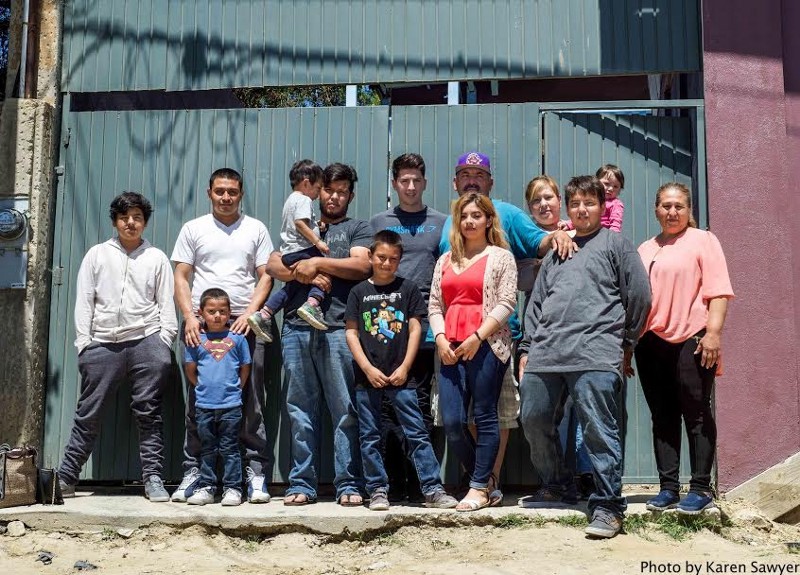 From the [Immigrant Justice Network](http://immigrantjusticenetwork.org/resources/fix96/):
We all acknowledge that our immigration system has many challenges. But what often gets left out of the conversation is that much of this dysfunction can be traced to a pair of immigration laws passed by Congress and signed by President Clinton in 1996, the Illegal Immigration Reform and Immigrant Responsibility Act (IIRAIRA) and the Antiterrorism and Effective Death Penalty Act (AEDPA).
These laws are directly responsible for expanding incarceration of immigrants, creating a fast track for deportations without due process, setting the foundation for local police and ICE collaborations and making legal immigration much more difficult. We believe that immigration reform is incomplete without a reform of these 1996 laws.
It's long past time to #Fix96!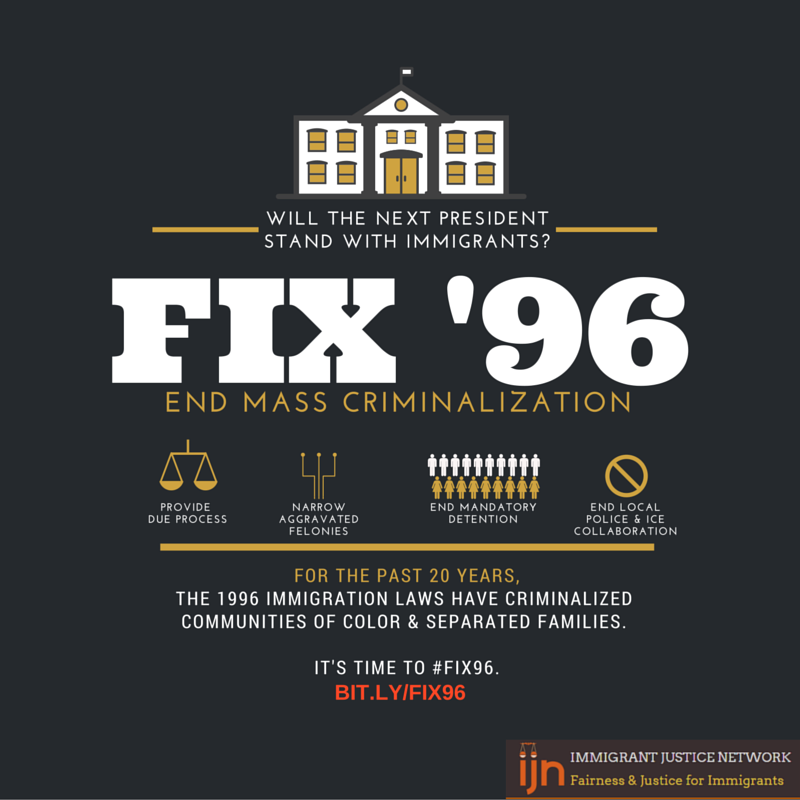 ### News & Actions around the #FIX96 Campaign:
The Immigrant Justice Network is happy to have worked with Rep. Raul M. Grijalva (D-AZ), the Congressional Progressive Caucus (CPC), the Congressional Asian Pacific American Caucus, over 30 other members of Congress and 84 advocacy groups across the nation to introduce a resolution in Congress calling for crucial reforms to the 1996 immigration laws, from restoring due process for immigrants and reinstating discretion for immigration judges to ending local police & ICE collaboration and narrowing aggravated felonies, amongst other provisions. Click here for CPC press release; and here for IJN press release.
The IJN in Colorlines on the 20th Anniversary of IIRIRA
Cities for Action, an advocacy coalition of mayors from across the nation, released a statement in support of Rep. Grijalva's resolution, stating "it is long overdue for our lawmakers to repair these immigration policies with fairness and justice."
Human Rights Watch published a piece on "20 Years of Immigrant Abuses,"adding their voice to the chorus calling for a reform of the 1996 laws.
The Black Alliance for Just Immigration, Families for Freedom, 1LoveMovement and the Immigrant Defense Project also released a call to action, highlighting how black immigrant families and communities in particular are being torn about as a result of these laws.
BAJI's Petition calling on Congress to decriminalize the Immigration System and State of Black Immigrants Report
Grassroots Crim-Imm Collective (Families for Freedom, Black Alliance for Justice Immigration, Puente Human Rights Movement, 1 Love Movement, and Immigrant Defense Project): Call to Action
National Day Laborer Organizing Network: #BringJoseBack Case campaign that incorporates messaging related to abuses created by the 1996 laws.
National Immigrant Justice Center: "Why We Must Abolish a 1996 Law that has Destroyed Thousands of Families"
Vox.com journalist Dara Lind wrote a comprehensive piece on the background and today's consequences of the 1996 immigration laws, and highlighted the Congressional resolution.
Words in the Bucket journalist Nancy Landa on "Crimmigration: The "Unspoken Legacy of the Bill Clinton Presidency"
Immigrant rights leader Gaby Pacheco in the Huffington Post: "Passing the Torch on the Clinton Administration Legacy"
SHOW YOUR SUPPORT: Join the #FIX96 Photo Campaign
Do you support immigrants? Stand in solidarity by showing why it's important to #FIX96!
Click the image below to download a template of your choosing.
Fill out your message — it can be your name, the organization you represent, or a custom message
Take a picture of yourself holding up your message (or even better, grab a friend and stand in solidarity together!).
Use any of the sample tweets below to share your picture with the world. Be sure to use #FIX96 so we can find it & add your support to the collective.
Thanks for your support!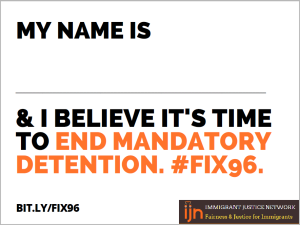 **Sample Tweets:**
I believe it's time to stop criminalizing immigrants! You too? Join me: bit.ly/fix96 #FIX96
I believe it's time to stop deportations! You too? Join me: bit.ly/fix96 #FIX96
I believe it's time to end mandatory detention! You too? Join me: bit.ly/fix96 #FIX96
I believe all immigrants deserve due process! You too? Join me: bit.ly/fix96 #FIX96
I believe all immigrants deserve dignity! You too? Join me: bit.ly/fix96 #FIX96
I believe all immigrants deserve human rights! You too? Join me: bit.ly/fix96 #FIX96