By Amilcar Valencia
El Refugio, a small hospitality house for those visiting loved ones at the Stewart Detention Facility in Lumpkin, GA, was astonished by the call they received back in early November. Here, Amilcar Valencia, El Refugio's Executive Director, talks about what happened next.
We got the call on November 2nd.
A producer from the show called our general number and wanted to know what we do here at El Refugio. My number was given to the producer, who tried to contact me. I was really busy, and thought it was just another reporter, someone I could deal with later. But he kept trying to contact me and finally I got a text from him saying he was calling about a TV show. I told him I wouldn't be able to speak to him for two hours; he called me back five minutes before the two hours were up.
He asked general questions about El Refugio, about Stewart, about our Board … and our budget, which I thought was kind of unusual. He said they were doing a Christmas special on immigration detention and family separation on Full Frontal and that they wanted to highlight people separated not just at the border, but also inside the country. He said they'd done a special program on Puerto Rico, and raised a lot of money for the people there. Then he said, "We want to do something special for El Refugio. We want to buy you a new house. We've been looking at some and think we've found one."
At first I couldn't believe it. This kind of thing just doesn't happen. But I said, okay, let me talk to our board.  
We'd had a capital campaign going for some time, trying to raise funds to buy the property under El Refugio so we could build something bigger. But it probably would have us taken two years. Then all of a sudden I get this phone call from someone who says, "We're buying you a house." This is what we've dreamed of – that and ending with immigration detention in Georgia.
So I got his number and email address and spoke to the Chair of El Refugio. And I actually Googled the producer's name to make sure he was for real.
The next week we had another call with several people on the line and it became clear very quickly this was an offer we could not refuse.
Things moved fast after that, because they had a special episode they wanted to film. We signed the contract on November 28th. Not did they buy the house, but they hired a contractor who came in the very next week with a crew and did a lot of work to get it ready for the shooting.
I first met Samantha Bee on December 7th  and we filmed at both the old and new houses. They did a lot of takes – and I was pretty exhausted by the time we finished.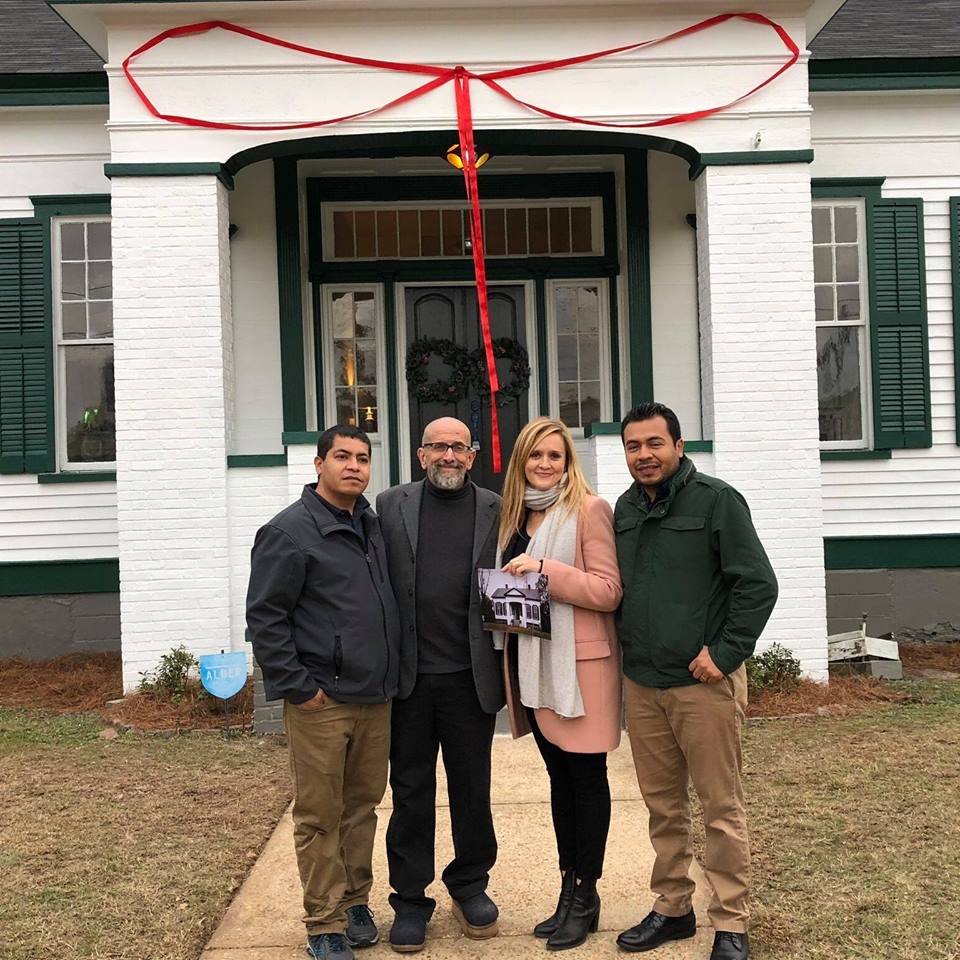 The former El Refugio had 3 bedrooms and 9 beds, and we were full to capacity every weekend. We rarely knew how many visitors we'd get; many times families would just show up after spending hours and hours driving to get there. And then we'd have to send our Stewart volunteer visitors home, or to our Koinonia Farm, who kindly offers a place to stay to families when we are up to capacity, or put up an air mattress so we had room for our guests. There was a lot of traffic at that tiny house – and only one bathroom.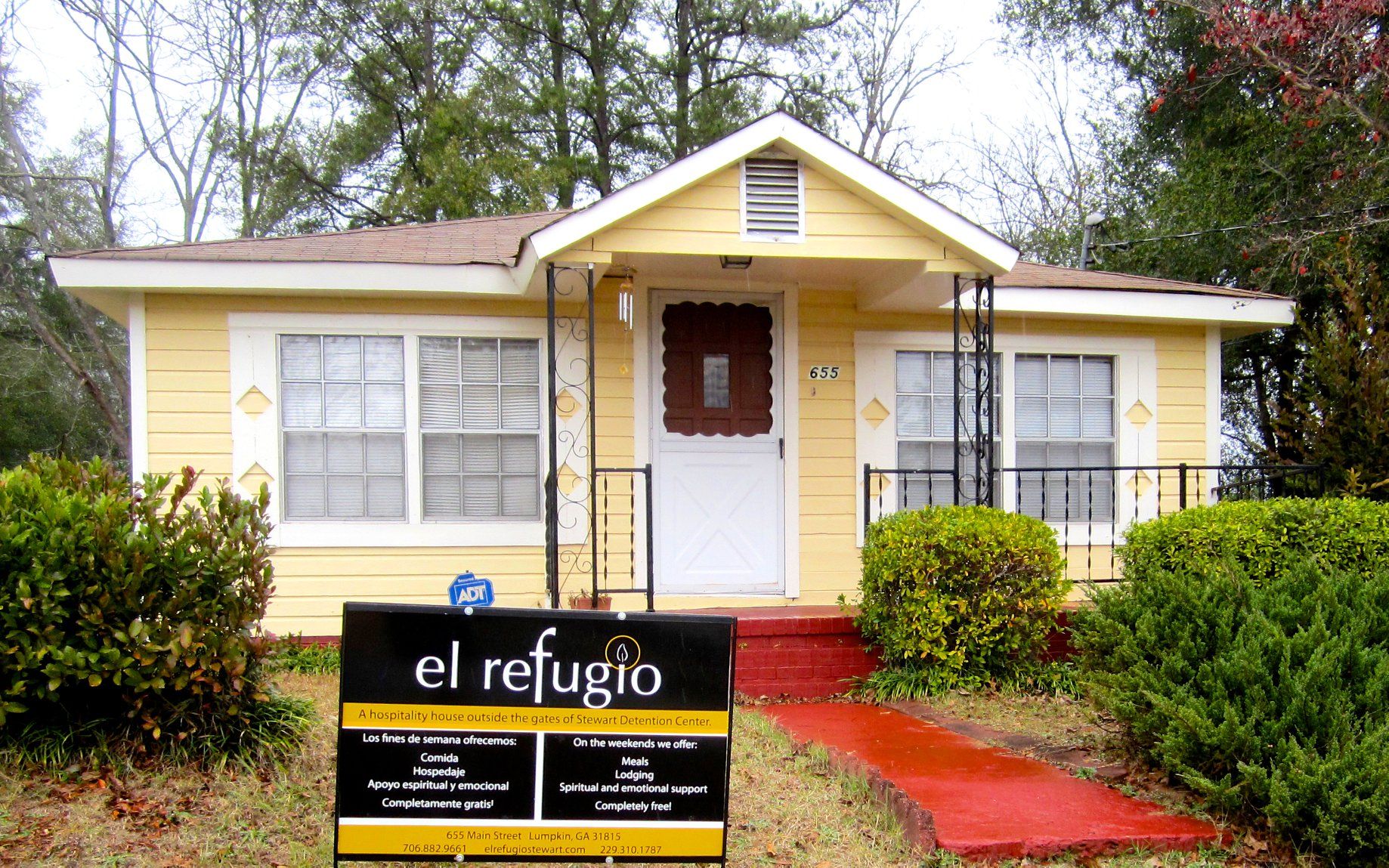 I loved the house when I first saw it. It definitely needed work – it's one of the oldest homes in town, with high ceilings and big windows. But even in its present state I could imagine how we could turn this old home into a hospitality house.
The gift of the house was announced publicly on December 17th, and the Full Frontal: Holiday on ICE episode aired on December 22nd.
The new El Refugio has five bedrooms and fifteen beds – and four bathrooms. One of the things I like best about it is that we have a long table where we can seat 20 guests and share meals and conversation. Another is that the families that come here won't feel as cramped. They'll have more privacy.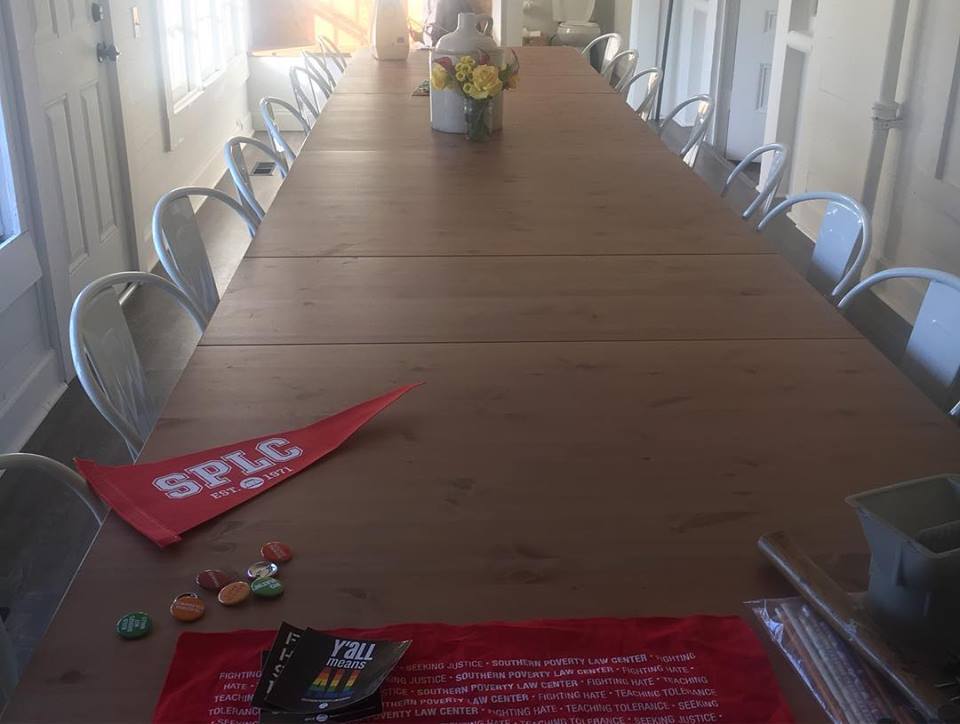 We hosted our first guests on the weekend of January 26th, a woman and her family who have visited us several times in the past. Her husband has been detained at Stewart for 5 months. They drive here all the way from Charlotte, NC. It was definitely a big – and good - surprise for them.
Last year 69 families stayed at least one night at El Refugio and about 200 people stopped by for a meal or to use the facilities. And our 250-plus volunteers paid 576 visits to Stewart. We're thinking of adding an on-site person – that could boost the number of guests by 100 – even 200 – percent.
The Full Frontal show definitely generated positive publicity for us. Our name being on TV has opened the door and captured a lot of attention. Even throughout Georgia, few people knew about us – or Stewart, for that matter. Slowly, we've started to pull in more donors and partners eager to help us.
In 2019, we'll continue to support the families who come here to visit their loved ones as well as those released from detention who need a place to stay while they sort out their travel.
I'm so grateful for this opportunity. We never expected it, and not in such a short window. It definitely speaks to the energy and work we've put into El Refugio. And it's not just us; it's a whole movement – organizations raising their voices, conducting investigations and raising the voices of those in detention.
We want to continue to be the light in the darkness here in Lumpkin.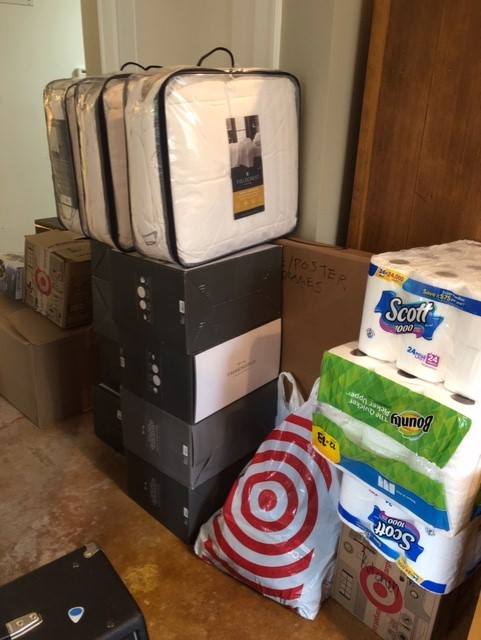 Editor's note: El Refugio still needs lots of supplies and has set up a registry for donations from Target here.
And you can donate directly to El Refugio by clicking here.