By Freedom for Immigrants Staff
This Open Letter from Freedom for Immigrants staff explains how in order to support immigrants ensnared in the immigration detention system, advocates and attorneys need to join forces, not work at cross purposes.
While the Trump administration ramped up its brutal anti-immigrant agenda this summer — most notably its family separation policy — a different phenomenon, with opposite goals, was simultaneously taking place. Communities nationwide were working to stop the detention of immigrants in their backyards.
In early June 2018, the Sacramento County's Board of Supervisors voted not to renew its contract with Immigration and Customs Enforcement (ICE) at the Rio Cosumnes Correctional Center. Soon after, a juvenile detention center in Virginia decided it would stop jailing migrant children. In Oregon, the Springfield City Council ended its contract with ICE a day before commissioners in Williamson County, near Austin, Texas, voted to terminate the contract with ICE and private prison company CCA/CoreCivic to operate the T. Don Hutto Detention Center.
A week later, yet another contract ended back in California, with the Contra Costa County Sheriff's Office announcing it would sever ties with ICE after a year of protests and exposés that drew attention to the inhumane conditions inside the West County Detention Facility.  Two months later, the city of Atlanta followed suit and vowed not to jail any immigrants for ICE. The mayor, Keisha Lance Bottoms, told reporters, "Atlanta will no longer be complicit in a policy that intentionally inflicts misery on a vulnerable population without giving any thought to the horrific fallout."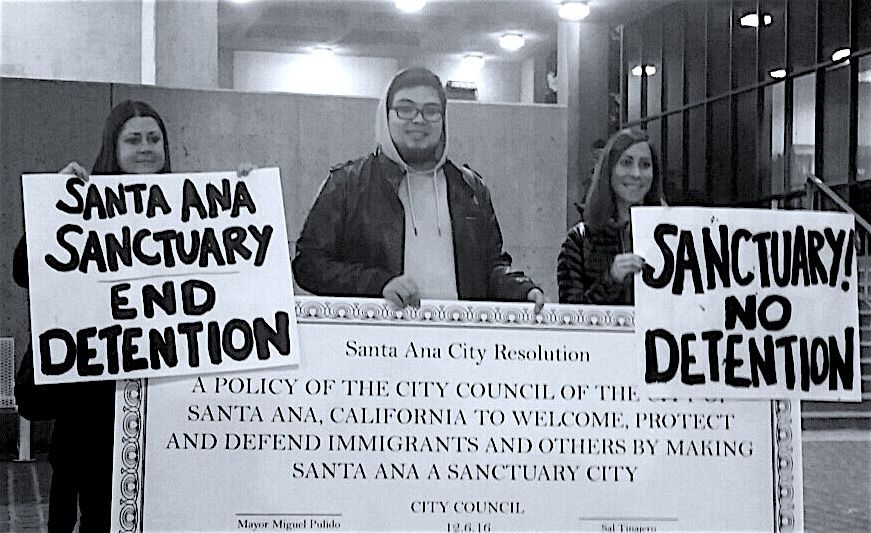 We are witnessing in real-time the abolition of immigration detention. Unfortunately, helping to liberate immigrants from the clutches of this increasingly rogue agency has been a double-edged sword for advocates.
For example, while our organization, Freedom for Immigrants, and a coalition of other advocacy groups scrambled to free people from the West County Detention Facility by raising more than $220,000 to bond people out, ICE refused to use its prosecutorial discretion to free people on a case-by-case basis. Instead, ICE worked around the clock to transfer them far away from their families and community resources.
Because of the risk of mass transfers, advocates for terminating detention contracts and legal service providers have ended up working at cross-purposes in many cases.  We can see this tension manifested now in New Jersey's Hudson County, where a group of legal service providers issued a joint letter asking the county not to cut their contract with ICE in 2020 for the Hudson County Correctional Facility.  But ending detention and providing representation to immigrant clients should not conflict with each other.
Legal service providers have been fighting for decades for universal representation so that no immigrant will face deportation without the assistance of an attorney. Many of these providers and other advocates also have been fighting for the abolition of immigration detention. These movements should be working in tandem because people who are released from immigration detention are eight times more likely to obtain legal representation. Abolition in and of itself would dramatically increase representation. It's a win-win situation.
However, our movements are still far from achieving either of these end goals.  Only 14 percent of people in detention have access to counsel, and we have a record number of people—48,000—currently detained. The severe lack of representation and the explosion of detention are two sides of the same coin; that is, a massive immigration detention system that deprives people of their liberty and due process.
The distance left to go on both fronts can make the incremental wins for our two movements feel as though they are strangely enough at odds. Very few of us are acknowledging, let alone talking about, this tension but it must be addressed if we want to build trust and a better future.
Legal service providers have legitimate concerns about immigrant jail closures — the same fears we have as abolition advocates who provide support to people in these immigrant jails.  Some of the biggest concerns are that attorneys will be unable to represent their clients if they are transferred to more remote immigrant jails with different circuit law, that the directly impacted person's family may be unable to visit them, and that the transfer itself will be distressing.  In addition, as localities move to provide universal representation to people detained in their region through the SAFE Cities Network, closing an immigrant jail in that region could diminish the effects of these long-fought-for programs.  
That all said, ICE needlessly transfers individuals every day even without detention center closures.  In fact, according to government data, there were over 370,000 transfers in 2015, the most recent year for which we have government data.  Nearly half (46 percent) of the people transferred were sent to an immigrant jail in a state other than the one in which they were currently detained.  For example, from California's largest immigrant prison, the Adelanto Detention Facility, 84 percent of people were transferred out of state.  
What this means is that people are already being transferred away from their communities of support.  While actively working toward the closure of an immigrant prison may feel like we are taking part in an action that will hurt those who are transferred, not advocating for the closure of these prisons also directly hurts people who are forced to endure abuse inside. For example, for years the Hudson County Correctional Facility has been failing to provide adequate medical and mental health care for immigrants detained there, contributing to the death of 17 people since 2013.
While we work toward building a country that welcomes and ensures representation for all immigrants, we must not advocate for policies that conflict with the goal of ending the underlying system that continues to break families apart. Instead, we have to get more organized.  
The organizing that took place around the termination of two California detention facilities provides a model. When the City of Santa Ana terminated its contract with ICE in February 2017, the City Council also funded a universal representation program for detained residents of Santa Ana and Orange County, wherever they may be detained, to ensure that residents transferred from the jail were provided with counsel. This effort was led by local, immigrant-led abolitionist groups, like Resilience Orange County. Other counties, like Hudson, that may choose to end ICE contracts should do the same, following the leadership of those most directly impacted by the detention system.  
If counties are unwilling to provide universal representation for all residents no matter where they are detained in the country, then foundations can step in.  Even if foundations have geographic restrictions on their funding, the funding should follow the people transferred from that region.  For example, when the West County Detention Facility closed this year, Freedom for Immigrants bonded out 43 people impacted by the end of the ICE contract.  And due to the generosity of community-based funders, we have continued to provide regular visits and support to people who were transferred from the jail to other immigrant prisons, even in other states.
Legal service providers who are funded by local universal representation programs can tap into what Innovation Law Lab calls "supermassive collaborative representation" networks.  While it can be very difficult for small legal service providers in San Francisco to represent clients transferred to Denver, organizations and projects such as the Immigration Justice Campaign, Innovation Law Lab, and the Asylum Seeker Advocacy Project are stepping in to make it possible.  They have already created innovative solutions through increased technological collaboration and robust mentorship of volunteer attorneys to bring legal aid to people in remote immigrant prisons and rapidly respond to transfers.
In addition to this cross-country organizing, we also need to take these local site fights to the state level.  For example, in New York, every detained immigrant, regardless of criminal history or ability to pay, is afforded an attorney.  And in California, Freedom for Immigrants and the Immigrant Legal Resource Center led a successful effort to pass a bill package called Dignity Not Detention to halt the expansion of immigration detention across the state.  
Until we abolish immigration detention at the federal level, states that are opposed to the current administration's ramped-up immigration enforcement should follow the lead of both of these states by stopping the expansion of immigration detention and providing legal representation for people currently detained.
But to make this happen, we have to do it together.
More than ever, attorneys and advocates, with the help of lawmakers, foundations and supporters, need to join forces and create comprehensive solutions that will lead to real freedom for our immigrant communities.