After spending almost 2 years in immigration detention, Sayed Omargharib, 62, is now homeless
Sayed Omargharib turned 62 years old this year, an age at which many are looking forward to a well-earned retirement after a lifetime of hard work. Instead, he is homeless. After being subjected to almost two years of immigration detention, he has lost his home, his job, and all of his possessions. How his life ended up here is a poignant illustration of what is truly at stake in Jennings v Rodriguez, a case about prolonged immigration detention that the Supreme Court will be hearing today, November 30.
---
Mr. Omargharib's current situation would have been unimaginable for him just four years ago. In 2012, he was doing a job he loved, styling hair at Piaf Salon in Washington D.C., where he had worked for over twenty years. He lived in a home that he had bought with his hard-earned savings, on a quiet block in Woodbridge, Virginia. A few evenings a week, he played on a team with his friends in a local pool league. It was a simple life, but one that he was content with. "I was so happy," he reminisces. "I was doing what I love."
Nothing sparks Mr. Omargharib's joy as much as styling hair. He first learned to cut hair in Egypt from his uncle, who owned a salon that Mr. Omargharib played in growing up. He begged his uncle to teach him the skills of the trade, and recalls that "by the time I was 14 years old, I was sure — I am just crazy about doing hair!" Over time, he became an expert stylist. "Whatever it is, straight, curly, light, dark, I can do something with it!" he says with pride. After he moved to the U.S. in 1985, he developed a loyal clientele at the Piaf Salon, and simply could not get enough of his work. In addition to styling hair at Piaf, he also made house calls to clients and twice a month volunteered at a local hospital giving free haircuts to patients. "Even though they were sick and couldn't leave the hospital," he explains, "they were still human beings. I did it because it made them happy."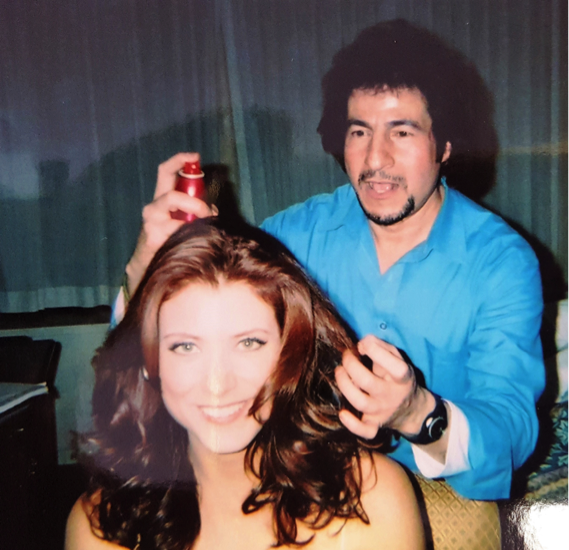 His idyllic routine was briefly interrupted one night in 2010, when an opponent at the pool league accused Mr. Omargharib of stealing two of his pool cues. Even though he maintains to this day that they were his own cues, Mr. Omargharib was found guilty by a judge who believed that pool cues came in such different shapes and sizes that the accuser could identify his from grainy, black-and-white security footage. Nevertheless, Mr. Omargharib received no jail time, faithfully reported for probation, and paid the court costs in full. And that, he thought, was that.
---
At a little past 5 a.m. on a morning in March 2012, however, Immigration and Customs Enforcement agents woke Mr. Omargharib up in his home with their guns drawn and took him into immigration custody. They told him that the government was going to deport him based on his conviction for the theft of the two pool cues.
Mr. Omargharib's first reaction, as he was being taken away in chains, was not concern for himself, but for the clients whose hair he was scheduled to do for a wedding that weekend. Then came the disbelief that, "after 30 years living here, they would do this to me." He cried through the first three days of detention, confused and worried about his clients. On the fourth day, he finally managed to get in touch with the salon and found out that his coworkers had contacted a lawyer for him. Because he never took a day off, they had known immediately that something was wrong when he didn't show up for work.
With his lawyer, Steffanie Lewis, Mr. Omargharib fought his deportation case for nearly five years. For the first two years, the government kept him behind bars. The government deemed his crime of stealing two pool cues to be so serious as to warrant "mandatory detention" — detention without the right to a bond hearing. Thus, Mr. Omargharib was not given the opportunity to demonstrate to a judge that, as a longtime lawful permanent resident with a local home and job whose sole criminal record consisted of taking two pool cues, he should not have been locked up while his case was pending. His time in detention was so unbearable that he still has difficulty talking about it now, almost three years later. The only word he can think of to describe the ordeal, a word he repeats over and over again, is "suffering."
---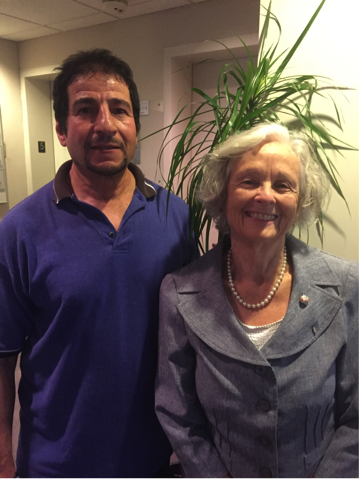 Mr. Omargharib ultimately won his case. A federal appeals court agreed with the argument he had been making all along — that he should never have been subject to mandatory detention or deportation on the basis of his conviction. Yet this was scant consolation to Mr. Omargharib. By the time he was finally released in January 2014, a full 22 months after he was first taken into custody, he had nothing to go back to. His home was gone, and with it all of his possessions, including all of the photos he had of his deceased parents. His job — his "life's work" — was gone too. The staff at Piaf had changed and his clients had all left. "I lost everything," said Mr. Omargharib. "This was my life, and it was taken from me."
Today, he is still without a home and sleeping in a friend's basement, struggling to find work due to his age and his conviction. "I don't have anyone," says Mr. Omargharib. "Only God and the people still advocating for me." One of those advocates, his lawyer Steffanie Lewis, laments that things did not have to be this way. "If the laws had allowed for a bond hearing," she says, "Mr. Omargharib would not be in the desperate situation he finds himself today." He would likely have been released from detention and been able to keep his job and home while he fought his case. Indeed, in several states, courts have ruled that people who have been in mandatory detention for six months or longer are entitled to just such a bond hearing, so that they aren't detained for a devastatingly long period of time.
Today, the Supreme Court has the opportunity in Jennings v. Rodriguez to expand this access to a bond hearing after six months of detention to the whole country. Doing so would ensure that people like Mr. Omargharib will get their day in court, and those who are determined by a judge to not be a danger to the community or a flight risk will be able to return home to their families. The alternative, as Ms. Lewis describes, is to preserve "the system that destroyed Mr. Omargharib and then discarded him without a means to get back on his feet."
---
For Mr. Omargharib himself, what happened to him is still difficult to comprehend. "Everything is upside down, it doesn't make sense. I've been in this country for a long time. I came here lawfully, I worked, I paid taxes, I did everything right…" All of his questions boil down to one.
"Why did this happen?" He wonders. "Why? Why? Why?"
---
*Sayed Omargharib's story was authored by Rachel Levenson and Terry Ding of the Immigrant Rights Clinic (IRC) at the New York University School of Law and is featured in Prolonged Detention Stories, a joint project of the IRC and CIVIC.