by Heather John Fogarty
Editor's note: PLEASE consider signing this petition to Gov. Newsom for Charles' parole. Additional contained at end of article.
On May 17, 2019, Alumita Siva stood outside the gates of the California State Prison in Solano, along with her daughter-in-law Shelly Clements and two granddaughters, Hope and Carly, awaiting the release of her son Charles Robert Joseph.
"We were right there," Siva says. "Charles called me in the night and said, 'Mom, pick me up.' The excitement after waiting for twelve years, all the expectation of a father who is about to see his kids again. Then ICE takes him."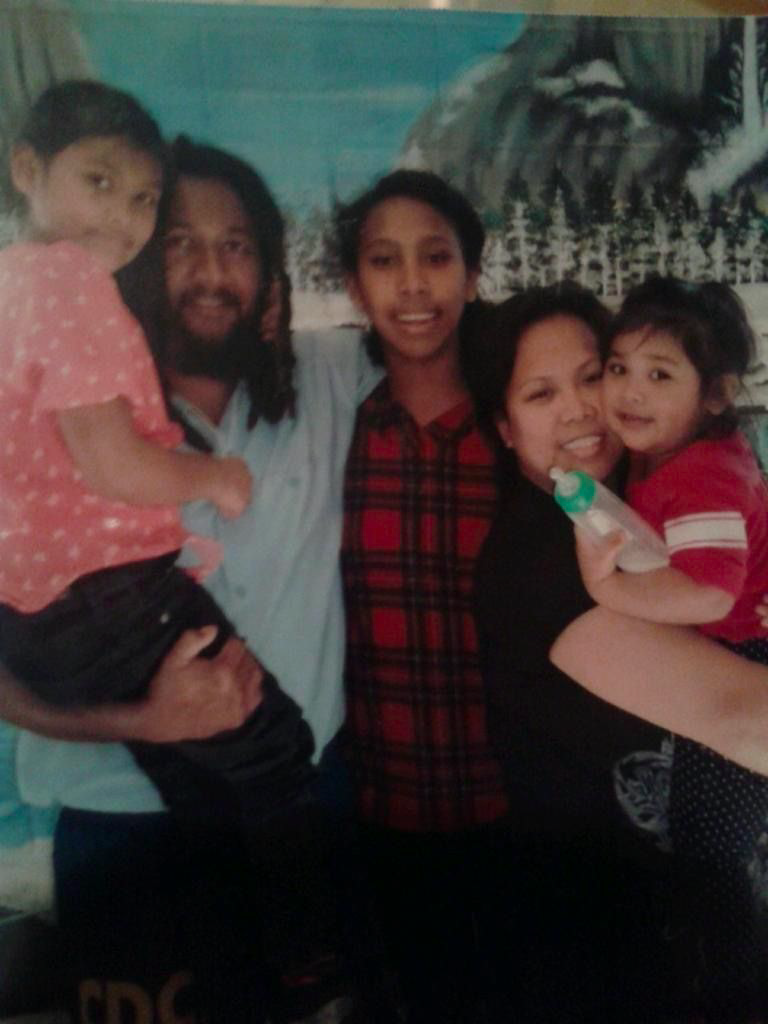 Joseph, 34, is an Indo-Fijian immigrant who faces uncertain violence and religious persecution should he be deported to Fiji. He was granted parole after serving 12 years of a 13-year sentence for robbing a convenience store, was immediately detained by ICE upon release and has been detained at a private prison in Mesa Verde near Bakersfield ever since. Despite California being a sanctuary state, the California Department of Corrections allows ICE to enter state prisons, where ICE has a history of targeting individuals after they have served time and been paroled.
"Charles never got out the door. ICE was waiting inside for him," says Jeannie Parent, a volunteer with Freedom for Immigrants. Parent, who last saw Joseph at Mesa Verde on February 6, says he tries to remain positive, but expressed concern about a controversial new Trump administration decision to move court hearings for Mesa Verde detained people out of San Francisco to a new immigration courthouse in Van Nuys. The pending move, which was scheduled to go into effect on February 3, could deny legal counsel and the pro bono assistance provided by Immigrant Legal Defense Program in the San Francisco Immigration Court to hundreds of people facing deportation. A transfer to Southern California would disrupt existing attorney-client relationships, and in Joseph's case would represent a further financial hardship for his family, who live in Sacramento.
On October 24, an immigration judge ordered Joseph's deportation without allowing him due process to call his brother in Fiji as a witness via phone and ignored evidence in the record that "torture and impunity is rampant in Fiji against criminal suspects," according to the appeal. He awaits a decision by Governor Newson to grant a pardon that recognizes his rehabilitation, which does not guarantee against deportation but would restore his lawful permanent resident status and allow him to return to his family.
"The hardest part for our children is waiting and knowing that Dad might not come home."
"Without access to these public defenders, we have no voice," says Clements. "It stops families being able to fight to bring their family members home. We don't know immigration law, and the system is different for every person. The hardest part for our children is waiting and knowing that Dad might not come home."
Charles was born on May 16, 1985, in Lautoka, Fiji, and came to the United States as a lawful permanent resident at the age of 14 with his family. Siva worked as a single mother for the California Franchise Tax Board, but struggled to raise a family on her own. Joseph enrolled at Sacramento City College, majoring in business and music and working full-time. But in 2007, while working at a convenience store, Charles was caught on camera handing out doughnuts that were meant to be thrown out at the end of the day to people on the street. He was accused of stealing and was fired from his job. As he struggled to make ends meet and growing increasingly frustrated, Joseph turned to drugs. He returned to the convenience store and took money from the cash register, brandishing a gun. He was convicted for second-degree armed robbery and sentenced to 13 years in prison.
Inside prison Joseph transformed his life. He became actively involved in group therapy, art and music and a leader in violence-prevention programs. He also pursued training learning welding and machine skills.
"Charles is not the same person who committed that crime," his mother says. "He is a changed man. Here he is asking for the chance to prove what he can do for his family, for his community."  
His wife says Charles remains hopeful and is focused on helping his fellow detainees at Mesa Verde, whether by helping start an ESL class or writing letters for people if they need help.
"[Charles] is resilient and positive. He's done his time, and he needs to be pardoned."
"Charles didn't just serve his time, he is one of those examples of how you can turn your life around," says Parent. "He learned skills, he organized people, and is in charge of healing groups. He's creating art for a fundraiser for a bond fund to help others detained in Mesa Verde. He recently talked to the warden about getting a group together to help them study for the GED. He's resilient and positive. He's done his time, and he needs to be pardoned."
California Assemblyman Rob Bonta and multiple interfaith groups have appealed to Governor Newsom on Joseph's behalf. Newsom's press secretary, Vicky Waters, replied to Freedom for Immigrant's inquiry: "Every clemency/pardon request is thoroughly evaluated and considered on its own merits. Unfortunately, I'm not able to discuss or provide information on specific applications."
"I pray the Governor will consider," Siva says. "Instead of uniting the family, [the government] keeps on breaking the family. It's going in a cycle, and we need to break that cycle. It's time to unite families to make things better, for the children especially. Reunite and rebuild."
PLEASE TAKE ACTION TO HELP BRING CHARLES BACK TO HIS FAMILY:
Sign and ask 10 friends to sign the petition to Gov. Newsome
Call Governor Newsom and urge him to pardon Charles Joseph! ​Dial: ​916-445-2841
Sample script:
"My name is ________, and I am calling to ask Governor Newsom to pardon Charles Robert Joseph. Charles is a beloved father, husband, and son who is at risk of deportation to Fiji, a country he left as a youth. Charles is currently requesting a pardon, which could prevent his imminent deportation to Fiji and grant him a chance to remain here and be reunited with his family. Pardon is an act of faith and Charles needs the Governor's support. Will the Governor support Charles?"