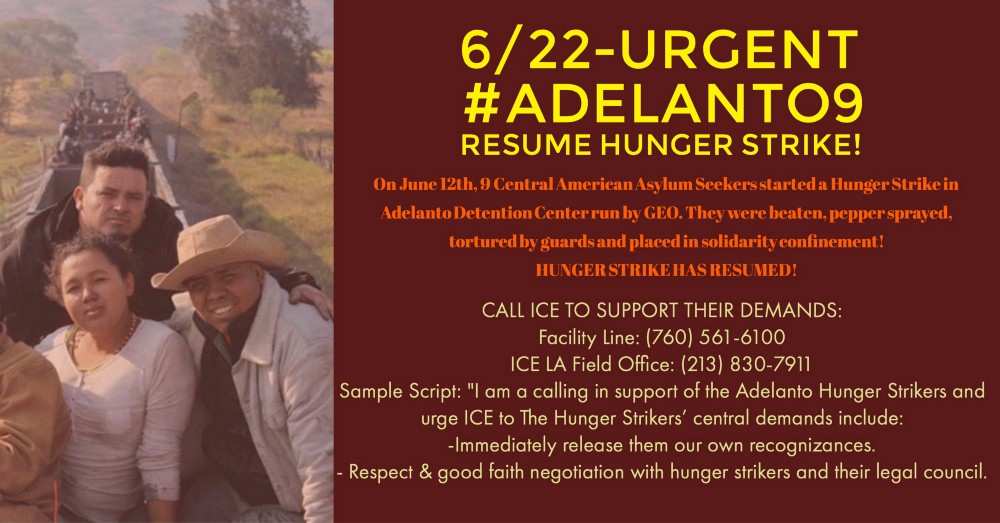 8 detained asylum seekers, who were beaten and pepper-sprayed by guards as they began a hunger strike last Monday, have announced that they are re-launching their hunger strike today, Thursday, June 22nd, in the GEO Group-managed private prison Adelanto Detention Center. The asylum-seekers decided to resume the hunger strike after negotiations with ICE officials last week, in which the ICE negotiators lied about their agency's role in keeping migrants detained with unreasonably high bonds. The hunger strike at Adelanto Detention Center resumes just three days after 35 women at the Northwest Detention Center began a hunger strike in a private immigration detention center also managed by GEO Group in Tacoma, Washington.
The Hunger Strikers' central demands include:
Immediate release on our own recognizance (since we do not have the resources to pay inflated bond amounts).
Good faith negotiation from ICE, with our entire group of hunger strikers and a lawyer of our choosing present.
Please take a minute to call ICE and voice your support for the hunger strikers:
Facility Line: (760) 561–6100 
ICE LA Field Office: (213) 830–7911
Sample Script: "I am a calling in support of the Adelanto Hunger Strikers and urge ICE to meet the Hunger Strikers' central demands including: Immediately release them on their own recognizance, and respect & good faith negotiations with hunger strikers and their legal council."
Click to tweet: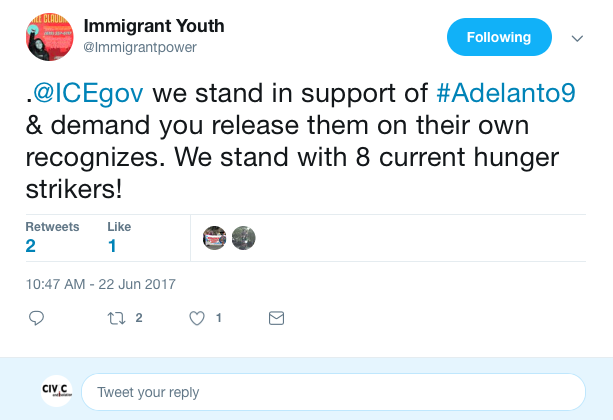 Click the image to RT
TO SUPPORT LOCAL ACTIONS FOLLOW*** PUEBLO SIN FRONTERAS****** & IMMIGRANT YOUTH COALTION ON FACEBOOK***