Two witnesses in medical area confirm three people detained in NWDC remain in critical condition with COVID-19, according to a press release from La Resistencia
At the Northwest Detention Center (NWDC) in Tacoma, WA one person on hunger strike has reached two weeks and another person has been on hunger strike for seven days. Both hunger strikers are demanding their immediate release due to the high risk of COVID-19. La Resistencia demands the immediate release of the hunger strikers and everyone else detained at this inhumane facility.
While Victor Fonseca and Gabriela Parra Perez chose to go on hunger strike to protest the dangerous conditions inside of the detention center, a witness recently released from detention confirms that three people are in medical isolation. Signs posted outside of the doors to these isolation units describe respiratory needs and danger of getting close. Guards wear disposable protective equipment (PPE) when bringing food to people detained in these units and use disposable containers for the food.
Confirming the original accounts from Victor Fonseca last week, Rene Alatorre said on Tuesday "I saw from my cell Geo guards dressed as if they were going to the moon! All covered up to take food to the other guys [in medical isolation] and then disposing of it in separate plastic bags. While Victor [Fonseca] and I received food in regular plastic food trays and guards didn't wear the PPE when they came near us. I could hear guards yelling at Victor 'Eat! Eat!', I can't believe they would treat someone that way."  Rene was released from ICE detention after months of public campaigns demanding his release. These campaigns were led by La Resistencia in collaboration with his legal representative, Eliana Horn of Colectiva Legal del Pueblo.
According to documents filed in district court by ICE (in response to current litigation against the agency for not freeing people detained in danger of COVID-19) on December 7th, one person detained transferred from NWDC to Florence Arizona tested positive for COVID-19 after arriving from NWDC. "The detainee departed from the NWIPC early in the morning on December 1, 2020 and traveled via ICE Air to Arizona. The detainee was tested for COVID-19 at the ICE Florence Service Processing Center on December 3, 2020. The positive test results were reported by ICE Health Service Corps ("IHSC") on the evening of November 6, 2020," the court document states.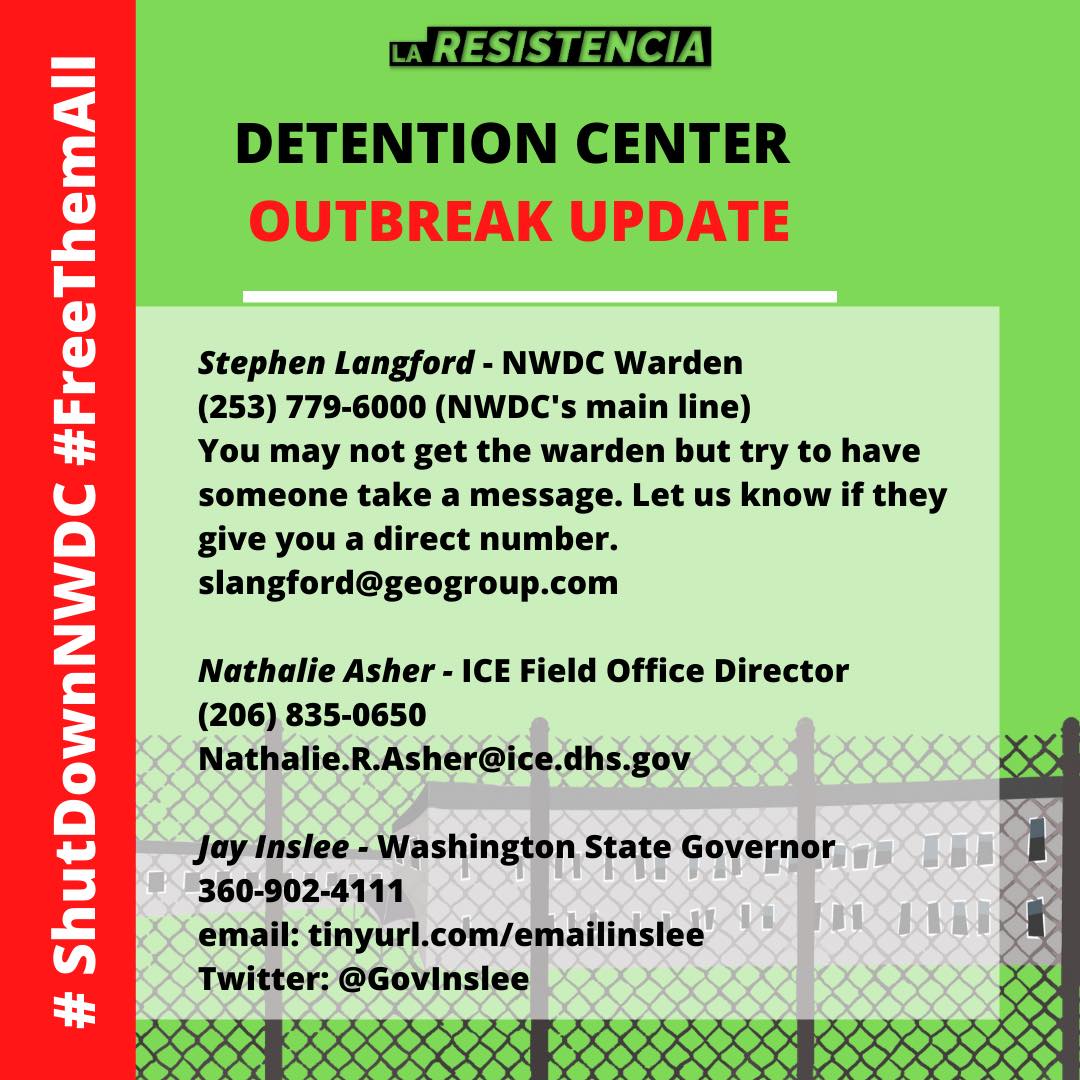 Since the COVID-19 pandemic began, people caged at the NWDC have reported at least one pod in quarantine every month. Today, there are at least two pods in quarantine totaling nearly 19 people. This number is separate from the number of people held in the regularly assigned pods for those who have recently arrived at the facility.  One pod reported this morning that another person with symptoms there was taken to the medical area and was not returned to the pod. This specific pod has been in quarantine for over a week and everyone was tested last week, today Geo officers informed them they will be tested again. People detained fear for their lives, knowing ICE will try to hide the fact that the virus has spread, and that the medical care in NWDC is non existent. ICE and GEO have provided little to no information on why people and pods have been placed in quarantine forcing folks detained to speculate on whether or not they have been exposed to this deadly virus.
ICE's total lack of care for people in immigration detention during the COVID-19 pandemic not only had a tragic impact for the people inside detention and their loved ones, but also had a huge impact on Covid-19 numbers in communities surrounding detention centers. A report released yesterday by Detention Watch Network, shows that counties and economic areas where ICE detention centers are located experienced higher rates of COVID-19 among people in the communities surrounding detention centers.  In fact, ICE detention is responsible for a total of 245,000 to the U.S. caseload. And in Washington specifically, ICE detention was responsible for 1,673.5 cases throughout the state.
Contact: Maru Mora Villalpando (206) 251-6658
La Resistencia is a grassroots volunteer undocumented led group fighting alongside people detained at NWDC to end all detentions, deportations, and to shutdown NWDC