Please click here to access our toolkit containing information, graphics and printable materials related to our COVID-19 hotline.
Launched in 2015, Freedom for Immigrants' National Immigration Detention Hotline was created to further our mission of abolishing immigration detention while supporting those currently suffering under this inhumane system. While the Hotline was briefly shut down by ICE over this past summer, we fought back in court and the Hotline was recently reinstated. With the onset of an unprecedented global pandemic, the Hotline is needed, now more than ever,  to shine a light on the brutality of the immigration detention system.
In response to COVID-19, in March ICE declared it was suspending family visits
a blanket ban on social visitation, cutting off access to loved ones as well as volunteer groups that monitor conditions and abuses. ICE's lengthy history of medical neglect proves that it is in no way capable of keeping the people in its custody safe from the pandemic.
In times of global pandemic, the risk of abuse with no oversight is at an all-time high. This is why Freedom for Immigrants has launched the COVID-19 Detention Hotline.
Information reported to the hotline will be collected and stored in an internal and secure database. Some of the information collected through the hotline will also be added to our interactive map on U.S. immigration detention so that we can publicly track and record ICE's response to COVID-19, including medical neglect, abuses, and confirmed cases of COVID-19 in immigrant jails and prisons. Our end goal is a centralized tool for loved ones, legal services providers, organizers, advocates, and detained people to report on ICE's response to COVID-19 in order to bolster calls for release. We will use collected data to generate periodic conditions reports for online publication, and share the data with policy makers to confront ICE's lies that the agency can guarantee the safety of everyone in its custody.
But we need your help. Because the Hotline was shut down for nearly six months, we need advocates, attorneys, media, and loved ones to share the number with their networks to get the word out. This toolkit contains text and graphics for social media and printable materials to aid in the dissemination of the Hotline number, followed by more information about how the hotline and map work as an integrated advocacy tool.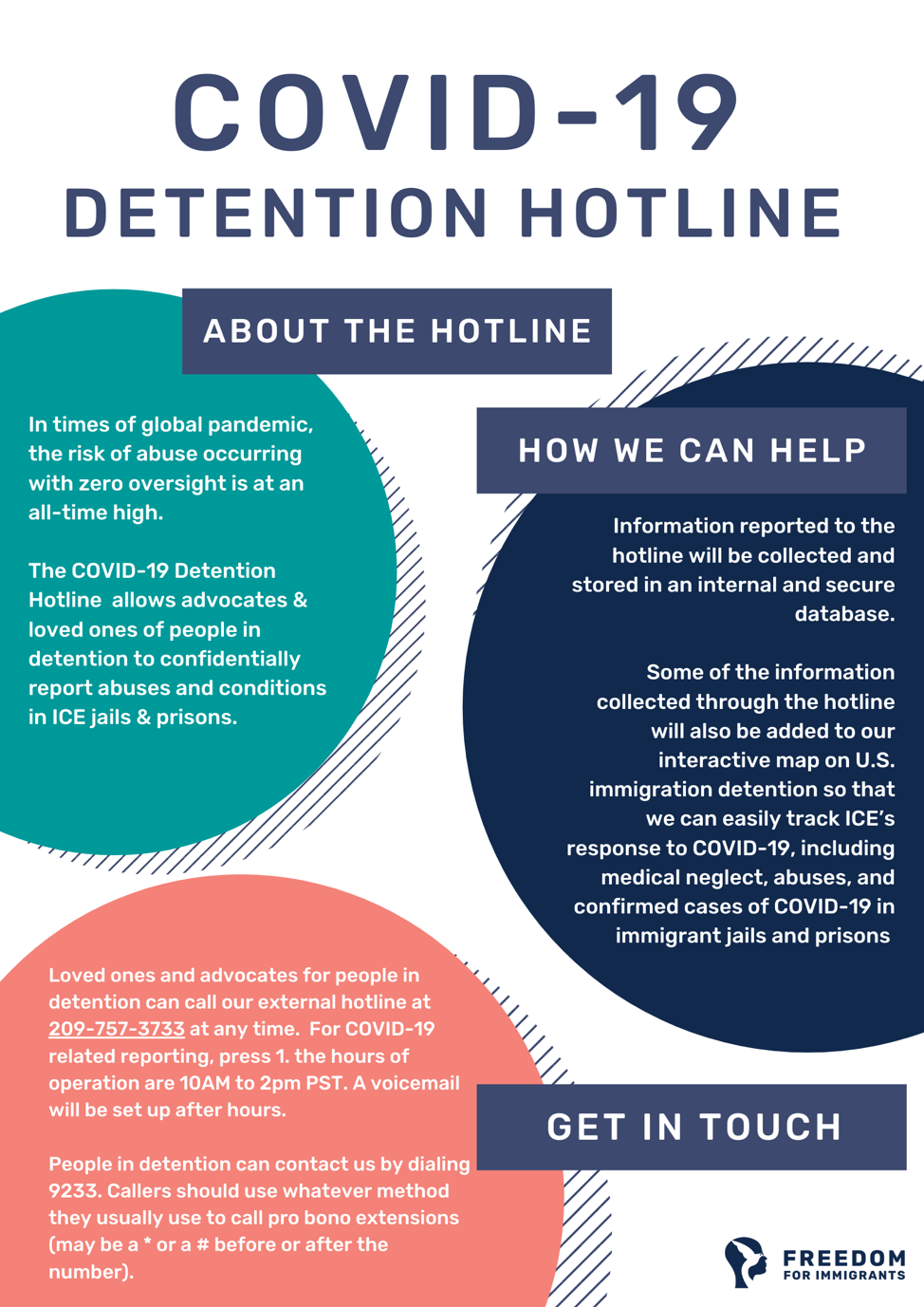 Social media language for Twitter, Instagram, & Facebook:
Today @migrantfreedom launched the #COVID-19 Detention Hotline. Advocates and loved ones can call to confidentially report on conditions inside ICE jails & prisons. Dial 209-757-3733 to connect with a Hotline volunteer. Let's hold @ICEgov accountable and #FreeThemAll #COVIDBehindBars
Immigrant jails and prisons were not constructed to serve as hospitals or clinics. In order to track @ICEgov response to #COVID-19, @MigrantFreedom has launched a COVID-19 Detention Hotline. Loved ones of people in detention can call the Hotline at 209-757-3733
After @MigrantFreedom's National Immigration Detention Hotline was featured on #OITNB, @ICEgov shut it down. 6 mo. later, the Hotline is up & running again but we need allies to share the # with their networks to get the word out #FreeThemAll
@MigrantFreedom launched a #COVID-19 Detention Hotline for advocates & loved ones to report on conditions in ICE jails & prisons. Data collected will be shared on an interactive map for organizers to hold @ICEgov accountable & help bolster calls to #FreeThemAll
The most reliable source of information regarding detention conditions come from those inside. @MigrantFreedom's restored hotline allows people to connect with advocates outside for a free, confidential and unmonitored call. Detained people can report COVID-19 related conditions by dialing 9233 from a facility phone