Demands Include Fair Bonds, Political Asylum, and Better Detention Conditions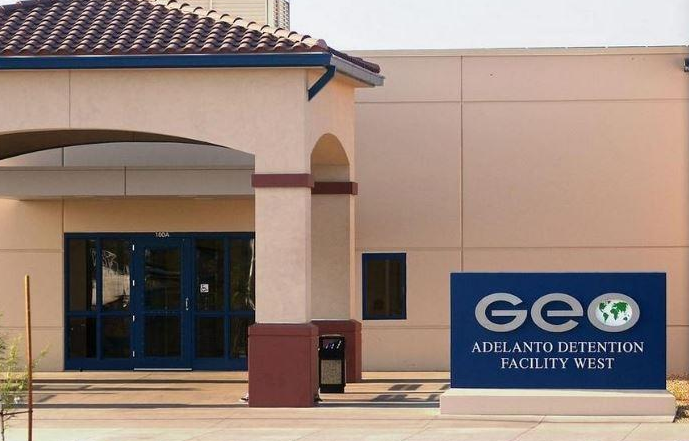 *For Immediate Release: June 12, 2017*
Victorville, CA — A group of 9 detained asylum seekers launched a hunger strike in Adelanto Detention Center in Victorville, California, an immigration detention center run by the private prison corporation GEO Group to demand political asylum and better detention conditions. The #Adelanto9 began the hunger strike on Monday June 12th at 5:30AM. They are part of a caravan of refugees that traveled through Mexico, organizing other refugees along the migrant trails and train lines during Holy Week, culminating in a mass convergence in Tijuana, Mexico on May 9th of this year to seek asylum in the Untied States.
Additional materials and recordings of the asylum seekers reading their demands available upon request.
UPDATE: Hunger strikers were assaulted by guards at Adelanto at 6 a.m. on June 12, pepper-sprayed, hand-cuffed, and placed in isolation.
PLEASE CALL ICE's Los Angeles Field Office at (213) 830–4911 or write to LOSANGELES.OUTREACH@ICE.DHS.GOV****and ask them to instruct the facility not to assault or retaliate against peaceful hunger strikers!
Hunger Strikers declaration below.
---
Communiqué transcribed by telephone from Isaac Lopez Castillo, spokesperson of the 9 asylum-seekers launching a hunger strike inside Adelanto Detention Center, 6–12–17
We are going to begin a hunger strike on the morning of Monday, June 12, and we will not eat until the government responds to our demands and agrees to negotiate.
The reasons for our hunger strike are:
Bonds set at impossibly high levels
Denial of the right to political asylum
Humiliation and discrimination towards the detained
Bad facilitation of the paperwork and processing of the detained
Bad food
Incompetence of medical staff
Paperwork available only in English
WE DEMAND:
Bond set fairly for all prisoners
Political asylum
New uniforms — we are mostly concerned about the underwear issued, because we are being issued underwear that has been worn by other people, which risks our health.
More time for religious services
No throwing away detainees' belongings
All paperwork must be provided in our native languages — because if they bring us paperwork in English we are not able to understand any of it
Clean water 24 hours a day
Better food for detainees
The entire group of hunger strikers demand that we be released on our own recognizance as quickly as possible, since we do not have the resources to pay inflated bond amounts.
We are participants from the Migrant Pilgrimage the caravan of Central American refugees which crossed Mexico during April and May to seek political asylum in the United States].
We are from El Salvador, Honduras, and Guatemala. We ask for your attention, because Adelanto is one of the prisons which exists for those who are seeking political asylum, and in reality our records are clean, none of us have prior criminal records. The bond is set impossibly high, and it's a humiliating joke because we are poor, we don't have that kind of money.
Participants:
Isaac Lopez Castillo
Marvin Grande Rodriguez
Alexander Burgos Mejia
Jose Cortez Diaz
Omar Rivera Martinez
Luis Peña Garcia
Julio Barahona Cornejo
Josue Lemus Campos
Julio Valladares Jimenez
Spokespeople:
Isaac Lopez Castillo and Marvin Grande Rodriguez
*Contact: Tristan Call,*******Sureñxs En Acción, 615.424.0486
Sureñxs En Acción is a Nashville-based migrant liberation collective organizing against immigrant detention, state violence, and for-profit prisons in the US South and the Global South
---
UPDATE: June 13th, 2017:
Hunger Strikers Overcome Brutal Retaliation, Persevering into their Second Day
**Adelanto, CA — **It has now been 31 hours since nine individuals, known as the #Adelanto9, began a hunger strike at the Adelanto Detention Center in California yesterday morning. Within hours of refusing to eat food or drink water, the #Adelanto9 reported that they were drenched with pepper spray, beaten and transferred into a high security area by GEO Group (GEO) guards, the notorious private prison company that operates the facility.
"The retaliation that the #Adelanto9 endured as a result of their hunger strike is a shameful attempt to suppress efforts to expose the shocking realities of immigration detention from those inside," said Tristan Call of Sureñxs En Acción. "The abusive lengths to which GEO has gone are appalling and endanger the well-being of those on hunger strike."
The extreme force that the #Adelanto9 faced yesterday tragically affirm longstanding concerns of physical abuse by GEO staff and inadequate medical treatment raised by immigrant rights groups, including Community Initiatives for Visiting Immigrants in Confinement (CIVIC), Detention Watch Network and Inland Empire-Immigrant Youth Collective, which have continually called for the facility's closure. Most alarmingly, Adelanto became the deadliest detention center in 2017, with three deaths in three months. To date, ICE has failed to respond to demands that the findings of the investigations into these deaths be made public.
"ICE and its contractors like GEO Group operate with impunity in California. Hunger strikers and other immigrants in detention face physical assault on almost a daily basis in California. CIVIC's investigation into sexual and physical assault found that out of the 4,500 complaints lodged with Homeland Security's Office of the Inspector General (OIG) in California, OIG investigated less than 1 percent. If the federal government won't regulate its detention facilities, it is time for the state of California to provide its own oversight over immigration detention facilities," said Christina Fialho, a California-based attorney and co-executive director of Community Initiatives for Visiting Immigrants in Confinement (CIVIC).
"The hunger strike stresses what advocates have long been saying — ICE and GEO are unfit to take care of people in their custody," said Mitzie Perez of Inland Empire-Immigrant Youth Collective. "Adelanto must be shut down."
The #Adelanto9 follow a 2015 hunger strike at Adelanto and a massive hunger strike at the Northwest Detention Center in Tacoma, Washington earlier this year, a facility that is also run by GEO. The growing pattern of hunger strikes within immigration detention centers paints a grim picture of life inside detention as people detained risk their health and retaliation to expose egregious conditions and system-wide abuses.
"The Adelanto Detention Center exemplifies the systemic abuses found throughout detention centers nationwide, " said Danny Cendejas, organizing director of Detention Watch Network. "We stand in solidarity with the #Adelanto9 as they put their bodies on the line to expose the injustices not just within Adelanto, but system-wide."
Community Initiatives for Visiting Immigrants in Confinement (CIVIC) is the national immigration detention visitation network, which is working to end U.S. immigration detention by monitoring human rights abuses, elevating stories, building community-based alternatives to detention, and advocating for system change. We have been visiting and monitoring the Adelanto Detention Facility since 2012. For more information, visit www.endisolation.org.
Detention Watch Network (DWN) is a national coalition of organizations and individuals working to expose and challenge the injustices of the United States' immigration detention and deportation system and advocate for profound change that promotes the rights and dignity of all persons. Founded in 1997 by immigrant rights groups, DWN brings together advocates to unify strategy and build partnerships on a local and national level to end immigration detention. Visit www.detentionwatchnetwork.org. Follow @DetentionWatch.
**Inland Empire-Immigrant Youth Collective (IE-IYC) **is a grassroots undocumented youth-led organization. We are committed to creating a safe space for immigrant youth regardless of legal status, race, gender, sexuality, educational background and other intersections that are crucial to the undocumented identity. We have been supporting regional efforts against the Adelanto Detention Facility since 2013. For more information, visit www.ieiyc.org.
Sureñxs En Acción is a Nashville-based migrant liberation collective organizing against immigrant detention, state violence, and for-profit prisons in the US South and the Global South.
---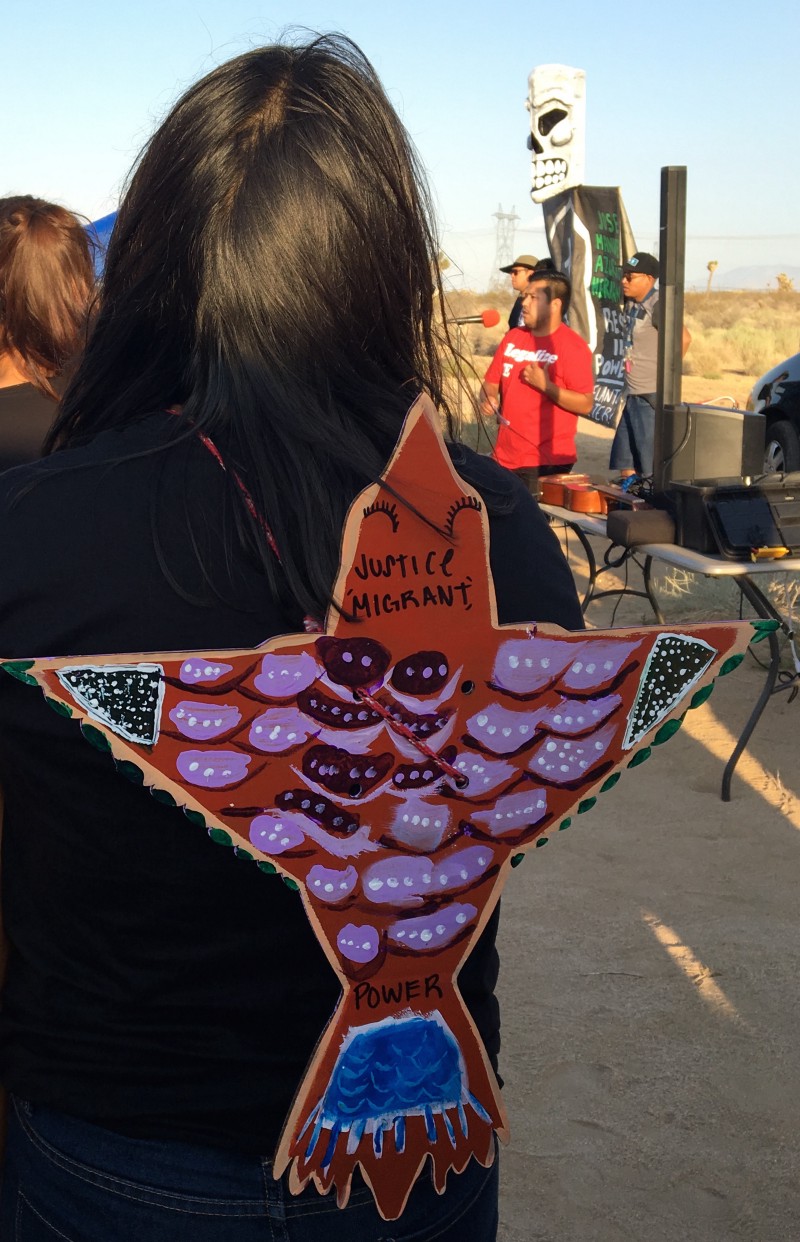 ### **Detenidos en Búsqueda de Asilo Comienzan Huelga de Hambre**
Exigencias Incluyen Fianzas Accesibles, Asilo Político y Mejoras en las Condiciones de Detención
Victorville, CA- Un grupo de 9 personas buscando asilo detenidos comenzaran una huelga de hambre en Adelanto Detention Center localizado en Victorville, California un centro de detención para inmigrantes manejado por la corporación de prisiones privadas GEO Group exigen asilo político y mejoras en las condiciones de detención. Los #Adelanto9 comenzarán su huelga de hambre el lunes 12 de junio a partir de las 5:30AM. Ellos son parte de una caravana de refugiados que viajaron por México, organizando a otros refugiados en los caminos de migrantes y en las vías férreas durante la Semana Santa, culminando en una convergencia masiva para pedir asilo en a los EEUU en el cruce de Tijuana el 9 de mayo de este año.
Materiales adicionales y grabaciones de #Adelanto9 leyendo sus comunicado y peticiones están disponibles. Comunicado de los huelguistas de hambre:
---
Comunicado por voz de teléfono de Isaac López Castillo, vocero de los 9 compañeros empezando huelga de hambre en el Centro de Detención Adelanto, 6–12–17
Vamos a empezar una huelga de hambre en la mañana de lunes, 12 de Junio, y no vamos a comer hasta el gobierno nos respondan y lleguen a la negociación.
Los motivos de nuestra huelga de hambre son:
Fianzas demasiadas altas
Negación de Asilo
Burla y discriminación por parte de las personas hacia los detenidos
Mala facilitación del proceso de trámites o papeleos de los detenidos
Mala alimentación
Incompetencia del personal médico
Documentación sólo en inglés
EXIGIMOS:
Fianzas justas para todos los internos
Asilo politico
Uniformes nuevos — estamos hablando de la ropa interior más que todo, porque estamos usando ropa interior usada por otros personas, la cual nos puede enfermar
Más tiempo para servicio religioso
No tirar pertenencias de los detenidos
Toda la documentación tiene que ser en el idioma materno — porque si se nos la dan en inglés no entendemos nada
Agua purificada las 24 horas
Que mejoren la alimentación para los detenidos
El grupo completo de manifestantes exigimos salir bajo palabra lo más pronto posible, ya que no contamos con recursos para pagar fianzas exageradas
Somos los mismos del Viacrucis Migrante [la caravana de refugiados Centroamericanos quienes cruzamos por México durante Abril y Mayo para pedir Asilo Político en los EEUU].
Somos de El Salvador, Honduras, y Guatemala. Pedimos que estén al pendiente, porque Adelanto es uno de las cárceles que existe para los que estamos pidiendo asilo, porque en realidad estamos limpios, nadie tiene antecedentes ni nada. Las fianzas son demasiado altas, y es una burla hacia nosotros porque somos pobres, no tenemos dinero.
Participantes:
Isaac Lopez Castillo
Marvin Grande Rodriguez
Alexander Burgos Mejia
Jose Cortez Diaz
Omar Rivera Martinez
Luis Peña Garcia
Julio Barahona Cornejo
Josue Lemus Campos
Julio Valladares Jimenez
Voceros:
Isaac Lopez Castillo y Marvin Grande Rodriguez
Sureñxs En Acción es una colectiva de organización de base localizada en Nashville luchando por liberación de migrantes y en contra de la detención, violencia de estado y las prisiones de lucro en el sur de los EEUU y en el Sur Global
---
Adelanto has the third highest number of sexual assault complaints of all U.S. immigration detention facilities. Listen to KCRW, "Inside Adelanto Detention Facility," June 7, 2017.
Three men have died at Adelanto in 2017; six total have died since the facility opened in 2011. Read more here.