By Jessica Slice
Adelanto Detention Center, originally constructed as a private prison but expanded and converted to an ICE processing center in 2010, has drawn attention for its inhumane conditions and controversial oversight since its inception nearly a decade ago. The final, impactful season of Orange Is the New Black took place largely in ICE detention and gave viewers the opportunities to learn the stories behind the statistics around the detention of immigrants.
While the fictionalized detention center was located in New York, OITNB writers had visited Adelanto, in California, with Freedom for Immigrants to inform the storyline and, as writer Carolina Paiz describes, many of the storylines and setting decisions were taken directly from their visit. Ms. Paiz's visit deeply impacted her, in part because of her own immigration story, and she has since returned to Adelanto, visiting a young, detained woman.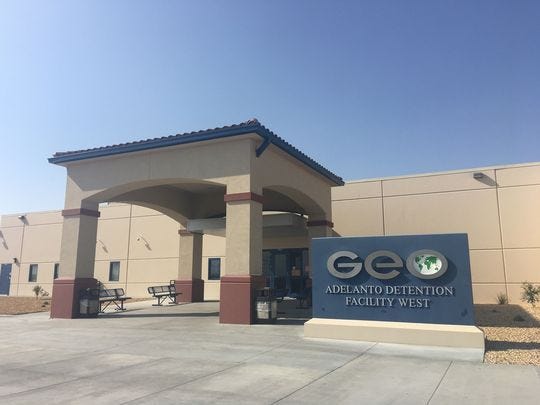 OITNB's portrayal of immigrant detention includes a moving scene in which detainees share the number to reach Freedom for Immigrants' free hotline. This (real) hotline receives up to 14,000 calls per month and has been a critical access point between detainees and their families, legal resources, and abuse documentation support. In the show, Gloria warns that the number should be kept quiet or ICE would shut it down. In an example of life imitating art, ICE has now shut down the hotline, and detained immigrants are now unable to obtain the necessary resources it provides.
Adelanto Detention Center is operated by GeoGroup, a private prison corporation with nearly $500 million in ICE contracts as of 2018. Inspections are conducted by the Nakamoto Group, whose alleged falsified reports and lax oversight has received criticism from many, including Elizabeth Warren.
Reports from people who have been detained at Adelanto are no less heartbreaking and dramatic than those dramatized by Orange Is the New Black. Suicide attempts are common, according to detainees, and an ICE inspector found 15 nooses on a visit in 2018. Many of the complaints, from detainees, their lawyers, and advocacy groups, concern the treatment of people with medical conditions. Osny Kidd, arrested and detained at 23, is a DACA recipient, brought to the US when he was nine. Kidd and his attorney describe solitary confinement used in lieu of medical care and unexplained detainee injuries. Mario, who prefers to go by his first name only, is also a DACA recipient and was denied his antidepressant medication for 3 weeks after arriving at Adelanto.
Earlier this year, Jose Ibarra Bucio, another DACA recipient who moved to the US when he was four, died 2 weeks after being taken into custody, and just a few days after his new baby was born. His wife is an American citizen. He collapsed while in custody, only hours before his trial.
The center in Adelanto recently cut ties with the city of Adelanto, this switch means that, due to California laws about ICE contracts with local governments, means the detention center can now expand with less oversight. The privatization of prisons is inherently problematic, and replicating that model for those who have not been convicted of any crime is egregious. In Adelanto, there are nearly 2000 people inside, many without the ability to contact the people they love. Some of the detained people have recently immigrated to the United States, seeking asylum. Others have been here for decades, often arriving in the US as small children. In every case, they are people and, according to both international law and basic morality, have the right to be treated humanely and with dignity.
It's a moral imperative that we continue to visit those held in ICE processing centers. Every person has a story and those stories matter and it's through these individual relationships and advocacy work that we can participate in system-wide changes.
Jessica is a disabled woman and an MSW candidate at Columbia University where she advocates for accessibility in higher education. She is married and the parent of a dinosaur-loving 2-year-old.