From a newsletter originally published as a fundraiser for Friends of Miami-Dade Detainees by Wendy King
On Monday, July 18, seven activists shut down Broward Transitional Center in Pompano Beach, Florida. Using a disabled vehicle, bike locks and other materials, they blocked every gate to the facility for over six hours, frustrating ICE agents and preventing a GEO Group bus from operating.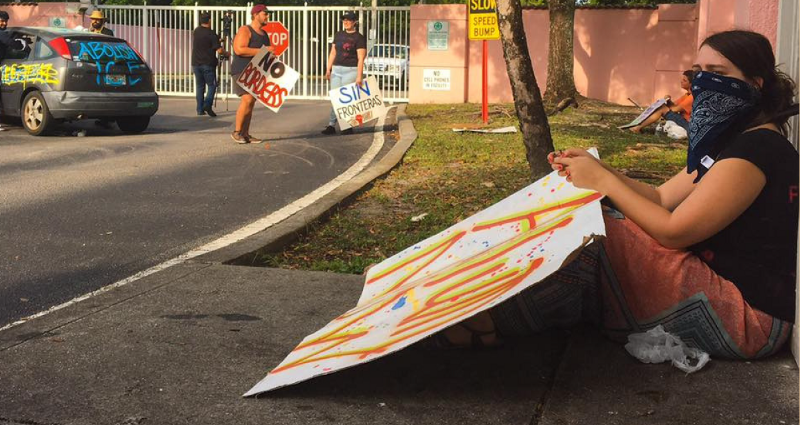 Dozens of BSO police officers and a bomb squad responded to the peaceful lockdown.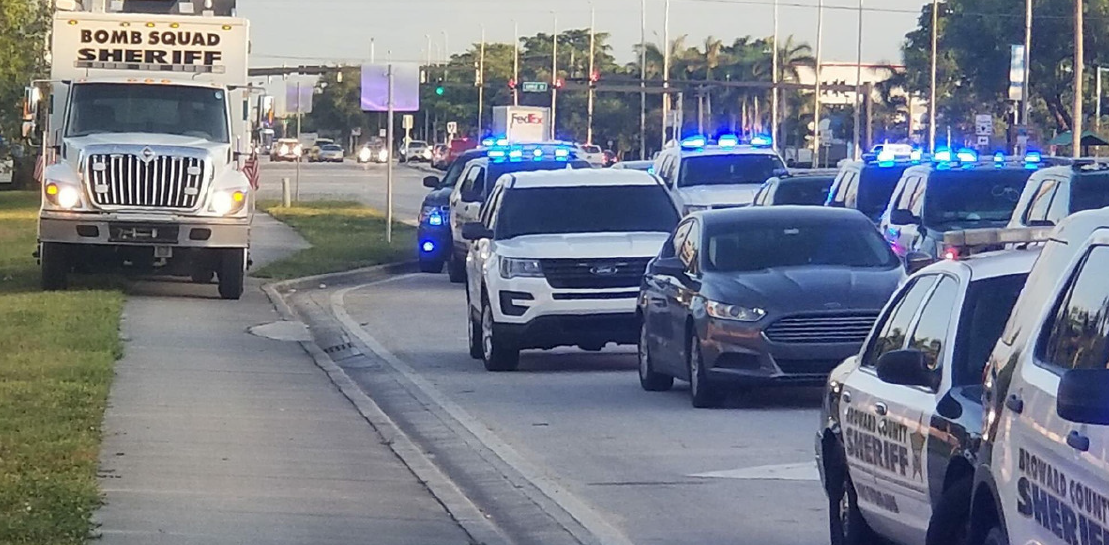 Near midnight, the last protesters were cut free and taken to jail.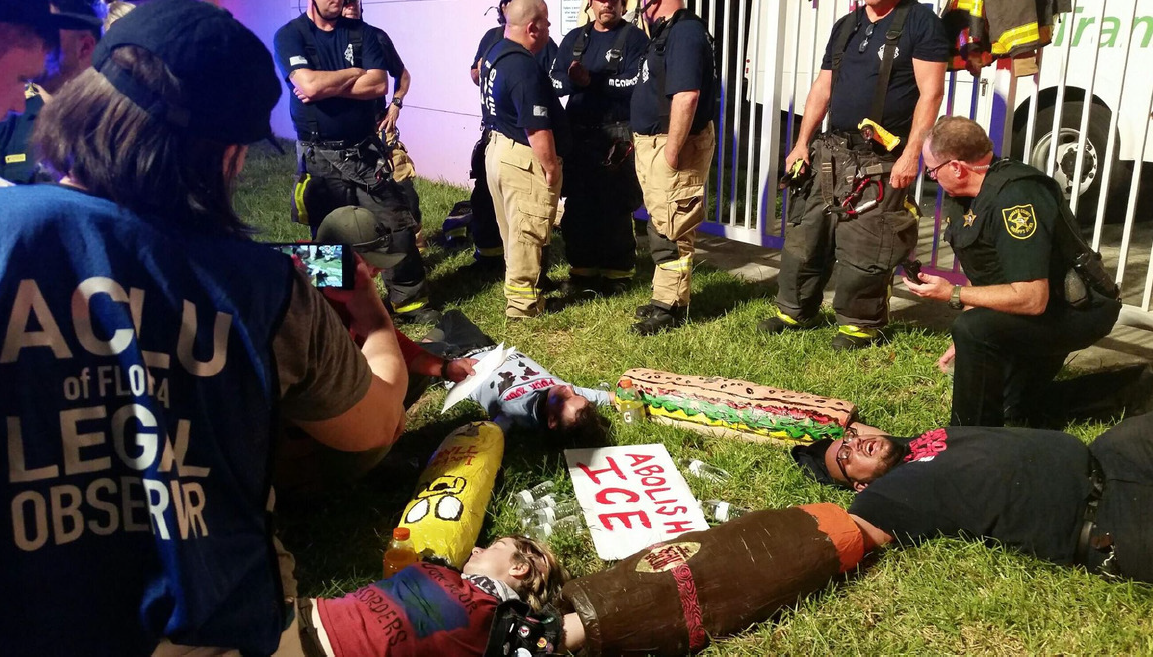 Two days later, activists shut down the intersection leading to the ICE check-in facility in Miramar. Protesters chained themselves together in the street, halting traffic to the facility for over five hours.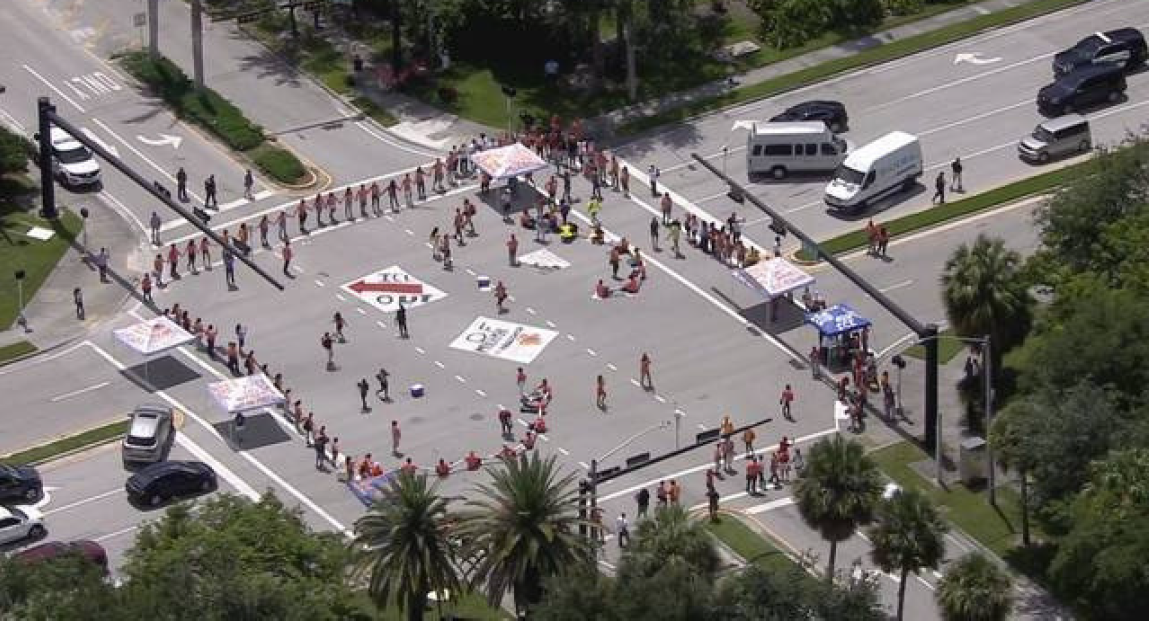 At nearly 6 p.m., the 17 activists that remained were arrested for obstructing a road and unlawful assembly and taken to jail.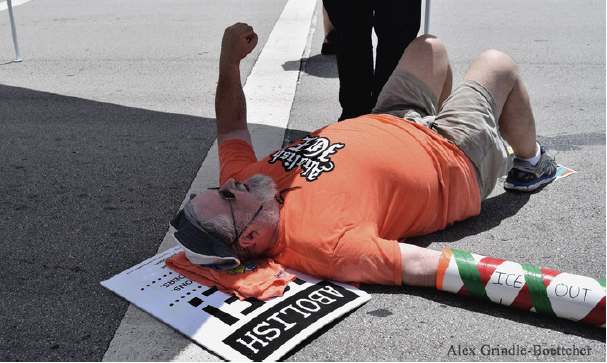 Every day, hundreds of immigrants at the Miramar ICE facility are forced to wait in long lines through brutal heat and rain to "check-in." Some never leave the check-in and are instead deported in silent raids.
On Friday, September 14, Bud Conlin, a vistor volunteer for Miami-Dade Detainees, approached the gate at the Krome Detention Center as he has over 200 times in the last 5 years, expecting to visit folks imprisoned there. This time he was refused and told he was now on a list prohibiting his admittance to the prison. After phone calls from the gate to supervisors and with no explanation given, Bud was ultimately denied access that night. Upon leaving, the guard mentioned that Tomas Kennedy of the group had also been banned from the facility.
Things instantly clicked for Bud. This was his first trip to Krome since he and Tomas were both arrested for exercising their First Amendment rights near the ICE facility in Miramar.
The Friends and allied groups plan to use their voices, the media and their bodies to right this wrong, further expose the atrocity of immigrant detention, and return to visiting their friends.
Here, Bud answers questions about his involvement in the July protests.
Why was it important for you to participate?
As someone who has supported immigrants and called out ICE at the Miramar facility weekly for over a year, it was an easy decision for me to help plan and participate in a creative, powerful, and unified expression of civil disobedience. As an older white male it is my duty to use my privilege on behalf of those to whom it is denied because of color, creed, ethnicity, or a bend in the river. For the trifling cost and a minor inconvenience, due to my privilege I was able to stand with the immigrant community demanding fundamental human rights for everyone. We ended up blocking a major intersection for over 5 hours. Seventeen of us were arrested and we spent the night in the Broward County, FL main jail. This was a powerful experience for someone of my color and background. I am grateful for this glimpse into the world of the New Jim Crow and mass incarceration.
How did your friends and co-workers react?
Since the action, my close friend, immediate family, and my social media world have been most supportive. That said, I have chosen not to discuss this with my extended family who live in other parts of the country. If they saw news reports or social media posts, they did not inquire. This is not a bad thing.
Would you do it again, knowing what you know today?
Emphatically, YES.