Use this prompt to call ICE and New York's Senators
January 11, 2018 [Español abajo]
***From the Detention Watch Network***:
Today ICE detained DWN member, Ravi Ragbir, a nationally recognized immigrant rights leader, husband, and father. He was detained despite having pending legal challenges in his case and widespread support from elected officials, clergy, and the community. We need your help to demand his release from detention & stop his deportation.
Watch a video message from Ravi recorded in the event of his detention:
As the Executive Director of the New Sanctuary Coalition of New York City, Ravi works with congregations, schools, community organizations, and legal service providers to ensure that immigrants do not have to go through the immigration system alone. He is a tireless advocate for immigrant rights, working with local and national leaders to ensure just immigration policies.
Ravi came to the United States from Trinidad and Tobago, receiving lawful permanent residency in 1994. He faces deportation due to a 16 year old conviction for wire fraud. Ravi is married to Amy Gottlieb, an immigrant rights leader herself with the American Friends Service Committee, and is a caring father to his daughter.
Please help us secure Ravi's immediate release by calling the following offices and sharing this image on social media using #IStandWithRavi: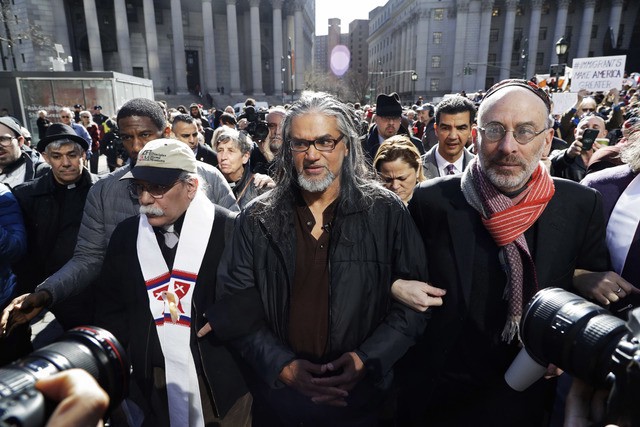 ### **Alerta de acción: exige que liberen a Ravi Ragbir de detención y detengan su deportación**
Hoy ICE detuvo a Ravi Ragbir, un líder de movimiento de derechos de inmigrantes reconocido a nivel nacional, un esposo, y padre. Él fue detenido a pesar de tener argumentos legales pendientes en su caso y de contar con apoyo amplio por parte de oficiales electxs, líderes religiosos, y la comunidad. Necesitamos su ayuda para exigir su liberación y detener su deportación.
Como Director Ejecutivo de New Sanctuary Coalition of New York City, Ravi trabaja con congregaciones, escuelas, organizaciones comunitarias, y proveedores de servicios legales para asegurar que inmigrantes no tengan que enfrentarse al sistema migratorio solxs. Él es un defensor incansable de los derechos de inmigrantes, trabajando con líderes locales y nacionales para asegurar que existan pólizas migratorias justas.
Ravi vino a Estados Unidos de Trinidad y Tobago, habiendo recibido estatus de residencia legal en 1994. El está enfrentando una deportación por una condena de hace 16 años por fraude electrónico. Ravi está casado con Amy Gottlieb, una lideresa de derechos migratorios que trabaja con American Friends Service Committee, y es un padre cariñoso con su hija.
Ayúdenos a asegurar que Ravi sea liberado de inmediato hacienda una llamada a las siguientes oficinas y compartiendo esta imagen en las redes sociales usando #IStandWithRavi:
**ACCION URGENTE!
**Hoy ICE detuvo a Ravi Ragbir, director ejecutivo de New Sanctuary Coalition, activista pro-inmigrante, esposo, y padre. Ayúdanos en exigir que lo liberen y paren su deportación!
ESTO ES LO QUE PUEDES HACER:
LLAMA a las oficinas de ICE:
Si vives en Nueva York, LLAMA: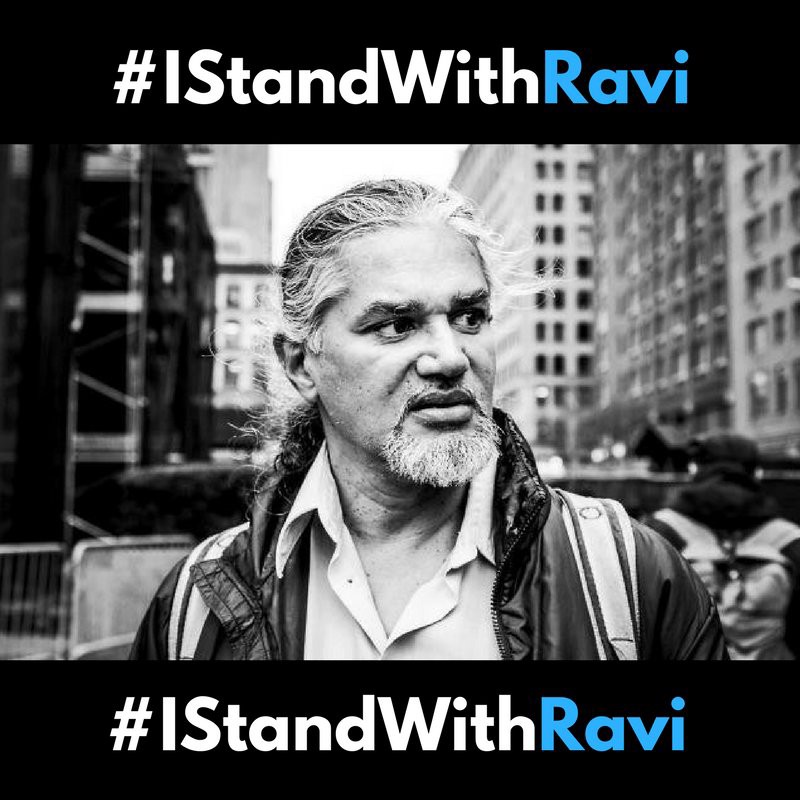 - - - - - -
Ravi has been taken to the Varick Street Detention Center. There will be a rally at 5 p.m. today at 201 Varick St., although people will likely gather earlier than that.
Use the hashtag #IStandWithRavi