by Margaret Brown Vega
Last year at the El Paso Service Processing Center, Jesús Lorenzo Avila was falsely accused of breaking facility rules and placed in prolonged solitary confinement on multiple occasions. At this detention facility, local advocacy groups have documented a recurring pattern of false accusations and retaliatory use of solitary. Targeted for his sexual orientation, and for his courage to assert his rights, Jesús suffered multiple instances of solitary confinement. In January of this year, the retaliation reached a crescendo when Jesús was beaten by a guard and taken to the hospital. Upon his return to the facility, staff falsely accused him of having assaulted the guard. Jesús was placed back into solitary, denied friend and legal visits, and on one occasion left in his cell in his underwear for not donning the red uniform indicative of high security individuals. Jesús refuses to be treated as a criminal by the very criminals who assault him, and covered it up.
Now at the Otero County Processing Center, Jesús is again being targeted for retaliation. Back in April at Otero, he spent 30 days in solitary confinement, was released for a single day, again falsely accused by facility staff, and placed back into solitary for at least another 15 days. Staff left him alone after that until mid-July, when they falsely accused him or organizing hunger strikes, and indicated he was being charged with violating facility rules for speaking to outside organizations and speaking ot the media - both protected rights under the U.S. Constitution. Right now he is in solitary confinement.
Facility staff at both El Paso and Otero rely on fear and intimidation to keep people quietly compliant when their rights are violated. When someone like Jesús courageously stands up without fear to speak up for himself and those around him, the consequences are violent. Clearly Jesús is not safe in a detention facility. He has been discriminated against, violently beaten, and psychologically tortured in solitary confinement by privately contracted detention center staff. ICE is fully complicit with this treatment.
After learning that Jesús was placed in segregation at Otero County Processing Center on July 18, the ACLU of New Mexico posted a letter demanding his release from segregation on the grounds that he has been placed there in violation of constitutional due process and free speech rights as well as ICE detention standards, and urging people to call and email the El Paso ICE Field Office on his behalf.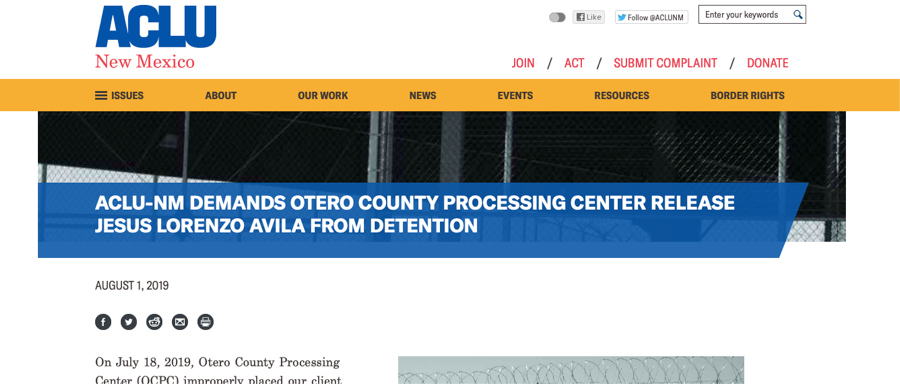 Jesús remains in solitary. Neither ICE nor the warden has responded to the ACLU, nor to congressional inquiries made on his behalf.
Here is the translated text of a letter sent to FFI from Jesús:
My name is Jesús Lorenzo Avila. I am 34 years old. I am from Guerrero, Mexico. I came here to ask the United States for protection from persecution, torture, and discrimination.
To my horrible surprise, since I fled my country I have suffered from the hands of immigration. I am the victim of racism, discrimination, psychological torture, forced nudity, unjustified incarceration, damage to my property, brutal blows and cruel and inhumane treatment.
I complained to different corresponding immigration offices and ICE but nobody paid attention to me. On the contrary, they have threatened me to pick me up and throw me in jail if I try to denounce them.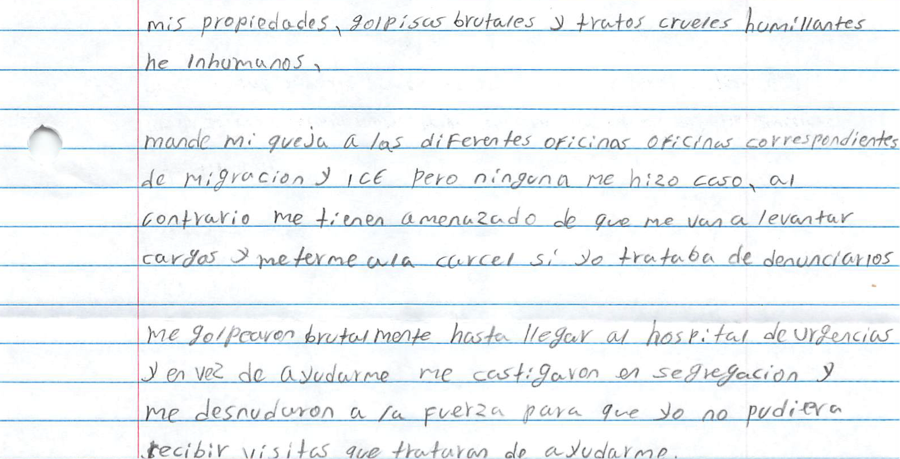 They beat me up brutally, to the point that I had to go to urgent care at the hospital, and instead of helping me, they punished me in isolation and they forcibly removed my clothes so I could not receive visitors who wanted to help me.
The retaliations grew every passing day--the mistreatment, the threats, not enough food. They do things to us that nobody would want and nobody does anything. There is a lot of corruption in immigration and the government.
They have disappeared me in another unknown detention center. They lock me up regularly in the "SHU"*, with the luxury of their dominance and discrimination.
The consulate, for its part, does not do anything to help protect migrants. Defending the detention center instead of migrants like myself is racist.
I only hope for a miracle from God.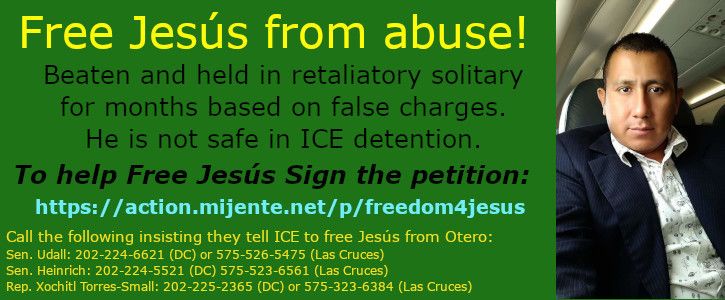 *Special Housing Unit
Please sign this petition to help free Jesús  from abuse!