"American Me.. Build A Soldier"
Alex Murillo's painting, Hondo Bear, is featured in Veteran's Voices: Painted Realities, which opened November 12 at the Disney Family Museum
In my piece, Hondo Bear, you will find the names of people. But they are more than that. Each one has a story to tell, and more. Each one represents a life and more. A person that lived once or still does and has somehow crossed my path and/or somehow their time on this earth has had a deep impact on my being. There are human stories on this canvas and I dare you to look at them and search them out, research them and know them as I have known them. You'll find stories of pain and suffering here. Narratives of justice failed, and of hope. Stories of friendship and brotherhood and of faith, both lost and found; and a promise of life, liberty and the pursuit. A soldier's oath, unbroken.
You will have to search, you will have to find, but I'll go ahead and give you a few to get you started.
There are the names of deported U.S. veterans on here, too many. Soldiers that have died in exile outside of their country awaiting rescue and only then allowed to return in death and ash. To be honored with a flag and deemed American, only then.
There are also names of deported U.S. veterans that have been allowed to properly return home to be with their families, yet too few.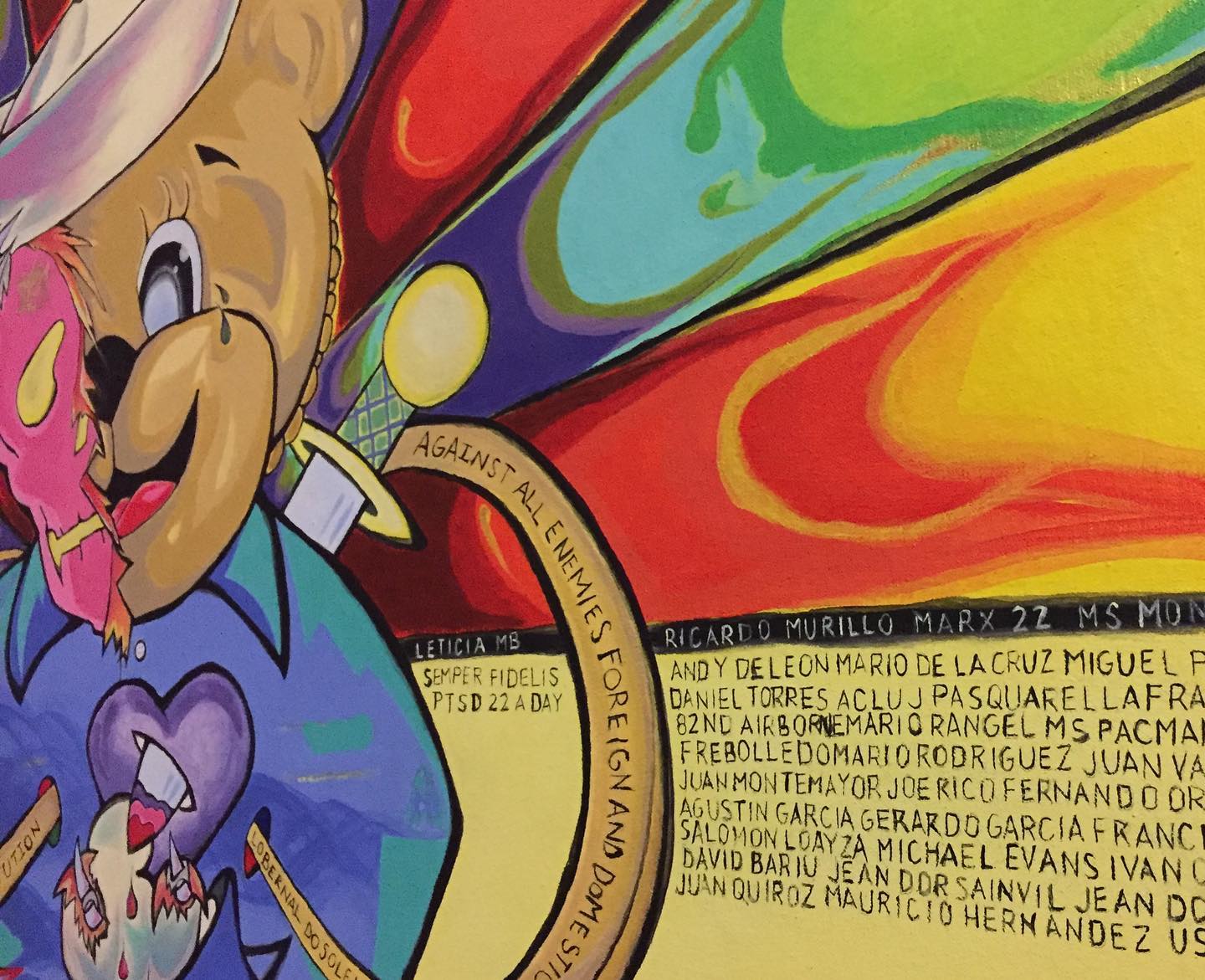 There are names here of several persons of color, men and women who have lost their lives in my country due to systemic racism and senseless violence. Too many.
The pain and suffering that this has caused the families of those memorialized in my piece I can not fathom. But these, and other American stories, have marked me and scarred me as well. They have hurt my heart and soul and it pains me to see my home in such turmoil, as I watch helplessly from across the street. Separated by water, iron and desert.
There's a name with a story on here. It's about a deported U.S. Army veteran that was drafted to Vietnam as a teenager and got himself blown up in an ambush. He still managed to make it back home in one piece so to speak. The concussive force of the blasts left him with major TBI issues and the acts and casualties of the Vietnam war left him with a lifetime of nightmares and a lifetime habit to boot.
He was drafted against his will and sent to Vietnam as a teenager. He went without hesitation. His DD214 said he served "Honorably" and also that he was a U.S. citizen. Regardless, he was deported for cannabis sometime in the 90's. I met him in 2012 in Rosarito, back when I was new to this foreign land and he was sweeping up a taco stand in Tijuana for under 5 dollars a night. He was a sweet old GI, a man whose memories of war were indeed hell, but who chose to remember brotherhood and friendship above all, a wise man. He was a kind, gentle soul, and he was my friend. He died of respiratory complications in 2014 in Tijuana. He was waiting for medical help from the VA. His name is Hector Barrios.
That's one.
There is a story on here about a U.S. Marine veteran. He was deported to the far off land of Haiti after serving our country "Honorably." While he is fighting to return home to New York, his son falls into a major depression and tragically commits suicide. Do you think that my country allows this bereaved father, this veteran, this U.S. Marine to come back home then to say goodbye to his son? I am so sorry my brother.. His name is Jean Dorsainvil and his son was Jean Dorsainvil Jr. and their story needs to be known.
How about the one about the U.S. Marine that was deported for cannabis? He crossed back over through the desert. Braving the sun and the wildlife. Against dehydration and human traffickers and his very own countrymen hunting him down for 3 days. He made it back home and now he fights for the return of ALL deported U.S. veterans around the world. He is my brother, he is my friend. His name is Cesar Lopez. You will know his story.
How about the one about the U.S. Marine that crossed back over through the ocean? I know right, what's up with these crazy marines, one by desert, one by sea, sheesh. But yes, he made it back home and is with his family now. He made it back from Afghanistan, he made it back from exile. For now, he is laying low and we respect that. His name is here, his story should be known.
Enrique Salas, a deported U.S. Marine. A true, solid dude. He was in a car accident in Tijuana that sent him to the ICU. After several days of fighting for his life in a Mexico hospital while awaiting VA assistance and an emergency humanitarian visa from home. We were able to cross him back, but it was too late. He died and was given his military honors. His family was thanked by a Grateful Nation, and given a folded flag. He was my friend. His story is always with me, and it is here.
Al Varon, U.S. Army. A smart, loquacious, and comical soul. This gentleman was quick with a witty word of praise or persecution to any friend or foe, it didn't matter to Al. Everyone was fair game, and to his credit he was fairly right in most of his deductions. Loved that dude, man. His kidneys started failing him. He rapidly went from bad to worse as we waited for the VA and an emergency humanitarian visa for this soldier to return home. It finally came, but it was too late. He died the next day after crossing. He was my friend. His story needs to be known.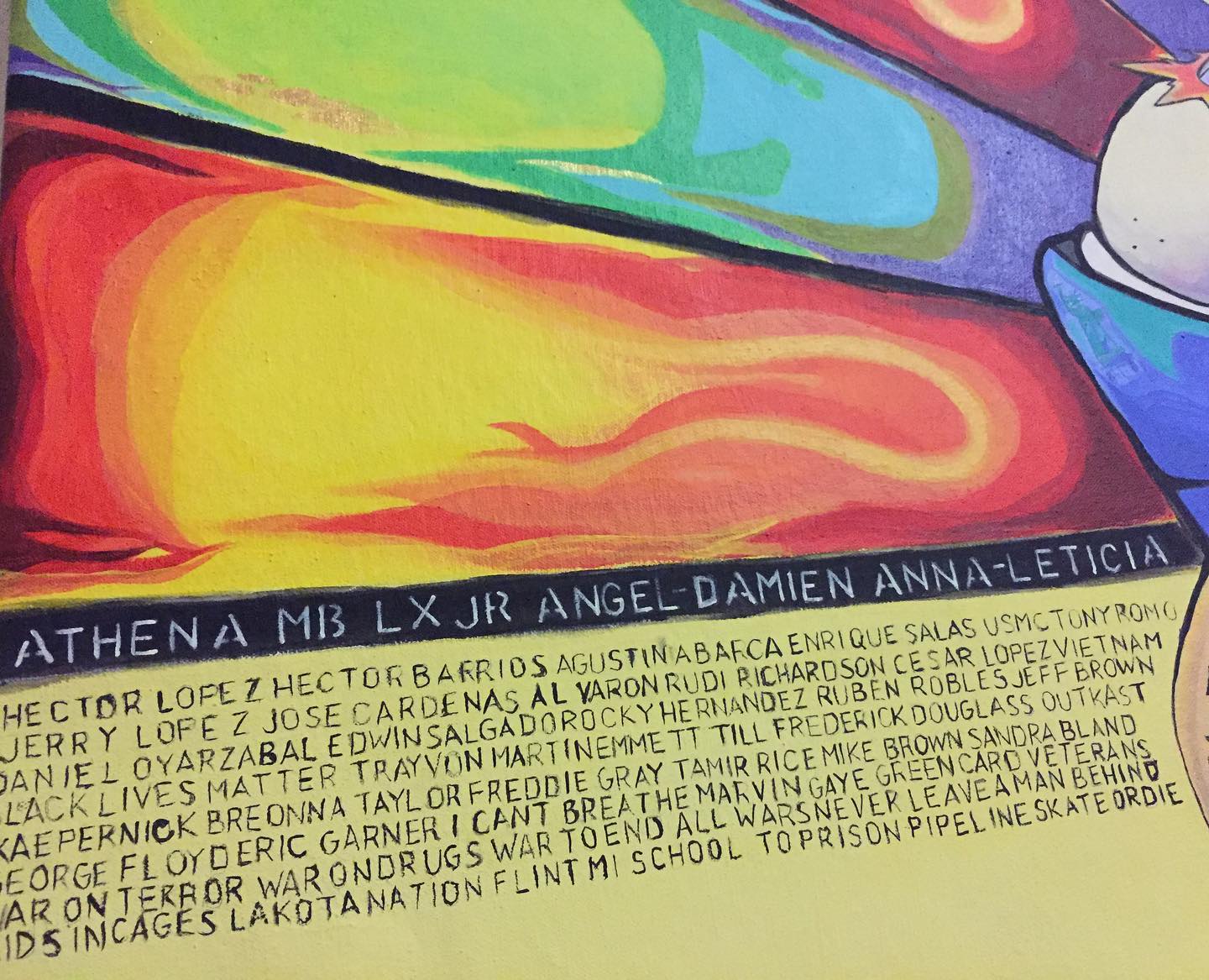 Did you hear the one about the deported U.S. veteran that went to Afghanistan and fought for his life and the lives of his buddies out there. He came back home and lost his wallet. He was subsequently deported for issues involving names and addresses but nothing to do with character. Because this marine's character was right up there brother. And his brothers and his command spoke so highly of him that he was made a full U.S. citizen soon after his report came out to light. A grateful nation welcomed him Home. Congratulations Bro. His name is Daniel Torres.
In my piece you will also find some of my most favorite things growing up as an American kid in Murderville, USA...my most beloved things and people ... The things that made me ... Me.
-my favorite singer
-my favorite rapper
-my favorite band
-my favorite comedian
-my favorite artist
-my favorite statesman
-my favorite scientist
They are in there. You can try to figure out who's who.
Also in my piece, there is a story about Kids in Cages.. What in the heck is that all about?
My question exactly. Why are babies, toddlers and pre-teens all being held in cages for? Inhumane and definitely un-American, right?
Where is that happening?
Where do you think?
There is a story in my piece about a pipeline. A pipeline that should never have ever been built. It has ruined countless lives and destroyed American families. What pipeline are we talking about? Why was it built? I dare you to try to figure it out.
How about places? Do you know where Flint, MI is?
How about Ferguson? Look it up and see what's happening there.
Is everything fine there?
There are other things to be found in my piece. Things I don't even know.
If you look, you will find a story about the end of our civilization. It is as yet incomplete as my piece is still unfinished but Hondo Bear had to go as he is, because I could hold him no longer and he just had to be free. But I do hope to finish this piece one day, when Hondo Bear finally returns to me, someday.
Hondo Bear's light side is 96% finished
And his dark side is about 78% done
So the piece is like 93% complete. Just 10% more to go.
The math works, trust me.
Hondo Bear likes to spend most of his time in the light but he does require a minute of total Darkness every hour (every 39th minute). He needs the Darkness to reflect and to remember.. And to better admire the Light.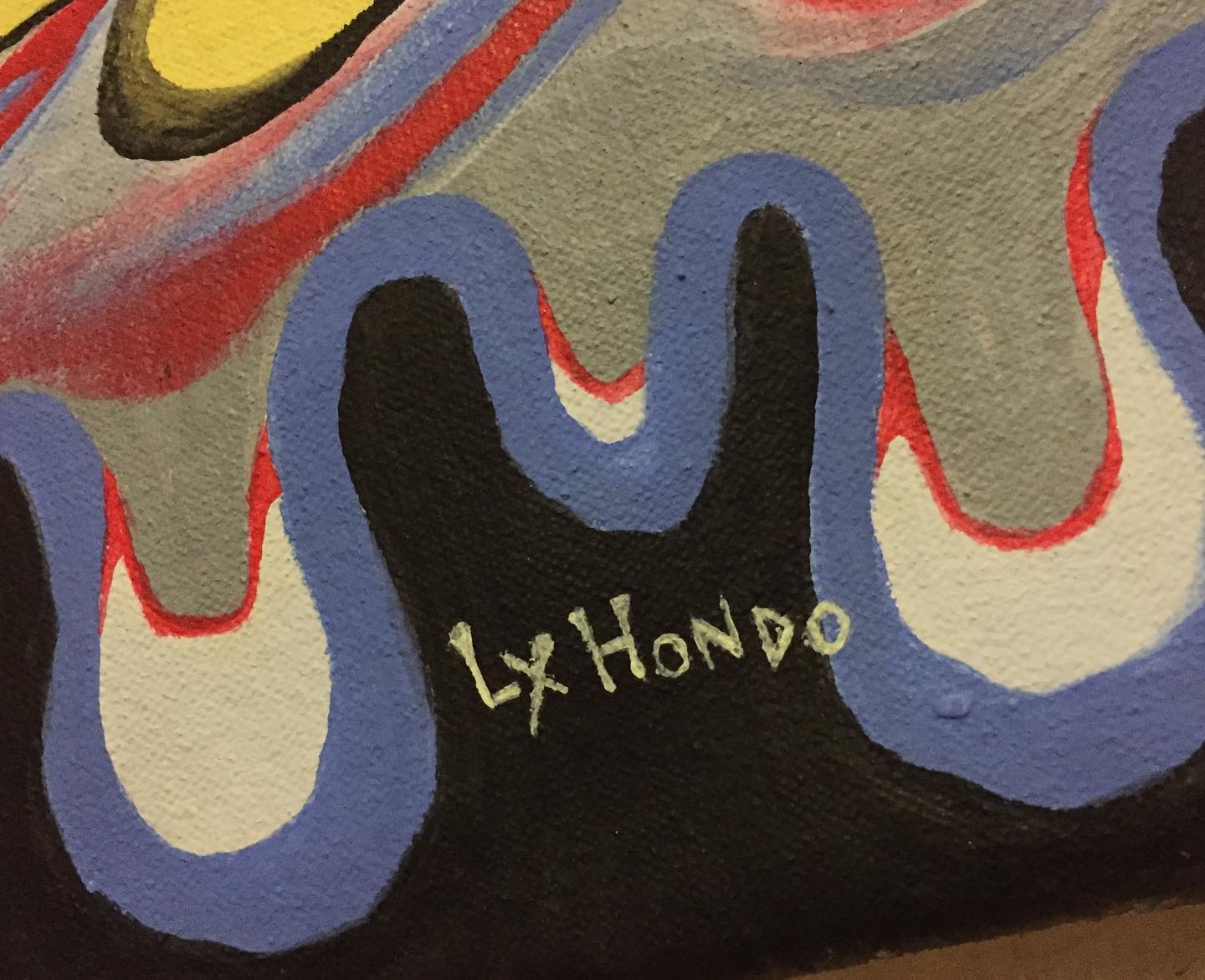 My name is Alex Murillo and I am from Phoenix, AZ. I am a U.S. Navy veteran and I was deported for cannabis in 2012. I currently coach high school girls flag football for the COBACH DELFINES. I advocate daily for human rights and the repatriation of deported U.S. veterans, I like to write about things sometimes, take photographs of people and places.. and now I guess that I also like to paint.
-Lx Hondo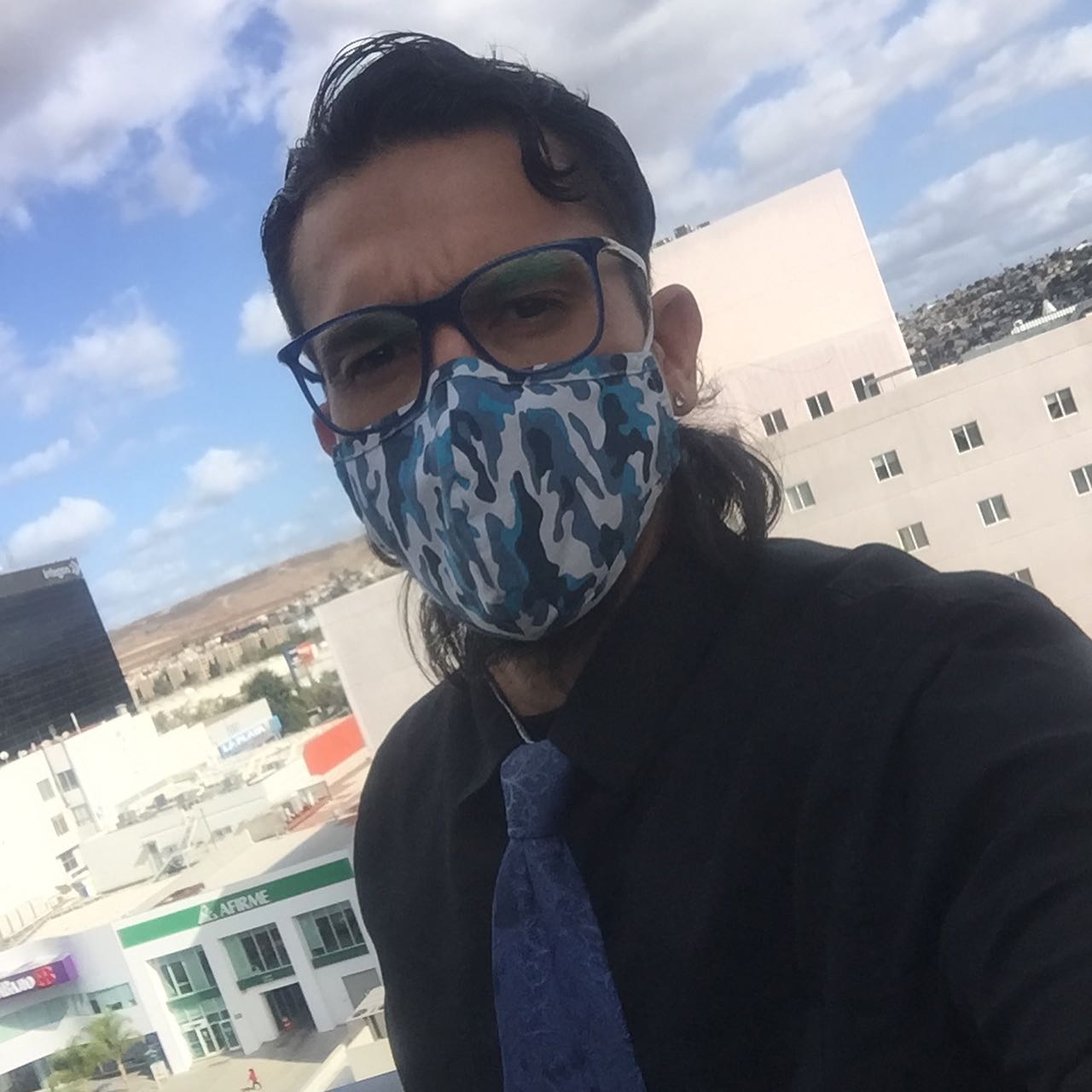 To support deported veterans' fight to return home, please consider supporting Veterans for Peace, Repatriate Our Patriots , the Deported Veteran Advocacy Project and Cesar Nunez for Bring Our Veterans Home