by Jo Seck, 2018 Freedom for Immigrants Youth Fellow
Over the years, the U.S. has undergone a swift change on policies related to immigration. These policies have often been accelerated due to economic conditions, white settler colonial violence and a ballooning Immigration and Customs Enforcement budget. These changes, often noticeable, continue to maintain the nature of oppression, indifference, white supremacy and xenophobia that our nation embodies. Who the U.S. decides to keep in and keep out is as old as the very fabric and structure our nation was built on and embodies.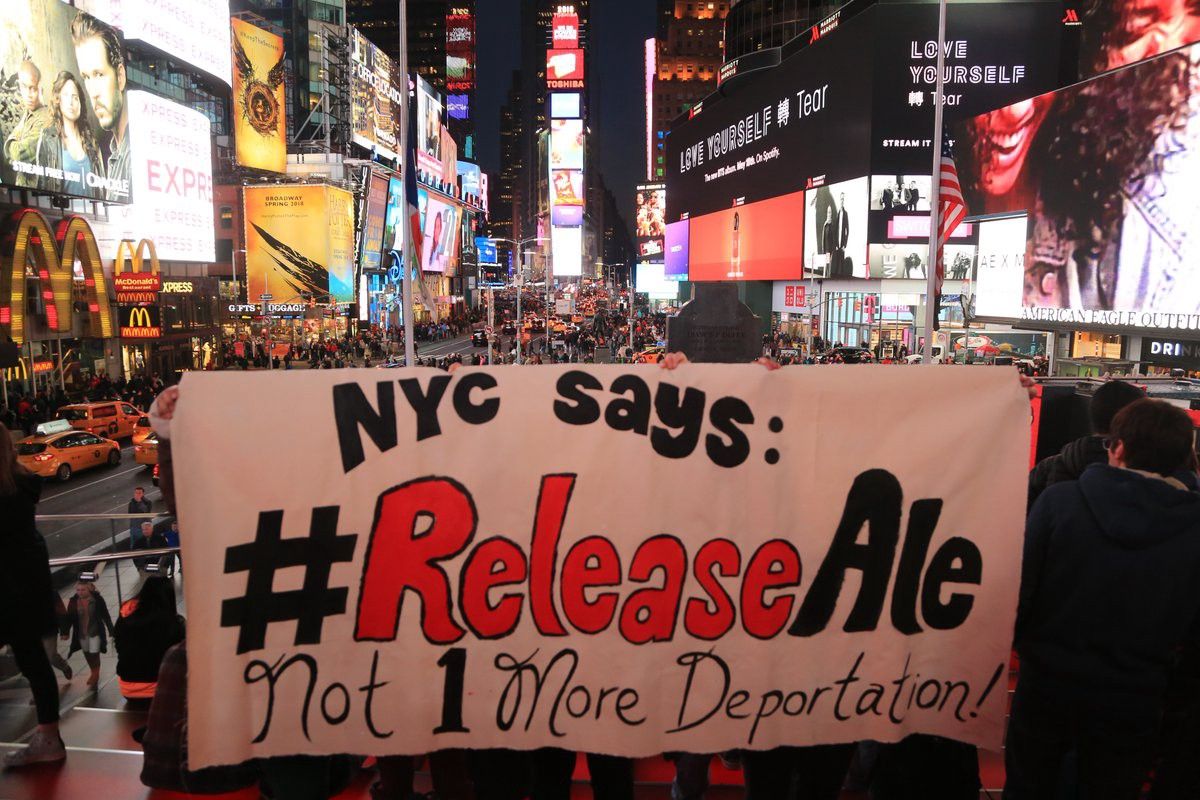 Historically, under a white settler colonial state, the U.S. has taken a role in punishing migrants as other similar nations have done. The separation of families indefinitely is not a radically new concept in our history and has been used in other countries before. For instance, during the slave trade, African- American children were separated from their mothers, often never to be seen again. After the Wounded Knee Massacre of 1890, Native American children were forced to attend government- and church-run boarding schools, where they were assimilated, leaving behind much of their cultural practices, heritage, identity and language. During World War II, Japanese Americans were sent to internment camps, with families oftentimes being separated from their children. And during the Great Depression, Mexican immigrants would leave behind their children in search of a better life abroad. One such country, Australia, has detained children indefinitely miles and miles away from the coastline in other impoverished countries looking to profit off the deportation system. These impoverished island nations, looking to turn a profit, open up detention centers so that they can survive in a capitalist world. Families immigrating to Australia are usually escaping crime-ridden, impoverished conditions (and oftentimes war) to seek out better opportunities. Countries such as Saudi Arabia, Mexico and the UK also use detention centers as a tool to control and suppress marginalized voices.
New York City has always been an immigrant hub. Being the largest city in the U.S. with a heavy infrastructure has its benefits for political activism. New York City has used approaches and tactics that many other cities and areas may not have the access, infrastructure, resources or collaboration to pull off.
New York City is home to organizations on a variety of levels, whether governmental, grassroots, nonprofit or immigration-oriented. Under 45's administration, demonstrations have usually been planned to surround a specific perceived threat or action. And the location is usually a set place.
Specific asylum cases for example, may gain traction when several organizations co-sponsor releases. Especially when information about asylum cases are distributed on social media, certain campaigns can garner attention that may make the mainstream media take notice. Specifically, when asylum cases are posted, online groups and individuals can donate and spread the word, if those options are available. The promotion of actions and causes on social media, petition sites and through word of mouth also can result in greater turnout and participation from the general public.
In addition, "phone zaps," or call-ins may be initiated to help pressure ICE/CoreCivic/GEO to either release inmate (s) and/or stop abuses in detention centers. Petitions and crowd sourcing are other ways to shed light on human rights abuses, as well as videos and personal accounts and narratives detailing the harsh injustices at the hands of ICE and the government, and at borders. Videos taken at detention center sites depict the conditions and environments that detainees have to live through on a daily basis.
Activism can also include teach-ins on mass incarceration/detention, know-your-rights trainings, medic team trainings, and social media tactics to spread the word and gain attention. With access to social media, campaigns can reach audiences that may not be in the vicinity of a march. Many actions in the New York City area are often sponsored by more than one organization, which allows a more diverse, concise and organized effort to take place.
"Abolish ICE," "Here to Stay," "No Borders, No Nations" and "Stop the Deportations" are phrases being used to shed light on ICE's human rights abuses and cruel tactics. In New York City there have been pushes to ban ICE from operating in the area, steps that Oakland, California took earlier this year. Because it is hard to predict a future ICE raid, and being that the whereabouts of these ICE raids are often unknown until the day they occur, activists and others have used strategies where people are on the lookout for any ICE activity. This could be on mass transit, on the street and through social media. The location map is then usually posted on social media sites urging people to avoid those areas. Although this method could be deemed ineffective, it successfully informs people to ensure their safety. Apps have also been used that prevent tracking and surveillance from happening, allowing actions to run more smoothly without unplanned interruptions. Recently, the names of ICE employees were leaked on LinkedIn, prompting public backlash and outrage.
Another method is occupying government and federal buildings. New York City has several ICE-affiliated buildings. As was recently done with Occupy Wall Street and other movements, such demonstrations are taking place at Foley Square and downtown at Chambers Street, as well as Varick Street, to protest the injustices that detainees must go through.
Furthermore, the human rights abuses are often not fully investigated; some immigration organizations and individuals have highlighted trans migrants in detention facilities across the U.S. facing struggles ranging from being put in the wrong gender facility, abuse by inmates and staff and isolation. Specifically, trans migrants are often denied needed medication by ICE for such purposes as HIV and other problems.
Because of their close proximity to New York City, all three metro airports (Newark, LaGuardia and Kennedy), have experienced large turnouts in such cases as the Muslim ban when 45 first took office, and more recently when child migrants who were separated from their families at the border were being relocated to other parts of the country.
Because of its accessibility, activism in New York City can be planned relatively quickly as opposed to other cities that don't have a complex, accessible, transit-friendly and urban infrastructure. The move towards activism becoming more diversified and intersectional has also given way to new collaborations that before in New York City may have been more difficult to accomplish.
As one of the largest cities with the most funding for their police force as well as a department comprised of over 30,000+ officers, the City has one the most heavily funded and operated police forces in the country. There has been a push to defund and dismantle such efforts that contribute to more governmental costs, calls for more community control and less enforcement of migrants. Some citizens have expressed a desire for community control over the police and ICE as well as a complete abolition of the police force/ICE to lessen the hardships immigrants face moving to New York City.
Within a city that is supportive of migrants but also tough on law and order, activists in New York City often have to grapple with going against a Democrat administration that many deem to be progressive, liberal and good to the overall environment, but in actuality commits many of the same atrocities that Republicans commit.
Even though the City may be isolated from other border cities and states, since many immigrants first pass through it, it often becomes the first place they can call home, as our city is strategically designed to accommodate foreigners to typical American life.
Large mainstream marches often bring out supporters who do big rallies but may not necessarily support smaller and other organizations that aren't as mainstream. As the news media filters out many activist-led initiatives, the typical American may not be aware of what actions are going on around them, even in the City.
Larger immigration NGOs and nonprofits often get large amounts of support from the government and other sources but may not be doing the work on the ground that other immigration-oriented organizations are doing.
Overall, immigration will continue to be a complex issue in the city even with the amount of resources, support, infrastructure and action that helps make New York City a more immigrant-friendly and safer environment for those that are the most vulnerable, marginalized and at risk of deportation.
Jo Seck is a 2018 Freedom for Immigrants Youth Fellow. They are a graduate of Stony Brook University with a Bachelor's Degree in Women, Gender & Sexuality Studies. While at Stony Brook, Jo was involved as a Research & Teaching Assistant in the Women, Gender & Sexuality Studies Department as well as a member of the Social Justice League, LGBTA, and as a founding member of the United Nations Association SBU Chapter. They spent their last semester as an Intern with the Queer Detainee Empowerment Project (QDEP) as well as a HYA Youth Advocate Fellow at the Hetrick Martin Institute (HMI). As an extension of a semester project for a class, Jo helped curate Take Back The Fight: Resisting Sexual Violence From The Ground Up Exhibition At The Interference Archive in Brooklyn in the summer of 2017. They also were a Writing & Development Intern for the Northeast Queer College Collective (NEQCC) in 2017. Currently Jo is currently pursuing a Masters of Social Work Program at the University at Albany-SUNY.