When Martin, an asylum seeker from Cameroon, was released from the Geo Group's ICE Processing Center in Aurora, Colorado, last September, he and the community that welcomed him were elated— but they also knew the risk of deportation was far from over. As of April 24, deportation is suddenly looking like the most likely outcome. And if this happens, he'll be imprisoned and likely killed
~
"We met Martin in detention last winter," says Darren Straus, when his wife, Sarah, signed up for a detention center visitation program that was just starting at Casa de Paz in February 2018.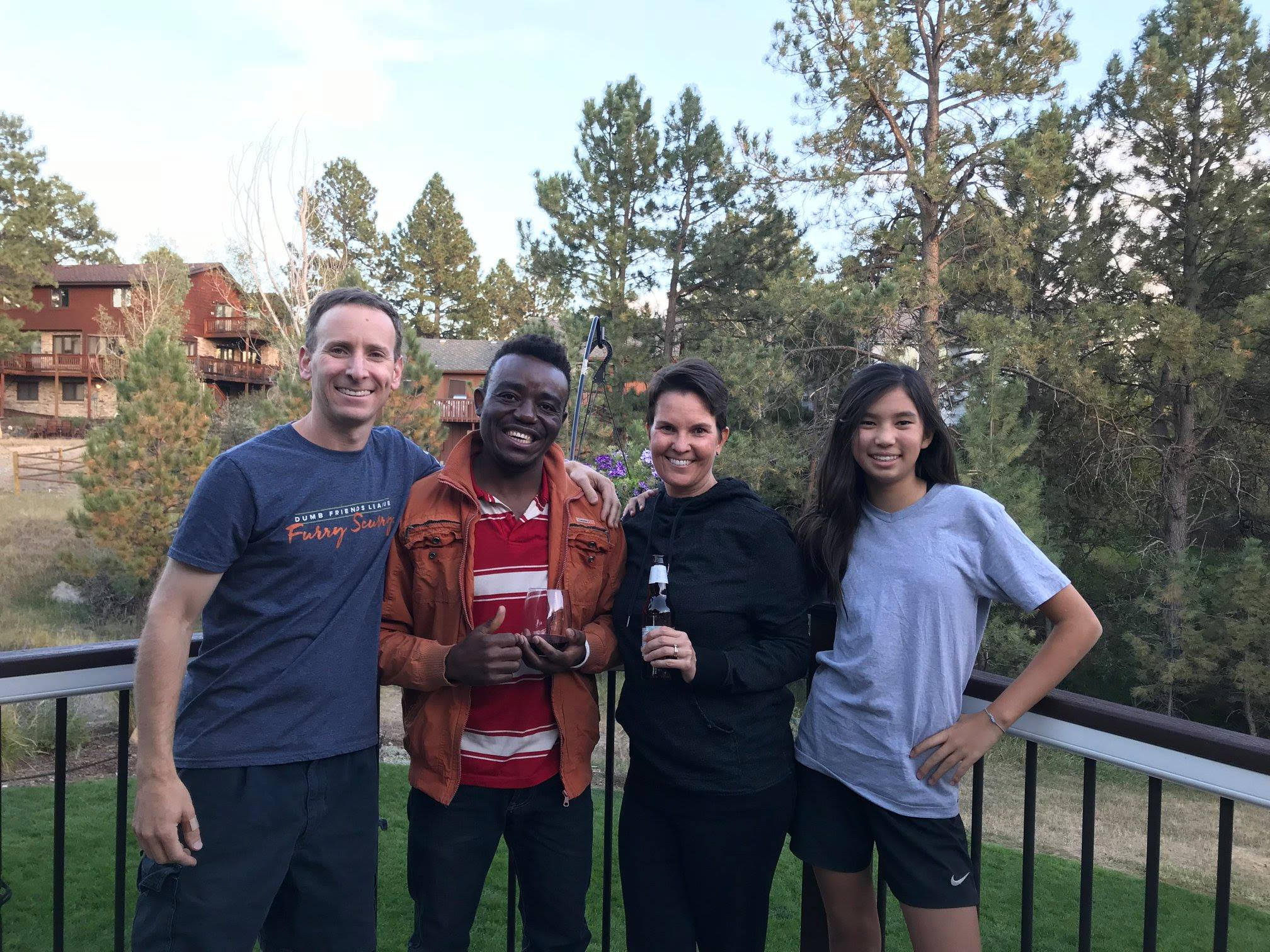 "She met Martin on her first visit and got drawn into his plight. She could see his depression and sense of despair of the entire situation," says Darren. "So, we talked with other volunteers to see what we could to help him by trying to get free or low-cost legal representation."
In May 2018, while this was going on, Martin's application for asylum was denied.   Martin filed an appeal, which only bought him more time. "You can't be deported with an appeal pending," says Darren, adding that the group successfully hired an attorney with the goal of re-opening the case.
But Martin was languishing in detention, so Darren and Sarah decided to try to get him released on parole while they worked through legal issues. They filed to be his sponsors, which meant they would host him in their home and take him to follow-up appointments with ICE. "To our shock, they let him out," says Darren. "I think we just bugged ICE enough, and they got tired of hearing from us."
Since September, Martin has lived with the Strauses and their 13-year-old daughter. "They have a brother-sister type relationship," says Darren, adding that even though there have been a few minor cultural differences, Martin has been a very easy house guest. "But where do we go from here? The not knowing where things are going or how they'll get resolved … even starting the deportation process … we're just holding out hope."
Part of Martin's release conditions included monthly check-ins with ICE, which were very traumatic. "They asked for all kinds of information to basically help them deport him," says Darren, explaining that they had to do what was asked because if ICE deemed Martin uncooperative, they could easily detain him again, and ICE would get the information with or without Martin's help.
In January, their lawyer found out Martin's appeal was denied in early October. "Technically, he could have been deported at any time since the beginning October," says Darren. "The notice was sent to the detention center, but they never forwarded it us."
Surprisingly, at Martin's January 2019 check-in, he was told he didn't have to come back for three months. "It was great, but it got us all very nervous about the April check-in, and I had a feeling they were going to take him at that point," recalls Darren.
And that's exactly what happened on April 24.
"My wife and her friend took him to the appointment," says Darren. They told Darren's wife and her friend they had to wait outside, so Martin was alone waiting for his appointment.  Then ICE came out and told them that they had arrested Martin and were putting him back in detention. And that they could not say goodbye in person, because they would have to put him in handcuffs and they didn't want to do that. So they had to say goodbye to Martin through the visitation glass/phone.
~
Now back in detention, Martin is allowed visitors four days a week, for one hour each day. The Strauses visit every Sunday, and Martin sees other friends and visitors on the other three days. They sometimes talk to him on the phone —but calls are hard to make and are very expensive —or through an online messaging service. But at this point, no one knows what is going to happen or when.
The lawyer has filed a stay of deportation, which is pending, but the reality is Martin can be deported at any time — without notice.
"We are a mess. It's been overwhelming — everything from the practical aspects to the emotional pieces," says Darren. "He was part of the family, and he's been ripped away for no good reason. And the outlook is grim."
"We're hoping that the state of Cameroon and the government will not be conducive to getting finalized travel documents any time soon," says Darren, noting that more than 50 people have written letters to ICE attesting that Martin is an honest and trustworthy person, and that there's a change.org petition that has more than 3,800 signatures. "We're just trying to do everything and anything we can to bring awareness."
For more information, read about Martin's background and experiences in the Boulder Weekly, see the November 2018 IMM Print article that highlights Martin and some of his other supporters, and read the Colorado community's change.org petition.
A note from Darren – What you can do to help:

Please take five minutes to call your congressional representatives and senators and ask them to intercede on Martin's behalf with ICE and help secure a stay of deportation while his asylum case is being reconsidered.
For House Representatives:
·       Dial 1-844-332-6361, follow instructions to connect to your Member of Congress.
For U.S. Senators:
·       CO Sen. Michael Bennett, (202) 224-5852, or (303) 455-7600
·       CO Sen. Cory Gardner, (202) 224-5941, or (303) 391-5777
·       For all other senators, dial 202-224-3121
You can use the following script if needed:
"Hello, my name is [first and last name] and I'm a constituent of [name]. I'm calling as a concerned community member from [location]. We're calling on [name] to call ICE and the Board of Immigration Appeals and urge them to grant Martin Akwa's petition for a stay of removal. Returning him to Cameroon would be a death sentence, and we believe our country should be supportive of good people like Martin, and his desire to survive and make a better life for himself."